ULA begins search for new American rocket engine
BY STEPHEN CLARK
SPACEFLIGHT NOW
Posted: June 16, 2014


United Launch Alliance announced Monday it has signed contracts with multiple U.S. companies to mature next-generation rocket engine concepts that officials say could replace the Atlas 5 booster's Russian-built RD-180 engine by 2019.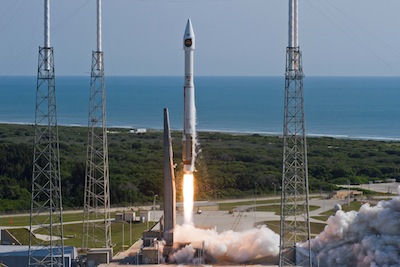 File photo of an Atlas 5 launch from Cape Canaveral on May 22. Credit: ULA

The commercial contracts between ULA and prospective U.S. engine builders cover technical feasibility analyses, high-fidelity planning, schedule, cost and technical risk assessments, and cost estimates, ULA said in a statement released Monday.
The announcement comes after a chorus of lawmakers and experts urged the U.S. launch industry to wean itself off of foreign propulsion systems in the wake of provocations from Russian deputy prime minister Dmitry Rogozin.
ULA did not identify which companies will undertake the engine studies. Jessica Rye, a ULA spokesperson, also declined to say how many companies signed the contracts with the launch provider.
The contracts are for early-stage studies of a hydrocarbon-fueled engine optimized for first stage propulsion with "aggressive recurring cost targets," according to ULA.
All the engine concepts will support a first launch by 2019, and ULA expects to select a future concept and engine supplier by the fourth quarter of this year, the company said. ULA will evaluate the feasibility of the new engine concepts for both private investment and the potential for government-industry investment.
ULA's Atlas 5 and Delta 4 rockets launch the U.S. government's most critical and costly national security satellites, plus many of NASA's robotic science missions and interplanetary probes.
The kerosene-fueled RD-180 engine used on the first stage of ULA's Atlas 5 rocket is built by NPO Energomash in the Moscow region. U.S.-based RD AMROSS, a joint venture of Energomash and United Technologies Corp., imports the engines to the United States and supplies them to ULA for attachment to Atlas 5 booster stages at a rocket manufacturing plant in Decatur, Ala.
"While the RD-180 has been a remarkable success, we believe now is the right time for American investment in a domestic engine," Michael Gass, ULA's president and CEO. "At the same time, given that ULA is the only certified launch provider of our nation's most important satellites, it is critical that America preserve current capabilities and options while simultaneously pursuing this new engine."
ULA said it will continue to work with RD AMROSS to "evaluate the long-term feasibility of the RD-180 in competition with the anticipated new engine." The companies are discussing product improvements, U.S. production of the RD-180 and "other enhancements" to ensure its future viability, the press release said.
"ULA has a number of very promising alternatives and we are working with the very best propulsion companies in America," said George Sowers, ULA's vice president of advanced programs and leader for the propulsion study. "There are many exciting advanced technologies that are mature and can be used to enhance our capabilities and our competitiveness."
The RD-180 engine has logged a perfect record of 52 successful flights since 2000, including 46 missions on the Atlas 5.
Monday's announcement by ULA makes it the second company reconsidering its reliance on Russian rocket propulsion. Orbital Sciences Corp., operator of the Antares launcher, is weighing a switch to a solid-fueled first stage for its commercial resupply missions to the International Space Station.
Concerns over the use of Russian of rocket engines to launch U.S. military and intelligence-gathering payloads, an arrangement that attracted little criticism for nearly two decades, rose after Russia's annexation of Crimea.
ULA rival SpaceX filed suit against the U.S. Air Force in late April asking a judge to overturn a sole-source $11 billion contract between ULA and the Pentagon for 28 satellite launches.
SpaceX says it can launch the government's military communications, navigation and surveillance payloads at a fraction of the cost of ULA's rockets. But the Falcon 9 rocket operated by California-based SpaceX is not yet certified to launch the Pentagon's most expensive and unique payloads, and Air Force officials have said they will not give a launch contract to SpaceX until it is certified.
A federal judge initially issued an injunction barring ULA and the Air Force from purchasing new rocket engines from Russia after SpaceX raised questions whether payments for the engines benefited Russian deputy prime minister Dmitry Rogozin, who was sanctioned by President Barack Obama along with other top Russian politicians after Russia's incursion into Ukraine.
The injunction against RD-180 imports was lifted a week later after U.S. government officials assured the judge the engine trade did not violate sanctions levied against Rogozin.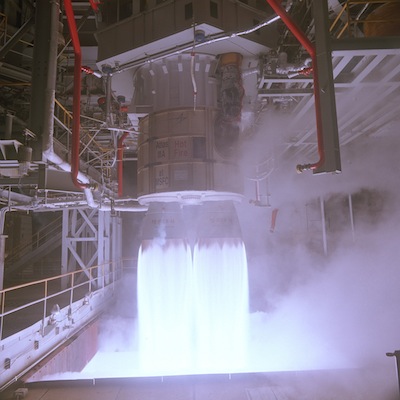 An RD-180 engine fires on a test stand at NASA's Marshall Space Flight Center in 1998. Credit: NASA

Rogozin, whose purview includes Russia's space and defense industries, then held a May 13 press conference declaring that Russia would no longer sell RD-180 engines for use on U.S. military satellite launches.
Air Force and ULA officials have said they have received no formal notification that Russia will cease RD-180 engine exports to the United States.
Executives from ULA, RD AMROSS and NPO Energomash met May 30 in Frankfurt, Germany, to discuss the status of RD-180 engine production in Russia, according to Dan Collins, ULA's chief operating officer, who described the meeting as a "good day-long conversation."
Collins said the meeting adjourned with no notice of any disruption to the RD-180 engine supply from Russia.
"We're working very well together, and they're continuing to supply engines," Collins said. "We're looking forward to getting more them in here in the not-too-distant future."
Gass told reporters in May that five RD-180 engines were due to arrive in the United States by the end of 2014. Fifteen RD-180s are currently in the country awaiting launch on Atlas 5 rockets.
A commission of aerospace experts, chaired by retired Air Force Maj. Gen. Mitch Mitchell, impaneled by Defense Secretary Chuck Hagel this spring to study the Russian engine predicament recommended the Pentagon back the development of a new liquid-fueled engine with similar performance to the RD-180, which generates about 860,000 pounds of thrust at sea level.
House and Senate lawmakers have proposed funding for a new liquid-fueled U.S.-built rocket engine to replace the RD-180, directing the Pentagon oversee the development in partnership with NASA.
Known as the "Mitchell report," the Defense Department study concluded the new U.S.-made engine should burn hydrocarbon propellants, but it does not specify which type of hydrocarbon -- highly refined rocket-grade RP-1 kerosene or liquid methane. The engine would burn liquid oxygen along with kerosene or methane fuel for combustion.
ULA's statement issued Monday also does not distinguish between kerosene or methane for the next-generation engine concept studies contracted with American propulsion providers.
Gen. William Shelton, the outgoing head of U.S. Air Force Space Command, said last month he also backed the development of a large U.S. rocket engine. Shelton and Mitchell panel agreed that a new U.S.-built engine was preferable to producing the Russian-designed RD-180 engine in the United States.
Although estimates from the Air Force, industry and independent experts differ, most predict it could take five-to-eight years and cost more than $1 billion to develop a U.S.-built replacement for the RD-180 engine.
The panel chaired by Gen. Mitchell forecast a new engine could be available by 2022.
But industry officials have said a new engine could be ready by 2019 with sufficient funding.
One contender for the new U.S.-produced propulsion system is the AR-1 engine by Aerojet Rocketdyne, which manufactures the RS-68 hydrogen-fueled main engine for ULA's Delta 4 rocket.
Aerojet Rocketdyne officials have said they aim to sell two of the 500,000-pound-thrust kerosene-fueled engines for $25 million per pair.
SpaceX, a ULA competitor, is the only U.S. liquid-fueled rocket engine builder besides Aerojet Rocketdyne with a large first stage propulsion system flying on a space launcher today.
The performance of SpaceX's Merlin 1D engine flying on the Falcon 9 rocket does not match the capability of the RD-180.
But SpaceX is working on its own million-pound-class Raptor engine. Fueled by methane, the engine is set to begin ground testing at NASA's Stennis Space Center in Mississippi.
Speaking at the Atlantic Council on June 4, SpaceX president Gwynne Shotwell said she was not sure building a replacement for the RD-180 was the right choice.
"Investing in liquid propulsion technologies is a great choice for sure, certainly on components that can be used to build whatever engine the propulsion community finds a market for," Shotwell said. "I think investing in the community is a great idea. I'd like to see it more on the component development -- technology development -- side."
Northrop Grumman Corp., which designed a 1.1-million-pound thrust engine for NASA more than a decade ago, provided input to the Pentagon's propulsion panel led by Gen. Mitchell, according to Bob Bishop, a company spokesperson.
Bishop declined comment on the status of the specific engine concept designed for NASA, known as the TR-107, but said Northrop Grumman agrees with the Mitchell report's recommendations.
"We're watching the situation closely, hoping the RD-180 supply isn't disrupted," Bishop said. "Northrop Grumman agrees that a modern U.S. hydrocarbon engine is needed and that focused risk reduction investments should be made."
If the Pentagon proceeds with a government-supported engine development program, bills in Congress require the military to oversee a competitive procurement in which all companies capable of building an engine would be welcome to submit bids.
Follow Stephen Clark on Twitter: @StephenClark1.