Critical anomaly ends long-lived NOAA satellite mission
BY STEPHEN CLARK
SPACEFLIGHT NOW
Posted: June 11, 2014


NOAA retired an aging polar-orbiting weather satellite this week that functioned a decade longer than planned, leaving three spacecraft to bridge a gap before the agency's next-generation weather observatory launches in 2017.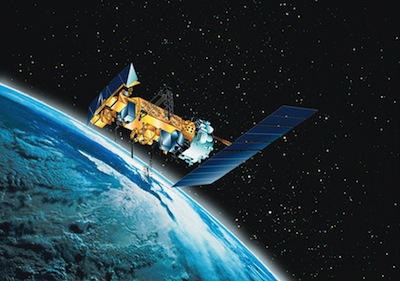 Artist's concept of the NOAA 16 satellite in orbit. Credit: NOAA

Ground controllers decommissioned the spacecraft Monday after it completed 70,655 successful orbits of the globe and traveled 2.1 billion miles since its launch on a Titan 2 rocket in September 2000, according to a NOAA press release.
A status update posted on NOAA's website said the NOAA 16 satellite experienced a "critical anomaly" on June 5. "No data recovery and no command verification possible at this time," the update said.
No other details were provided.
NOAA 16 carried weather sensors to measure atmospheric temperature and moisture profiles, collect visible and infrared imagery of clouds and storms, and gather sea surface temperature data.
Built by Lockheed Martin Corp., the satellite was designed for a lifetime of three-to-five years. Two identical satellites launched in 2005 and 2009 are still operating with NOAA's Suomi NPP mission launched in 2011, which uses an upgraded spacecraft bus to host more instruments and last longer in orbit.
Weather satellites in polar orbit fly in three groups, each passing over the equator in the early morning, mid-morning and in the afternoon local time. NOAA is responsible for satellites in the afternoon orbit in a data-sharing arrangement with Eumetsat, operator of Europe's weather satellites, which has spacecraft providing mid-morning coverage.
The U.S. Air Force has weather satellites in the early morning orbit to supply data to civilian forecasters and meet the military's own weather data requirements.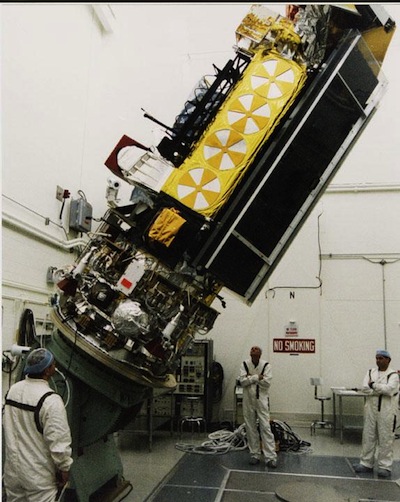 Photo of the NOAA 16 satellite in a clean room at Vandenberg Air Force Base, Calif., before its launch in September 2000. Credit: NASA

Suomi NPP assumed the role as the primary meteorological satellite flying in the afternoon orbit May 1. Its predecessors, NOAA 18 and NOAA 19, provide other services and act as backups to Suomi NPP.
NOAA hopes the trio will live long enough to ensure no data gap before the first weather platform in the next-generation Joint Polar Satellite System launches in March 2017.
Experts are concerned that weather forecasts will degrade if the older satellites do not make it until the launch of JPSS 1.
NOAA has asked for funding from Congress to build spare instruments for a potential gap-filler satellite in case JPSS 1 suffers a launch failure or delays.
Mary Kicza, the official in charge of NOAA's satellite division, told Congress last year she predicted a 50 percent chance of a data gap from polar-orbiting satellites.
NOAA also has geostationary weather satellites, which provide near real-time imagery of storms, hurricanes and clouds from a perch 22,300 miles above Earth. The geostationary satellites are vital to short-term forecasts, while measurements from polar satellites monitor longer-range weather trends.
Follow Stephen Clark on Twitter: @StephenClark1.