DigitalGlobe cleared to sell sharpest images to all buyers
BY STEPHEN CLARK
SPACEFLIGHT NOW
Posted: June 11, 2014


U.S. government regulators have approved DigitalGlobe's request to sell its highest-resolution satellite imagery to commercial clients, easing restrictions that limited the sale of the most detailed imagery to intelligence agencies, DigitalGlobe announced Wednesday.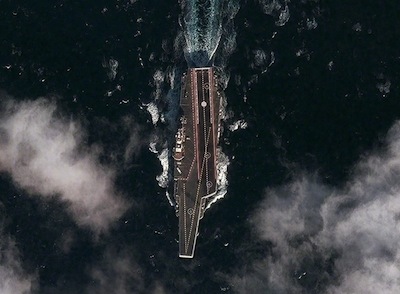 A DigitalGlobe satellite spotted a Chinese aircraft carrier in the Yellow Sea in late 2011. Credit: DigitalGlobe

DigitalGlobe said the decision will expand the market for its image products and help companies and state and local governments with oil and gas extraction, mining and exploration, urban planning and disaster relief.
The Longmont, Colo.-based satellite operator submitted a request to the U.S. Commerce Department in May 2013, citing plans from foreign governments to launch sharp-eyed optical imaging satellites with better vision than commercially available from DigitalGlobe's spacecraft.
The updated regulations from the Commerce Department took longer than the standard 120-day turnaround time for such requests. Officials asked for input on the regulations from the Defense Department and intelligence officials before the decision went to the White House for final approval.
DigitalGlobe said the relaxed restrictions on satellite image resolution allows it to offer its commercial and non-U.S. customers the sharpest imagery available from its current constellation effective immediately.
The company's GeoEye 1 spacecraft supplies the sharpest images of DigitalGlobe's five satellites, capable of resolutions in black-and-white imagery up to 41 centimeters, or about 16 inches, meaning their Earth-facing telescopes can see objects of that size or larger.
According to DigitalGlobe, whose core business is in providing intelligence-grade imagery to U.S. government authorities, the updated approvals also permit it to sell imagery to all of its customers at up to 25-centimeter (9.8-inch) resolution in black-and-white and 1-meter (3.3-foot) resolution in color beginning six months after the launch of WorldView 3, the firm's next satellite.
WorldView 3 is set for launch on a United Launch Alliance Atlas 5 rocket on Aug. 13 from Vandenberg Air Force Base, Calif.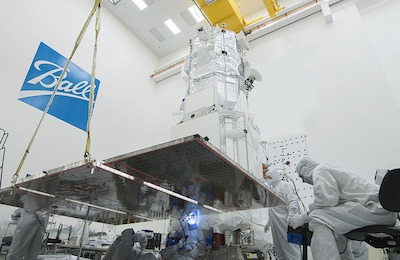 Technicians inspect a solar array on the WorldView 3 satellite inside the Ball Aerospace manufacturing facility in Boulder, Colo. Credit: Ball Aerospace

Built by Ball Aerospace and Technologies Corp., WorldView 3 is designed to collect panchromatic, or black-and-white, imagery with a resolution of 31 centimeters (1 foot) and multispectral color imagery with a resolution of 1.24 meters (4.1 feet).
DigitalGlobe has another satellite named GeoEye 2 it says is substantially complete at a Lockheed Martin Corp. manufacturing facility. The company acquired GeoEye 2 when DigitalGlobe merged with competitor GeoEye in 2013.
With similar capabilities as WorldView 3, GeoEye 2 will be kept as a spare satellite on the ground until it is needed to replace one of DigitalGlobe's existing satellites or when the market demands more capacity.
Officials said in May that a government decision to update DigitalGlobe's commercial remote sensing license with higher-resolution imagery limits could expand the global market for Earth observation data, prompting a decision to launch GeoEye 2 sooner.
"We are very pleased and appreciative that the U.S. Department of Commerce under the leadership of Secretary Penny Pritzker, with support from the U.S. Departments of Defense and State and the Intelligence Community, has made this forward-leaning change to our nation's policy that will fuel innovation, create new high-tech jobs, and advance the nation's commanding lead in this strategically important industry," said Jeffrey Tarr, DigitalGlobe's CEO, in a written statement.
"Our customers will immediately realize the benefits of this updated regulation, as for the first time, we will be able to make our very best imagery available to the commercial market. As a result of this policy update and the forthcoming addition of WorldView 3 to our constellation, DigitalGlobe will further differentiate itself from foreign competition and expand our addressable market," Tarr said.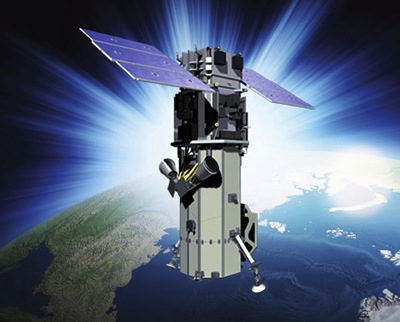 Artist's concept of the WorldView 3 satellite in orbit. Credit: DigitalGlobe

In a conference call with investment analysts in October 2013, Tarr said the previous resolution restrictions were "outdated and unreasonably constrained the ability of U.S. industry to compete with foreign competitors."
DigitalGlobe's primary global competitor is Airbus Defence and Space, which operates two French-owned Pleiades observation satellites with a top resolution of 70 centimeters, or about 2.3 feet. Airbus uses a resampling method to sell imagery with a resolution of 50 centimeters, in line with the best commercial image offering by DigitalGlobe under previous government rules.
The Indian government has announced plans to launch the Cartosat 3 spacecraft, the world's highest-resolution civil observation satellite, with a reported resolution of 25 centimeters.
Japan is also designing a spacecraft with better than 30-centimeter resolution.
"If you look at what is happening outside the U.S., there are a few countries now planning to launch 30-centimeter satellites," said Kumar Navulur, director of next-generation products at DigitalGlobe. "Without the resolution relaxation, we're at a disadvantage."
Satellite imagery providers also face growing competition from airborne platforms, such as planes and drones, which collect high-resolution imagery at lower cost.
In a promotional video released by DigitalGlobe, Navulur said he believes 1-foot satellite image resolution is the "sweet spot" for the global remote sensing industry.
The updated regulations give DigitalGlobe the opportunity "to compete with those international governments, as well as commercial companies," Navulur said.
"Sub-half-meter imagery provides more accurate feature detection and identification," DigitalGlobe officials wrote in a blog post. "This is particularly important for more accurate and automated land use/land cover mapping, as well as change detection applications for natural resources management, urban planning, and emergency response mapping.
"For the location-based services industry the new license will allow customers and portal users to see crisper, clearer mapping images, allowing for better feature recognition for automobile and personal navigation, fleet management, and nautical navigation applications."
DigitalGlobe also announced Wednesday plans to move its WorldView 1 satellite into an orbit to observe points on Earth during the afternoon local time each day.
"As our constellation has grown, we have pioneered new capabilities for satellite imaging in every successive generation to deliver new and unique value to our customers in the growing and dynamic geospatial market. The combination of additional spectral bands, higher resolution products, morning and afternoon collection times, and increased collection capacity all enable DigitalGlobe to provide its customers with dramatically more information in every image collected," said Walter Scott, DigitalGlobe's founder and chief technology officer.
Follow Stephen Clark on Twitter: @StephenClark1.