Google buys startup Skybox Imaging for $500 million
BY STEPHEN CLARK
SPACEFLIGHT NOW
Posted: June 10, 2014


Google has agreed to purchase Skybox Imaging, a Silicon Valley startup specializing in collecting Earth imagery from space, for $500 million in a deal that could springboard Google into a new business beaming broadband Internet from orbit with a proposed network of up to 180 satellites.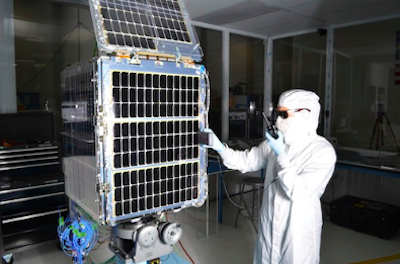 Photo inside Skybox Imaging's satellite clean room. Credit: Skybox Imaging

The cash acquisition was rumored in the satellite and technologies industries for several weeks as plans emerge for a Google-backed constellation of hundreds of small broadband communications satellites.
Skybox Imaging builds and operates its own satellites to record high-definition videos of Earth from low Earth orbit several hundred miles up. The first Skybox satellite, named SkySat 1, launched in November on a Russian-Ukrainian Dnepr rocket. SkySat 2 is set for launch June 28 on a Soyuz rocket from the Baikonur Cosmodrome in Kazakhstan.
"We've built and launched the world's smallest high-resolution imaging satellite, which collects beautiful and useful images and video every day," Skybox officials wrote in a blog post on the company's website. "We have built an incredible team and empowered them to push the state-of-the-art in imaging to new heights. The time is right to join a company who can challenge us to think even bigger and bolder, and who can support us in accelerating our ambitious vision."
Founded in 2009 with a business plan devised in a Stanford University entrepreneurship course, Skybox Imaging manufactured its first two satellites with an in-house engineering team. The company has licensed the construction of 13 follow-on spacecraft to Space Systems/Loral of Palo Alto, Calif., an established satellite contractor. Under an exclusivity clause, Loral can exploit the Skybox-designed small satellite platform for other business, officials said.
The first six Loral-built Skybox satellites will launch in late 2015 on an Orbital Sciences Corp. Minotaur-C rocket from Vandenberg Air Force Base, Calif.
Launch arrangements for the other seven satellites have not been announced. Once all 13 satellites are up, the Skybox constellation will revisit the same location on Earth three times per day.
Skybox's SkySat 1 satellite recored this high-definition video of the Burj Khalifa skyscraper in Dubai during a fly-over April 9. Credit: Skybox Imaging

With its purchase of Skybox, Google becomes a party to the satellite deal with Space Systems/Loral.
Skybox says the Loral-built satellites will have a top resolution of about 80 centimeters, or about 2.6 feet. The spacecraft will record high-definition video clips up to 90 seconds long at 30 frames per second.
The satellites will grow Skybox's fleet of orbiting spacecraft to record high-resolution photos and video. The startup intends to offer imagery with rapid refresh to provide customers with more up-to-date views of cities, farms and industrial sites.
Skybox says it will eventually have 24 satellites in orbit.
In a statement released Tuesday, Google said the acquisition of Skybox is subject to customary closing conditions, including regulatory approvals in the United States.
"Skybox's satellites will help keep Google Maps accurate with up-to-date imagery," Google said in a statement. "Over time, we also hope that Skybox's team and technology will be able to help improve Internet access and disaster relief -- areas Google has long been interested in."
Google purchased solar-powered drone maker Titan Aerospace earlier this year to work on high-altitude aircraft that could loiter in the sky for years, collecting high-resolution imagery for disaster relief and environmental applications. The "atmospheric satellites" could also broadcast Internet connectivity with stronger signals than possible with craft orbiting in space.
Facebook also announced it acquired a drone company, U.K.-based Ascenta, in March for similar purposes.
Google and Skybox are based in Mountain View, Calif.
"Skybox and Google share more than just a zip code," the Skybox blog post continued. "We both believe in making information (especially accurate geospatial information) accessible and useful. And to do this, we're both willing to tackle problems head on -- whether it's building cars that drive themselves or designing our own satellites from scratch."
While Skybox's potential contribution to Google Maps, a program used by millions every day, is apparent to observers, the application of Skybox's satellite technology to the Internet market also raises questions about the goals of Google's acquisition.
In a scheme reminiscent of past failed multibillion-dollar telecom satellite projects, Google backs a company registered in Britain's Channel Islands called WorldVu or L5, which outlined plans in a filing with the International Telecommunications Union to construct a fleet of satellites to fly in polar orbits more than 500 miles above Earth, according to a report by Space News.
The Wall Street Journal reported June 1 that Google plans to build and launch at least 180 small satellites. The paper cited anonymous sources who claimed the project could cost up to $3 billion.
The 250-pound class satellites described by the Wall Street Journal are roughly the same size as the spacecraft Space Systems/Loral is manufacturing for Skybox Imaging.
Follow Stephen Clark on Twitter: @StephenClark1.