NASA would get funding hike under congressional budgets
BY STEPHEN CLARK
SPACEFLIGHT NOW
Posted: June 5, 2014


NASA would receive $17.9 billion next year under budget bills proposed by the House and Senate, which call for additional funding for the space agency's Orion crew capsule and Space Launch System and reducing investments in commercial spaceflight compared to the Obama administration's request.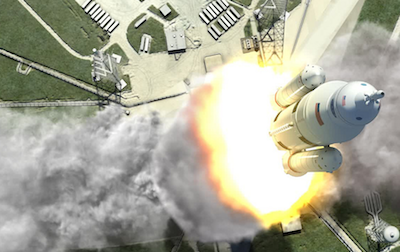 Artist's concept of NASA's Space Launch System, a heavy-lift rocket set for a maiden launch at the end of 2017. Credit: NASA

The multi-year battle on Capitol Hill for money between NASA's deep space exploration programs and development of private space taxis continues in the bills approved by lawmakers in the last week, but with less severe consequences for the commercial crew program than in recent budget cycles.
Although the two chambers of Congress have bills with similar top-line budgets for NASA, differences in details must be resolved before passage of a compromise budget to be sent for President Barack Obama's signature.
The House and Senate budgets are contained within spending plans for the federal government's commerce, justice and science agencies. The House version passed the full chamber May 30, and the Senate budget bill was approved by the Senate appropriations committee Thursday for consideration by the 100-member body.
Both congressional budgets would give NASA nearly $440 million more than the White House requested for fiscal year 2015, which begins Oct. 1. The bills propose raising NASA's budget by about $250 million over the current fiscal year.
Lawmakers said they were disappointed in the Obama administration's budget outline submitted to Congress in March, which set funding for NASA's Orion multipurpose crew vehicle and Space Launch System at $1.05 billion and $1.38 billion, respectively.
In reports accompanying the budgets, the appropriations committees in both houses were skeptical the White House's funding level would support a planned unmanned test launch of the heavy-lift SLS rocket and Orion spacecraft by the end of 2017, plus sustained upgrades to ready the vehicles for crewed flights in the 2020s.
The House and Senate budgets give the Orion program $87 million and $147 million more than the administration's request. The Space Launch System would receive $220 million and $320 million over President Obama's proposed budget under the House and Senate plans.
The funding levels for Orion and SLS in the appropriations bills are more in line with the 2014 budget passed by Congress and signed into law by President Obama in January.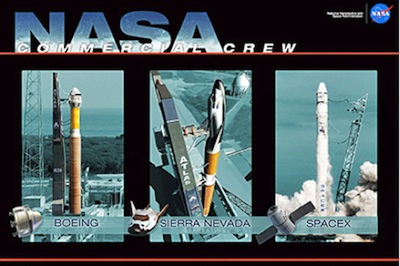 Boeing Co., Sierra Nevada Corp. and SpaceX are vying to win more funding from NASA to finish development of privately-owned commercial space taxis. Credit: NASA

Both bills offer less money than NASA said it needed for the commercial crew program, which aims to aid companies working on privately-owned spacecraft capable of carrying astronauts to and from the International Space Station.
Speaking in public hearings this spring, NASA Administrator Charlie Bolden used the crisis between Russia and Ukraine to offer a stark assessment of what he said was an imperative for the U.S. space program: ridding NASA of its reliance on Russia for crew transportation to the space station.
"Budgets are about choices," Bolden told a House subcommittee on space in March. "This committee -- this Congress -- chose to rely on the Russians because they chose not to accept the president's recommendation and request for full funding for commercial crew."
"It's my intent to get down on my hands and knees and beg and plead and make [Congress] understand this country needs human access to space," Bolden said in April.
NASA officials said Congress must honor the White House's $848 million budget request for the commercial crew program to keep companies on pace to be able to ferry astronauts to the space station and back to Earth by the end of 2017.
The Senate responded with a $805 million budget for commercial crew, plus a provision inserted by Sen. Richard Shelby, R-Ala., requiring NASA to adhere to strict federal acquisitions regulations that he said would ensure the space agency has full insight into the costs and accounting of commercial spacecraft developers, who argue the contracting rules would raise costs and require additional paperwork.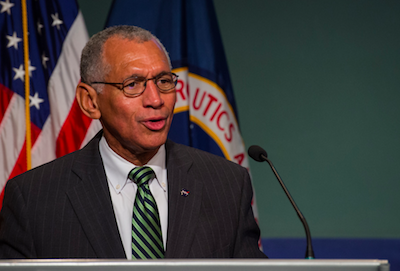 NASA Administrator Charlie Bolden. Credit: NASA/Jay Westcott

The House's $785 million commercial crew budget comes with a catch.
House lawmakers want NASA to select one company to get federal funding in the next round of the commercial crew program, which is due to begin late this summer with the agency's decision on which spacecraft teams will get government money to complete development and launch a series of test flights in orbit.
Boeing Co., SpaceX and Sierra Nevada Corp. have agreements with NASA in which the space agency pays monetary awards upon the completion of predetermined milestones, such as design reviews and tests.
NASA officials, along with managers from all three companies, say the program's success at developing a reliable, affordable commercial crew spacecraft depends on continued funding to at least two companies. They say NASA could fund two full-scale developments in parallel, or offer one firm a full contract award and spend less money on a second company as a backup in case the primary provider runs into problems.
But the legislation passed by the House stipulates the commercial crew funding can support just one industrial partner.
Within NASA's science division, both congressional budget bills restore funding for the Stratospheric Observatory for Infrared Astronomy, an airborne platform aboard a modified Boeing 747 jumbo jet jointly funded by NASA and DLR, the German space agency.
The Obama administration's budget request for 2015 called for the grounding of SOFIA if NASA could not identify an alternate funding source to pay for the telescope-fitted airplane's operating costs.
Follow Stephen Clark on Twitter: @StephenClark1.