ULA's common upper stage engine to fly this year
BY STEPHEN CLARK
SPACEFLIGHT NOW
Posted: June 4, 2014


United Launch Alliance plans to debut a new version of the venerable RL10 upper stage engine on an Atlas 5 rocket flight in December in a step toward the development of a common upper stage across the company's Atlas and Delta launcher fleets, a move officials say will reduce costs and increase performance.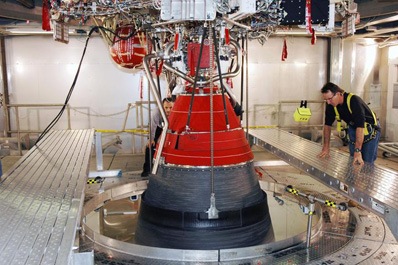 A view of an RL10 engine being prepared for launch on a Delta 4 rocket. Credit: NASA/KSC

But further upgrades to ULA's rocket upper stages, including concepts to build long-duration deep space tugs and propellant depots, may take a back seat as focus grows on developing a powerful U.S.-built booster engine to end reliance on Russian propulsion.
The first flight of the RL10C upper stage engine is scheduled for an Atlas 5 launch from Vandenberg Air Force Base, Calif., in December. The flight will place a classified payload for the National Reconnaissance Office into orbit in a mission designated NROL-35 by the U.S. government's spy satellite agency.
Developed with U.S. Air Force funding and private investment, the Aerojet Rocketdyne RL10C engine will accelerate satellites into orbit after boosts from first stage engines on the Atlas 5 and Delta 4 rocket.
Designed to burn a mix of liquid hydrogen and liquid oxygen propellants, the engine passed final flight qualification in June 2013, and the RL10C's first flight is set for December, said Bernard Kutter, a manager in ULA's advanced programs division.
"The RL10C engine is fully qualified and can be used on either Atlas or Delta," said George Sowers, ULA's vice president of strategic architecture.
Sowers said the RL10C will become the standard upper stage engine for all of the company's Atlas 5 and Delta 4 launches. An exception will be for the two-engine version of the Atlas 5's Centaur upper stage, which will continue flying with the RL10A-4-2 version of the engine.
The shape of the RL10C's bell-shaped nozzle prevents two of the engines from being placed side-by-side in a dual-engine configuration, Sowers said.
The Delta 4 rocket's upper stage is powered by an RL10B-2 engine, which features a carbon-carbon nozzle extension and other upgrades to raise thrust and specific impulse, the measure of a rocket engine's efficiency.
ULA is developing the dual-engine Centaur stage to launch crews and cargo on commercial missions to the International Space Station. Sowers said the dual-engine Centaur will also fly with U.S. military, NASA and commercial payloads on launches into low Earth orbit.
Sowers said ULA is developing the dual-engine Centaur with internal research and development money.
The RL10 engine has flown hundreds of times since the 1960s, helping launch U.S. military payloads, NASA science missions and interplanetary probes, and commercial communications satellites.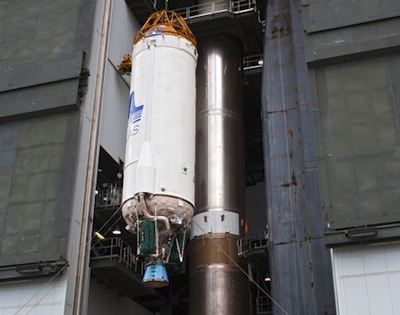 File photo of an RL10 engine on a Centaur upper stage being stacked to assemble an Atlas 5 rocket. Credit: NASA/KSC

According to Sowers, the switch to the RL10C engine will not raise the risk of groundings of both of ULA's rocket families in the event of a problem with the upper stage engine.
"We have that problem today because an RL10A and an RL10B have an awful lot of commonality," Sowers said. "Having more commonality could, in some ways, actually enhance how we can rapidly resolve anomalies because you don't have to figure out the differences. Are the differences relevant? So we don't really see any drawbacks."
When a fuel leak in an RL10B engine on a Delta 4 rocket threatened to prevent the launcher from placing its GPS navigation payload in the correct orbit, ULA delayed several downstream Delta 4 missions during an investigation into the anomaly. Atlas 5 rockets fitted with the RL10A engine were cleared to continue flying.
The Delta 4 rocket stricken with the fuel leak ended up deploying the GPS satellite in the targeted orbit despite the problem.
The benefits of the switch to RL10C engines include cost reductions and better management of ULA's engine inventory.
"There are cetainly cost benefits to having commonality," Sowers said. "Another real benefit is being able to use the inventory of RL10B engines inherited from Boeing on both vehicles."
Boeing developed the Delta 4 rocket before merging with Lockheed Martin's Atlas program to form United Launch Alliance in 2006. Boeing had a stockpile of RL10B engines left over from canceled launches during the contraction of the commercial satellite industry in the early 2000s, plus lost contracts and delays in the readiness of military payloads.
Sowers said Aerojet Rocketdyne is converting their inventory of RL10B engines to the RL10C version to allow them to fly on either the Atlas 5 or Delta 4 rocket. The conversion permits the companies to reduce the build rate of the RL10A engine for only designated missions, such as dual-engine Centaur flights with space station crews or cargo.
The modifications include installing avionics for active propellant mixture control, a capability currently on the Atlas 5's RL10A engines but not on the Delta 4's RL10B version. The change will allow the Delta 4 to carry up to 200 pounds of additional payload on certain missions, according to a user's guide posted on ULA's website.
The RL10C also introduces a redundant dual direct spark ignition system -- a standard on the Atlas 5's RL10A engine -- to the Delta 4 rocket family.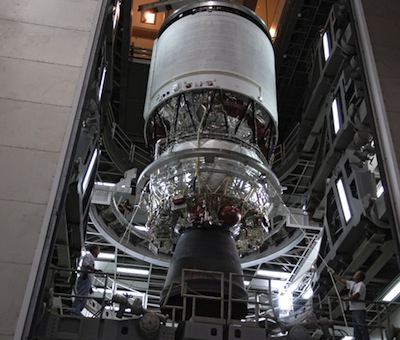 File photo of an RL10 engine on a Delta 4 rocket's second stage. Credit: NASA/KSC

Delta 4 missions will fly with an RL10C engine with the full-length extendible nozzle similar to the RL10B engines flying today. The Atlas 5's RL10C engine will fly with a truncated nozzle.
"The original plan was to go to all RL10Cs, but when the commercial crew program came along, it had some unique requirements that drove the need to retain the RL10A capability," Sowers said.
ULA also has plans to develop a larger 5-meter (16.4-foot) diameter upper stage with two RL10C engines. Called the Advanced Common Evolved Stage, or ACES, the upper stage would have a longer lifetime in space, capable of serving as an Earth departure stage for deep space missions or as a propellant depot.
But Sowers said the ACES development could be put on hold as Congress and the Air Force focus on building a new U.S. rocket engine to replace the Russian RD-180 engine used on the first stage of ULA's Atlas 5 rocket.
"The common upper stage is something we've been studying for years and years," Sowers said. "It's still definitely in our planning. If you asked me six months ago, I would have said the next thing we want to do in terms of upgrading our vehicles is the upper stage. Now I might say the booster engine is the next thing we need to work on."
One design feature of the upgraded ACES system is a variable-thrust hydrogen-fueled aluminum thruster. It is set for a demonstration launch in 2016. The thruster will be fed by waste gases from the upper stage's propellant tanks, which would otherwise be discarded.
Sowers said the thruster will allow the upper stage to de-orbit without devoting precious propellant reserves to do the job, removing a performance penalty.
"All the boil-off we normally have, we can run through that for a safe disposal," Sowers said. "Disposing of upper stages is becoming more and more important because of the debris and junk up there. This is a capability we're really looking forward to having on-board."
Follow Stephen Clark on Twitter: @StephenClark1.