Spitzer in the crosshairs of budget-constrained NASA
BY STEPHEN CLARK
SPACEFLIGHT NOW
Posted: May 19, 2014


Challenged by a lean budget withered by the development of the multibillion-dollar James Webb Space Telescope, NASA will likely have to shut down the infrared Spitzer telescope, one of the agency's famed Great Observatories, after an independent panel of scientists concluded there was not enough money to extend the mission.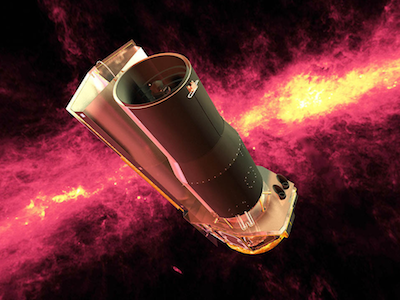 Artist's concept of the Spitzer Space Telescope. Credit: NASA/JPL-Caltech

NASA's planet-hunting Kepler telescope, along with eight other operating missions, got better news. NASA approved funding for those projects, plus another two years of data analysis on observations by Europe's Planck cosmological probe, for at least two more years.
The space agency's senior review, a biennial panel which recommends whether NASA should continue funding operating science missions, said Spitzer continues to produce quality science results but could not justify its relatively costly yearly budget.
"It is, of course, very disappointing when you are the one mission that is called out for termination, but we very much hope, on the other hand, that the positive science review that we got from the panel can be used by NASA to solve this problem," said George Helou, director of the Spitzer Science Center at the California Institute of Technology.
The senior review board, which consisted of 10 scientists, called Spitzer's capabilities "unique and important," ranging from the characterization of planets around other stars to brown dwarfs, or failed stars, and galaxies in the early universe.
But the mission's operating costs were higher than most of NASA's other astrophysics missions.
"The cost is particularly difficult in the context of an observatory with greatly reduced capabilities with respect to its prime mission," the panel wrote in its report to NASA. "The mission also did not present substantial plans to reduce operations costs with such reduced capabilities. Given the budget climate, the [senior review panel] cannot recommend funding of Spitzer at the levels requested."
Should Spitzer be unable to produce valuable science results for less money, the board recommended NASA shut down the mission. NASA agreed with the recommendation.
Paul Hertz, director of NASA's astrophysics division, said Friday that the Spitzer team can submit an amended proposal to NASA Headquarters with a further cut to the mission's operating budget, giving the space agency one more chance to see if it can afford to pay for curtailed observations with Spitzer.
According to Helou, mission officials hope to send the updated proposal to NASA as soon as this week. But Helou cautioned any arbitrary budget cut to Spitzer would harm the science return which received high marks from the senior review.
"We understand that the situation is very tight, so we'll try and make it as responsive to the fiscal reality as possible," Helou said in an interview Friday. "But because it's an observatory that was designed as a Great Observatory and has capabilities matching that design, we cannot, say, operate at half the cost or a quarter of the cost. We have already reduced from the original cost of operations. We are down to a third of that cost and what we are proposing now was even less, but we'll work to see how much more we can trim."
Without a budget boost from Congress or cost savings within the Spitzer project, money for the mission will run out Sept. 30 and NASA will decommission the telescope beginning this fall.
Spitzer received $16.5 million to operate in fiscal year 2014, which ends Sept. 30. Helou said the initial proposal considered by NASA's senior review called for a reduced operating budget of $15.35 million in fiscal year 2015.
Helou said the funding would have continued Spitzer's research into the atmospheres of exoplanets -- planets around other stars -- including measuring their temperatures, an aptitude not foreseen before Spitzer's launch in 2003.
The Kepler mission, which won NASA's support in the senior review, detects planets around other stars. Spitzer's job is to follow up exoplanet discoveries, providing confirmation and finding details about their environment.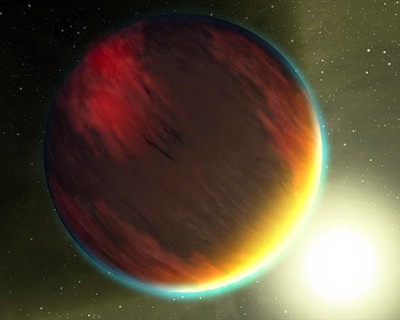 Artist's concept of an exoplanet. Credit: NASA/JPL-Caltech

"We are making great progress both in exoplanets and in the study of the very early universe, especially in the latter, where we're studying the galaxies formed in the first half billion years of the universe," Helou said.
Spitzer's total cost, including its development, construction, launch and operations, comes to more than $1 billion.
Spitzer's annual funding line is less than the 2014 operating budgets for the Hubble Space Telescope and the Chandra X-ray Observatory, NASA's other Great Observatories, which received $98 million and $55.3 million this year, according to Hertz.
Other missions proposed to the senior review have annual operating budgets less than Spitzer's.
Hubble and Chandra received four-year extensions, and seven other astrophysics funding lines were approved for two more years of operations. NASA is a junior partner on three of the missions with the European Space Agency and the Japan Aerospace Exploration Agency, but the senior review recommended continuing U.S. support for those projects.
Projects getting extensions are the:
Hubble Space Telescope
Fermi Gamma-ray Space Telescope
Chandra X-ray Observatory
Kepler Space Telescope
Nuclear Spectroscopic Telescope Array, or NuSTAR
Swift Gamma-ray Burst Explorer
X-ray Multi-Mirror Mission-Newton, or XMM-Newton, an ESA mission
Planck, an ESA mission
Suzaku/Astro E2, a Japanese mission
The Spitzer Space Telescope launched in August 2003 as the last of NASA's Great Observatories, a quartet of missions including the Hubble Space Telescope, the Chandra X-ray Observatory, and the Compton Gamma Ray Observatory, which was retired in 2000.
"Spitzer has given us a decade of excellent service," Hertz said.
Spitzer launched with a supply of super-cold liquid helium to cool its most sensitive infrared detectors, which were designed to image some of the coldest reaches of the universe.
Since 2009, Spitzer has only been able to use two of its shorter wavelength imaging bands after running out of cryogenic helium. Detectors in the near-infrared bands do not need to be chilled to do their work.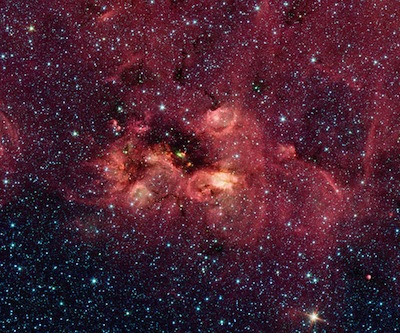 This striking star formation region, mapped in infrared light by NASA's Spitzer Space Telescope, was recently spotted by one of Spitzer's Twitter followers searching through the GLIMPSE360 panorama of our Milky Way galaxy. Credit: NASA/JPL-Caltech

Helou said the spacecraft is healthy despite its age. Spitzer was launched into an Earth-trailing orbit around the sun, and it is now located about 100 million miles from Earth, a distance that is gradually increasing. At some point in the next few years, even if the spacecraft is functioning fine, Spitzer would have to be shut down anyway because communications would become a problem when its orbit reaches the opposite side of the sun from Earth, officials said.
"The sensitivity in the channels that are still working is essentially the same that it was at launch, and in addition to that, because we now understand the spacecraft much better, we are able to make small improvements in the performance that translate directly into improved scientific capabilities -- that is the ability to measure the very faint signals which you need to do exoplanet research," Helou said.
The senior review noted the high demand by astronomers for observing time on Spitzer.
"Researchers are asking for six times more hours of observing than we have to allocate," Helou said. "That's been the case for the last two years. There are 700 papers published every year that leverage Spitzer data.
"There's always disappointment when it's one's own kid that gets kicked to the curb," Helou said. "I sort of understand that the constraints were such that something had to be canceled, and it had to be something big ... I'm not saying they should have canceled something else. The real disappointment is this structural issue with the budget in astrophysics. At a time when there aren't a lot of new launches, they don't have the budget to continue operating a productive mission."
Scientists participating in the senior review seemed to agree.
"American pre-eminence in the study of the Universe from space is threatened to the point of irreparable damage if additional funds cannot be found to fill the projected funding gaps," the review members wrote in their report.
"It's not only Spitzer, but you can look at several other mission that are getting insufficient support, or are not able to be supported at all, in the current condition," Helou said.
NASA officials have acknowledged for several years the growth in the budget for the James Webb Space Telescope, the successor to Hubble set for launch in 2018, would likely force NASA to turn off astronomy missions prematurely.
JWST received $658 million in the 2014 budget passed by Congress and signed by President Barack Obama. The rest of NASA's astrophysics mission, which covers all operating missions, data analysis, and development of smaller Explorer-class satellites, got $668 million.
The White House and Congress have agreed JWST should be one of the top priorities for NASA, alongside the International Space Station and the construction of the heavy-lift Space Launch System mega-rocket for human expeditions beyond low Earth orbit.
Helou said the termination of Spitzer this year will have a ripple effect on science with JWST once it comes online. Spitzer and JWST both observe the universe in infrared wavelengths largely invisible to telescopes on the ground.
"In terms of a true production capability, where you have an observatory that is very prolific in data, in particular for a pointing observatory like Spitzer, there is nothing else until we get JWST up there," Helou said. "One of the arguments we make scientifically for continuing Spitzer is to prepare for JWST, but also to make sure we have some capability that allows that part of the spectrum available for study, so when JWST comes around we have the best knowledge possible for that spectral range."
NASA plans to release the results of a senior review looking at the agency's planetary missions in late June or early July, according to a NASA spokesperson.
The budget situation in NASA's planetary division has raised fears some missions may be turned off.
Follow Stephen Clark on Twitter: @StephenClark1.