With questions swirling, ULA hastens Delta 4 production
BY STEPHEN CLARK
SPACEFLIGHT NOW
Posted: May 19, 2014


COLORADO SPRINGS, Colo. -- United Launch Alliance chief executive Michael Gass said Monday the rocket builder is accelerating production of the Delta 4 launcher to ensure U.S. national security satellites can get to space in case imports of Russian rocket engines are halted.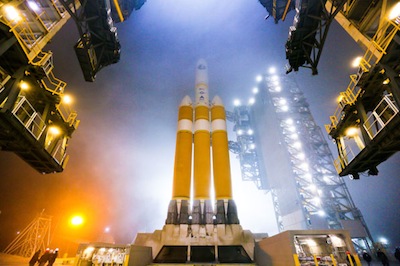 File photo of a Delta 4-Heavy rocket on the launch pad at Vandenberg Air Force Base, Calif. Credit: Pat Corkery/ULA

Gass told reporters Monday the decision to ramp up Delta 4 rocket production was part of a contingency plan adopted by ULA under the U.S. Defense Department's policy of assured access to space, which led to the development of the Atlas 5 and Delta 4 rocket families in the 1990s.
"The first thing we're doing is making sure we're implementing that contingency plan, which includes the acceleration of Delta 4 production, so some of that work is underway," Gass said.
ULA was formed in 2006 by the merger of Lockheed Martin's Atlas 5 rocket program with the Boeing-designed Delta 4, which uses U.S.-built engines, in a bid to cut overhead costs while maintaining two independent launch vehicle families.
The future of ULA's Atlas 5 rocket, which has a first stage powered by Russian-built RD-180 engines, was muddled twice in the last three weeks, first when a U.S. federal judge issued a temporary injunction ordering ULA and the U.S. Air Force to stop purchasing the engine from Russia.
The preliminary order was issued April 30 after SpaceX filed a lawsuit in the U.S. Court of Federal Claims attempting to block the sole-source award of 28 rocket launches to ULA. In its filing with the court, in which the company claimed it could launch U.S. military satellites at a quarter of ULA's costs, SpaceX alleged the purchases of the RD-180 engine might violate sanctions levied against Russian officials in the wake up the annexation of Crimea.
The judge lifted the injunction May 8 after U.S. government officials submitted letters to the court saying they have no evidence the engine trade violates any sanctions.
Then Russian deputy prime minister Dmitry Rogozin, who is charged with managing Russia's space and defense sectors, announced May 13 that Russia would restrict future RD-180 engine exports to only missions which serve civilian purposes.
Gass said Monday he was not aware of any order from the Russian government to NPO Energomash, the manufacturer of the RD-180 engine, regarding the engine's export to the United States.
"Mr. Rogozin's comments were certainly a reaction to some comments that our country made about escalating the next round of sanctions," Gass said.
There are 16 RD-180 engines currently in the United States. One of the engines will fly on an Atlas 5 rocket launch from Cape Canaveral scheduled for Thursday. Five more engines were due for delivery to the United States the second half of this year, according to Gass, and ULA has already purchased RD-180 engines to cover its commitments to the Pentagon in the Air Force's order of 36 rocket cores last year.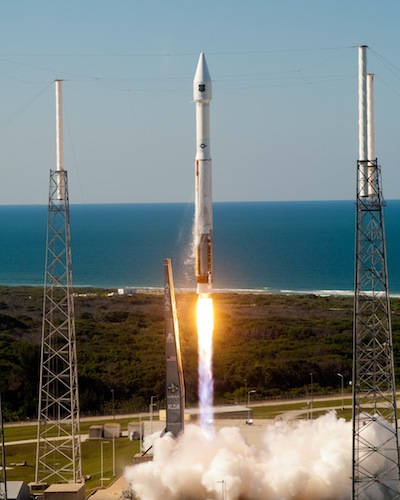 File photo of an Atlas 5 launch in May 2013. Credit: Pat Corkery/ULA

The 36-core block buy is equivalent to 28 launches because four of the flights will use the Delta 4-Heavy, which is comprised of three first stage rocket cores to boost performance for heavier payloads. Of the 36 rocket cores ordered by the Air Force, Gass said 20 are for the Atlas 5 and 16 are for the Delta 4.
If the Atlas 5 continued to launch at the same rate as recent years -- assuming no more RD-180 engine imports -- the supply would run out some time in 2016. The Atlas 5 is scheduled to launch U.S. military communications satellites, GPS navigation spacecraft, intelligence-gathering payloads for the National Reconnaissance Office, a NASA lander to Mars, and at least two commercial satellites over that period.
"We've kept a safety stock of engines in place to help with a smooth transition to move all those payloads to Delta 4 if necessary," Gass said.
If Rogozin's statements are backed up with actions limiting RD-180 engine exports to support only civil launches, Gass said ULA and its RD-180 contractor, RD AMROSS, would take delivery of the engines anyway and use them on launches for NASA, commercial satellites, and commercial crew spacecraft under development to fly on Atlas 5.
"In that contingency plan, there will be certain missions that for sure will probably stay on Atlas because they're best configured for Atlas," Gass said. "Ones already dual-integrated on Delta 4 will be the easiest ones to switch. We're working different contingency plans for that."
The Delta 4 rocket costs more than an Atlas 5 to put the same mass into orbit, requiring strap-on solid rocket boosters to loft a satellite that an Atlas 5 could launch with just its liquid-fueled first and second stages.
Some larger U.S. military payloads, such as the Navy's Mobile User Objective System communications satellites, would have to upgrade to a $350 million Delta 4-Heavy rocket if they were removed from the Atlas 5 launch manifest.
Those satellites will likely stay on the Atlas 5, Gass said, using the engines already delivered to the United States.
Hastening the pace of Delta 4 manufacturing could reduce its cost in the long run, perhaps bringing its price into parity with the Atlas 5, according to Gass.
"The premise right now in the price sheet is that Delta 4, by similar capability, is more [expensive] than Atlas, but those were prices based on a certain build rate," Gass said. "Now, we're going to accelerate the build rate, and the Delta prices will come down accordingly. How much? We've got to go negotiate how much."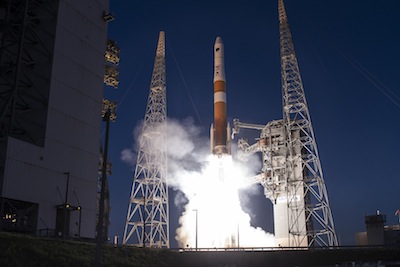 Photo of the most recent Delta 4 launch on May 16 with a GPS navigation satellite. Credit: ULA

Gass said ULA did not decide to advance production of the Delta 4 launcher at the request of the Defense Department.
"United Launch Alliance is committed, first and foremost, to the nation," Gass said. "We hold our commitments, so we're just going to move out and do it. We're not waiting for customers to ask us."
ULA has already launched discussions with Delta 4 suppliers to move up deliveries.
"We have material on order with all our suppliers to support the block buy, so [we will] take what we already ordered and just accelerate the production of that, get it earlier and then supplant that with some additional long-lead material to make sure we can sustain a high production rate into the third and fourth years of the block buy contract," Gass said.
The Delta 4's launch rate since the beginning of 2012 has been approximately one-half of the Atlas 5's.
If Defense Department payloads are forced to swap rockets to the Delta 4, Gass said ULA's contract with the Air Force allows for flexibility to re-allocate launches between the company's two vehicles.
But Gass would not say whether ULA or the U.S. government would have to pay the difference if satellites assigned to Atlas 5 end up riding on more expensive Delta 4s.
Gass said his interpretation of Rogozin's announcement on the RD-180 engine was that the Russian deputy prime minister was discussing Russia's actions in response to U.S. sanctions.
In a transcript of Rogozin's press conference posted to an official Russian government website, the deputy prime minister said Russia was taking steps to warn its partners in about potential reciprocal action against sanctions.
"It was a comment that if the United States did something, this is something he may do," Gass said of Rogozin's statement.
Rogozin and Oleg Ostapenko, head of the Russian Federal Space Agency, raised concerns that restrictions on exports of defense-related products to Russia would disrupt Russian rocket businesses that rely on the international satellite market. Almost all large telecommunications satellites contain components built in the United States and Europe.
Industry officials forecast little disruption for companies planning launches on Russian rockets this year, at least in terms of export licensing. Russia's Proton rocket is grounded after a May 15 launch failure, forcing customers booked to fly on it to pivot from worrying about political trouble to technical reliability.
Most satellite export licenses for upcoming missions have already been issued, with no clear sign the U.S. State or Commerce departments plan to revoke them, despite public pronouncements claiming they could.
RD-180 engines shipped to ULA up to now have been approved for dual-use missions, meaning they can be launched for military or civilian purposes, such as for NASA or a commercial customer.
"He said some important words that he would hold back for military use, which is just clearly a response to our country's comment about holding back exports for military use," Gass said. "It was truly a quid pro quo comment."
Follow Stephen Clark on Twitter: @StephenClark1.