Rogozin hurls salvo of attacks on U.S. space program
BY STEPHEN CLARK
SPACEFLIGHT NOW
Posted: May 13, 2014


Russian deputy prime minster Dmitry Rogozin fired back against U.S. sanctions Tuesday, spurning NASA's proposed life extension of the International Space Station to 2024 and announcing plans to block exports of Russian rocket engines to launch U.S. military spacecraft.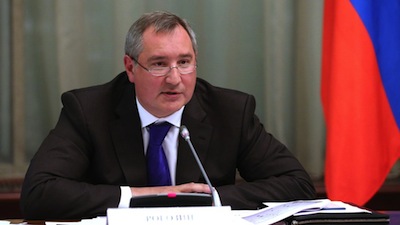 File photo of Russian deputy prime minister Dmitry Rogozin. Credit: Government.ru

Rogozin's statements are the latest chapter in a tit-for-tat between Russia and the United States over the fallout of Russia's incursion into Ukraine, which threatens to have ramifications in human spaceflight, the U.S. launch industry and the commercial satellite business.
"We've repeatedly warned our colleagues at the political and professional levels that sanctions are always a boomerang," Rogozin said. "They always come back around and are simply inappropriate in such sensitive spheres as cooperation in space exploration, production of spacecraft engines, and navigation, not to mention manned spaceflights."
Russia supplies RD-180 engines for first stages for the United Launch Alliance Atlas 5 rocket, and the Russian Soyuz spacecraft is the only vehicle capable of transporting astronauts to and from the space station.
In posts to Twitter on Tuesday, Rogozin said the Russian Federal Space Agency has no plans to continue cooperation with the United States on the International Space Station past 2020.
The deputy prime minister, whose portfolio includes oversight of the Russian space and defense industries, also tweeted: "Russia is ready to continue deliveries of RD-180 engines to the U.S. only under the guarantee that they won't be used in the interests of the Pentagon."
NASA and United Launch Alliance said Tuesday they have received no formal communique from Russia detailing the policy changes described by Rogozin.
"Space cooperation has been a hallmark of U.S.-Russia relations, including during the height of the Cold War, and most notably, in the past 13 consecutive years of continuous human presence on board the International Space Station," NASA said in a statement to reporters.
"Ongoing operations on the ISS continue on a normal basis with a planned return of crew tonight ... and expected launch of a new crew in the next few weeks. We have not received any official notification from the Government of Russia on any changes in our space cooperation at this point."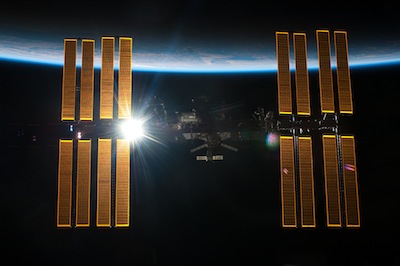 File photo of the International Space Station as viewed from the departing space shuttle Endeavour in 2011. Credit: NASA

United Launch Alliance, the operator of the Atlas and Delta rocket families, blamed rival SpaceX for rankling international relations after the commercial rocket company filed suit in the U.S. Court of Federal Claims seeking to overturn the U.S. Air Force's planned sole-source award of 28 rocket launches to ULA.
SpaceX is trying to break into the lucrative market to launch U.S. national security satellites, which it says is monopolized by ULA.
The court has not ruled whether the $11 billion Air Force launch contract will stand, but a federal judge issued a temporary injunction April 30 preventing ULA from new purchases of RD-180 engines from NPO Energomash, a Moscow-based rocket engine contractor.
The dual-nozzle engines are imported to the United States by RD AMROSS, a venture controlled by NPO Energomash and United Technologies Corp.
Judge Susan Braden released the order barring the engine purchases after SpaceX raised concerns that Rogozin would personally profit from U.S. taxpayer money used to buy RD-180 engines.
Government regulators submitted letters to the court certifying that the engine purchases do not violate U.S. sanctions against Russia, and Braden lifted the preliminary injunction May 8 to allow ULA and its suppliers to continue the RD-180 engine trade.
"ULA and our NPO Energomash supplier in Russia are not aware of any restrictions," said Jessica Rye, a ULA spokesperson, in a written statement responding to Rogozin's comments Tuesday. "However, if recent news reports are accurate, it affirms that SpaceX's irresponsible actions have created unnecessary distractions, threatened U.S. military satellite operations, and undermined our future relationship with the International Space Station.
"We are hopeful that our two nations will engage in productive conversations over the coming months that will resolve the matter quickly," ULA said.
Industry officials say there are 16 RD-180 engines currently in the United States, with plans for a fresh shipment of engines to arrive from Russia later this year.
ULA says its inventory of RD-180 engines will keep the Atlas 5 rocket flying for at least two years. The Atlas 5 manifest over the next few years is filled with U.S. military and intelligence-gathering satellites, NASA space probes and a handful of commercial satellites.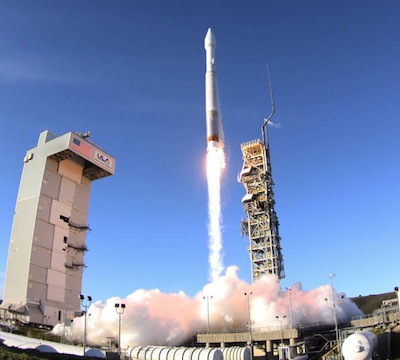 File photo of an Atlas 5 rocket launch April 3 from Vandenberg Air Force Base, Calif. Credit: Gene Blevins/LA Daily News

Future payloads could be assigned to launch on the more expensive Delta 4 rocket, ULA's other launcher, which has U.S.-built engines, the company said.
The Ukraine crisis has prompted renewed calls for the development of a U.S. alternative to the Russian RD-180 engine. Burning a mix of liquid oxygen and rocket-grade kerosene, the engine produces up to 860,000 pounds of thrust at sea level.
No other hydrocarbon-fueled engine in the world matches the RD-180's performance.
The House Armed Services Committee on May 7 approved a bill authorizing up to $220 million in funding to kick-start development of a large U.S.-made rocket engine in the same class as the RD-180. The money must still be appropriated by lawmakers, pass both chambers of Congress, and be approved by the White House.
Rogozin announced the space station and RD-180 engine policies in a press conference alongside Oleg Ostapenko, head of Roscosmos, the Russian space agency.
The deputy prime minister is listed with other top Russian government officials in sanctions aimed at curtailing the travel and U.S. financial interests of individuals believed to be involved in Russia's annexation of Crimea.
In early April, the U.S. State Department directed NASA to end all bilateral cooperation with the Russian government. The International Space Station, by far the largest collaborative effort between NASA and Roscosmos, was exempted from the policy along with other smaller scientific projects.
The U.S. government expanded sanctions April 28 to include limitations on the export to Russia of defense-related hardware on the U.S. Munitions List, a broad index of items that includes many satellite components.
The export sanctions raised a cloud of uncertainty over the world's largest commercial communications satellite operators. Many large telecom satellites launch on Russian Proton rockets from Kazakhstan under contract to U.S.-based International Launch Services, which is one of the three largest global commercial launch providers with Arianespace and SpaceX.
Ostapenko echoed statements made in recent days by top satellite industry executives, saying commercial Proton launches should continue unabated for the rest of 2014, but negotiations for launches in 2015 and 2016 are still ongoing.
"Sanctions are like releasing a bull in a china shop. That said, we've always built Russian policy on the following logic -- a statement in response to a statement and a reaction following an action," Rogozin said.
According to a transcript of Rogozin's comments posted on a Russian government website, Roscosmos officials "expect that we need the ISS until exactly 2020."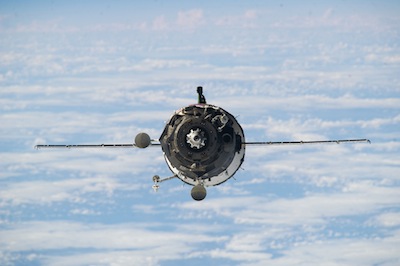 File photo of a Soyuz crew craft approaching the International Space Station. Credit: NASA

"After 2020, we would like to divert these resources and intellectual capabilities, and manufacturing capabilities, to create more promising space projects," Rogozin said, according to a transcript of the press conference.
"We need to understand how much profit we're making by using the station, calculate all the expenses and depending on the results decide what to do next," Rogozin was quoted by the Interfax news agency.
The White House announced in January it endorsed extending operations of the space station until 2024. The Obama administration previously only approved flying the orbiting research complex, which is jointly managed by the United States, Russia, the European Space Agency, Japan and Canada, until 2020.
As the two lead partners on the space station, Russia and the United States rely on each other for critical services. NASA has exclusively used Russia's Soyuz ferry craft to transport U.S. astronauts between the space station and Earth since the space shuttle's retirement in 2011.
The Soyuz is one of two operational human-rated spacecraft in the world, along with China's Shenzhou space capsule. NASA is banned from any bilateral cooperation with China's space program under U.S. law.
Russia's section of the space station runs on electrical power generated by U.S. solar arrays, and NASA's control moment gyroscopes control the lab's orientation in orbit, easing the consumption of Russian rocket fuel to keep the football field-sized complex pointed in the right direction.
Russia is responsible for periodically boosting the space station's altitude to counteract the effect of atmospheric drag in the outpost's 260-mile-high orbit.
Rogozin told reporters the Russian government has instructed Roscosmos to work with partners in the Asia-Pacific. Later Tuesday, Rogozin said on Twitter that Russian space officials will discuss bilateral cooperation on space projects with China on May 19, the eve of President Vladimir Putin's visit there.
Rogozin and Ostapenko also announced they would revoke approvals for 11 ground stations in Russia supporting the U.S. military's Global Positioning System, unless the United States allows Russia to install similar equipment on U.S. territory for its Glonass satellite navigation service.
Glonass is Russia's counterpart to the GPS satellite fleet.
Rogozin said operations of the GPS stations would be suspended June 1 unless Moscow and Washington can reach an agreement on building Glonass stations in the United States. If there is no deal by Sept. 1, Rogozin said the GPS stations would be closed.
The GPS ground stations were placed in Russia under an agreement first signed in 1993.
The ground stations are part of a worldwide network of facilities which transmit navigation information to GPS satellites to help the spacecraft determine their exact position in space. This data allows the satellites to detect the locations of users on the ground.
Ostapenko said Russia has submitted documentation to the U.S. government required for the construction of the Glonass ground stations in the United States.
Follow Stephen Clark on Twitter: @StephenClark1.