Russian spy satellite launched by Soyuz rocket
BY STEPHEN CLARK
SPACEFLIGHT NOW
Posted: May 6, 2014


A Soyuz rocket launched Tuesday from the Plesetsk Cosmodrome in northern Russia with a clandestine reconnaissance payload, likely a Kobalt-class imaging satellite for the Russian military.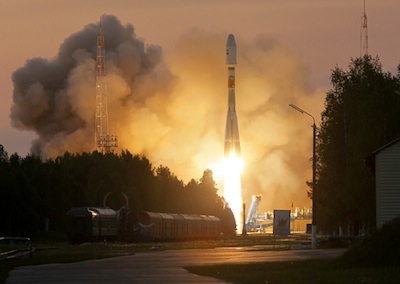 File photo of a previous Soyuz rocket launch from the Plesetsk Cosmodrome. Credit: Russian Ministry of Defence

The Soyuz 2-1a launcher lifted off at 1349 GMT (9:49 a.m. EDT), or 5:49 p.m. Moscow time, from the Plesetsk Cosmodrome, a military-run space base about 500 miles north of Moscow, according to the RIA Novosti news agency.
The spacecraft received the name Kosmos 2492 under the Russian military's nomenclature for defense and intelligence-gathering satellites.
The three-stage Soyuz 2-1a rocket, featuring a modernized digital flight control system, deployed its payload in orbit as planned, the Interfax news service reported.
The satellite is likely a Kobalt M reconnaissance platform equipped with an optical camera to collect high-resolution photos of strategic sites around the world. Kobalt satellites reportedly carry canisters to return film to Earth during the satellite's mission, which will last at least several months.
The film capsules are recovered by Russian authorities for analysis.
Kobalt satellites orbit between 150 miles and 300 miles above Earth in high-inclination orbits covering nearly the entire planet.
The Kobalt payload launched Tuesday is the ninth satellite in the series featuring the newest upgrades. The most recent launch of a Kobalt satellite before Tuesday was in May 2012.
Russia has launched two next-generation Persona-class spy satellites in 2008 and 2013. The first Persona spacecraft failed soon after launch, according to a report in a state-owned newspaper.
The Persona satellites feature extended lifetimes and transmit imagery to Russian officials via a data downlink.
Follow Stephen Clark on Twitter: @StephenClark1.