NASA, CNES sign deal for ocean altimetry satellite
BY STEPHEN CLARK
SPACEFLIGHT NOW
Posted: May 4, 2014


NASA and the French space agency, CNES, on Friday signed an agreement to develop, launch and operate the Surface Water and Ocean Topography satellite scheduled for launch in 2020 to continue a series of U.S.-French missions monitoring the world's oceans.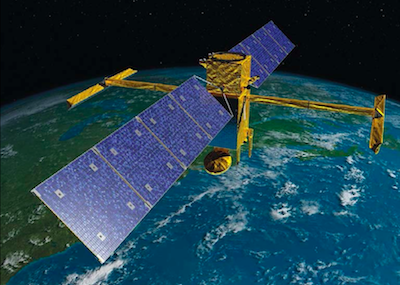 Artist's concept of the SWOT satellite. Credit: NASA/JPL-Caltech

The SWOT mission will survey rivers, lakes, floods and oceans with greater precision than any spaceborne observatory before.
NASA Administrator Charlie Bolden and CNES President Jean-Yves Le Gall signed on to the joint mission Friday in Washington.
The agreement calls for NASA to provide the satellite's payload module, including a Ka-band radar interferometer, a microwave radiometer and antenna, a laser retroreflector array, and a GPS receiver. NASA is also charged with selecting and paying for a launch vehicle for SWOT.
France will provide the mission's spacecraft bus, a radio frequency unit for SWOT's U.S.-built radar interferometer, a dual-frequency Ku-band/C-band nadir altimeter, a Doppler orbit-tracking instrument, satellite command and control functions, and data processing infrastructure, according to a NASA press release.
The division of responsibilities is broadly similar to U.S. and French roles on the Jason series of satellites, in which France built the spacecraft, NASA provided the launcher, and the countries jointly developed the missions' instrument payloads.
Two Jason sea surface topography satellites launched in 2001 and 2008, and a third Jason mission is scheduled for liftoff in early 2015. The Jason missions followed TOPEX/Poseidon, another joint NASA-CNES satellite launched in 1992.
Like the Jason satellites, SWOT will measure sea surface topography but will expand satellite measurements to flood zones, rivers, lakes and small-scale ocean eddies that drive much of Earth's climate, help disperse pollutants and are crucial in sea navigation.
SWOT will cover 90 percent of the globe, and scientists say the mission will improve water management and ocean circulation models. The mission's measurements of freshwater resources will help hydrologists estimate water discharge into rivers and aid flood prediction.
The mission's sensors will cover a wider swath than previous ocean surface topography missions, and it will measure the ocean's surface with 10 times the resolution of current technologies, according to NASA.
"With this mission, NASA builds on a legacy of Earth science research and our strong relationship with CNES to develop new ways to observe and understand our changing climate and water resources," said NASA Administrator Charles Bolden in a statement. "The knowledge we'll gain from SWOT will help decision makers better analyze, anticipate, and act to influence events that will affect us and future generations."
Team will complete the preliminary design of the SWOT mission in 2016, aiming for launch of the satellite in 2020.
French officials have said their budget for SWOT is approximately 170 million euros, or about $235 million. NASA's costs for SWOT are predicted to be between $642 million and $742 million, according to a Government Accountability Office report.
The Jet Propulsion Laboratory is managing NASA's role in the SWOT mission.
The combined cost of SWOT, when coupled with contributions from junior partner Canada, is expected to be approximately $1 billion, the GAO reported in April.
Follow Stephen Clark on Twitter: @StephenClark1.