ULA defends Air Force's "block buy" rocket contract
BY WILLIAM HARWOOD
STORY WRITTEN FOR CBS NEWS "SPACE PLACE" & USED WITH PERMISSION
Posted: April 29, 2014


Responding to claims by aerospace newcomer SpaceX that it was unfairly blocked from competing for lucrative military missions, United Launch Alliance, winner of a sole-source Air Force contract for 27 rockets, said it was the only U.S. company that met stringent Pentagon mission requirements using boosters with a proven track record.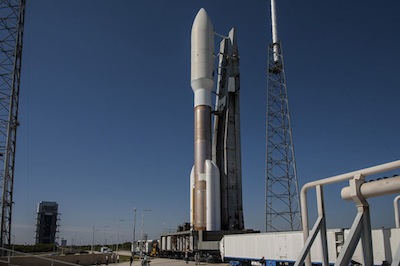 File photo of a United Launch Alliance Atlas 5 rocket. Credit: United Launch Alliance



"Canceling the contract and terminating the block buy -- which involves hundreds of suppliers and is enormously complex -- would cost billions," ULA said in a statement released late Monday. "Additionally, it could put critical mission schedules at risk that would have impact on operational capabilities and the satellite program costs."

ULA is the only "government certified launch provider" currently operating that "meets all of the unique EELV (evolved expendable launch vehicle) requirements that are critical to supporting our troops and keeping our country safe," the company said.

ULA's comments came on the heels of a formal bid protest filed Monday by SpaceX in the U.S. Court of Federal Appeals that alleges the Air Force violated government procurement law when it awarded the sole-source contract, which the SpaceX complaint called "dangerous, fiscally irresponsible and offensive to American values." SpaceX insists it was qualified to compete for military contracts and should have been included.

United Launch Alliance is a partnership between Boeing, which designed the Delta 4 family of rockets, and Lockheed Martin, designer of the Atlas 5. The two rocket builders initially competed for military and civilian launch contracts, but joined forces as part of an Air Force decision to keep both production lines open to ensure access to space for high-priority national security payloads.

Since the company's founding in 2006, ULA has launched 81 successful missions in a row, including sophisticated spy satellites, military communications stations, weather satellites, navigation beacons and NASA science spacecraft, including the Curiosity Mars rover, the New Horizons probe en route to Pluto and the Juno mission on the way to Jupiter.

But military missions are ULA's core business and the five-year block buy contract for 27 launch vehicles, including four heavy-lift variants of the Delta 4 booster, is valued at some $11 billion. The actual block buy contract originally covered 35 rocket cores after one was moved to another contract. Yet another core later was added to the block buy to push the total back to 36.

SpaceX, founded by internet entrepreneur Elon Musk, builds the Falcon 9 rocket and holds a $1.6 billion contract with NASA to launch at least 12 uncrewed cargo ships to the International Space Station. The Falcon 9 version 1.1 rocket also is used to launch commercial communications satellite. SpaceX claims a manifest with $5 billion in orders.

SpaceX has launched eight Falcon 9 missions, all of them successful, and Musk believes his rockets offer a reliable, lower-cost alternative for military payloads in the Falcon 9's lift capability.

ULA was awarded the block buy contract last December, before SpaceX's upgraded Falcon 9 version 1.1 rocket had met Air Force certification requirements needed to win a military launch contract. SpaceX has since completed the flight requirement -- three successful launchings in a row -- and is in the process of working through the remaining certification paperwork and engineering reviews.

SpaceX was not allowed to compete for any of the rocket cores in the ULA block buy. The Air Force initially said it intended to buy 14 more rocket cores on a competitive bases, but half of those missions later were excluded.

According to an Air Force media roundtable in March, five missions to launch navigation satellites were deferred beyond the current budget horizon, another payload was deemed too heavy for the Falcon 9 and a seventh payload was awarded to ULA as part of the block buy commitment, pushing the total back to 36 cores.

In any case, ULA and the Air Force have said the block buy will result in a savings of $4 billion "while keeping our nation's assured access to deliver critical national security assets safely to space."

"Space launch is one of the most risk-intolerant and technologically advanced components of our national security," the company said. "That is why new entrants must meet rigorous certification criteria of vehicle design, reliability, process maturity and safety systems in order to compete, similar to the process that ULA's Atlas and Delta products and processes have met."

Musk disagrees, telling reporters last week that his company was unfairly excluded from competing for rockets in the block buy contract. A SpaceX spokeswoman said Air Force certification was required to actually win a military contract, but not to compete for one.

Musk also said the $4 billion in savings cited by the Air Force and ULA is misleading and does not reflect the program's actual cost. He says the Falcon 9 can safely carry many single-core payloads at a quarter of the cost of a ULA rocket.

The SpaceX legal challenge claims the block buy is an "exclusive deal" that "was concluded outside of public scrutiny" and includes one rocket, the Atlas 5, that relies on a Russian RD-180 first-stage engine to launch U.S. national security payloads.

As a result, SpaceX argues, the contract "funnels hundreds of millions of U.S. taxpayer dollars to Russia's military-industrial base, including monies that may flow to individuals on the U.S. sanctions list."

"Further, it defers meaningful free competition for years to come, costing taxpayers billions of dollars more," the complaint alleges. "Beyond violating core tenets of government procurement law, the ULA Contract is dangerous, fiscally irresponsible and offensive to American values of open competition and fairness."

The complaint seeks "permanent injunctive relief" to forbid the Air Force from buying single-core rockets for EELV missions without a fair competition while requiring a detailed explanation if a sole-source contract is awarded.

During a news conference late last week, Musk said "the reasonable thing to do would be to cancel the (block buy) contract, wait a few months for (Falcon 9) certification to complete, then conduct a full competition. That would be in the best interest of the American public, not by a small margin, but by a huge one."

During a Senate hearing in March, Musk even suggested the government should consider eliminating the Atlas 5 altogether, relying solely on the Delta 4 and Falcon 9. He did not mention that the Atlas 5 is the launcher of choice for two companies, Boeing and Sierra Nevada, that are competing with SpaceX for NASA contracts to build and launch commercial crewed spacecraft to the space station.

ULA countered Monday that the block buy contract "was the result of a best practice acquisition process" that "saved the government and taxpayers approximately $4 billion while keeping our nation's assured access to deliver critical national security assets safely to space."

As for the RD-180 engine that has powered the Atlas 5 first stage for the past two decades, ULA "has always maintained contingency capabilities if the supply was interrupted to ensure our customers' mission needs are met," the company said. "ULA maintains a two-year inventory of engines in the U.S. and would be able to transition other mission commitments to our Delta rockets if an emergent need develops."

Musk last week singled out Dmitry Rogozin, deputy prime minister of Russia's defense and space industry, saying he is on the U.S. sanctions list in the wake of the Ukraine crisis. In the SpaceX complaint, the company alleged that "under the ULA Contract, the Air Force is sending millions of dollars directly to an entity controlled by Russia and to an industry led by an individual identified for sanctions."

Last week, Rogozin tweeted that people implying he personally profits from U.S. funding for the RD-180 were "morons." Tuesday, he tweeted that "after analyzing the sanctions against our space industry I suggest the US delivers its astronauts to the ISS with a trampoline."