Orbital to merge with ATK aerospace and defense units
BY STEPHEN CLARK
SPACEFLIGHT NOW
Posted: April 29, 2014


Officials announced Tuesday plans to merge ATK's aerospace and defense division with Orbital Sciences Corp., combining the top U.S. supplier of solid rocket motors with a leading launch and satellite contractor tasked with delivering cargo to the International Space Station.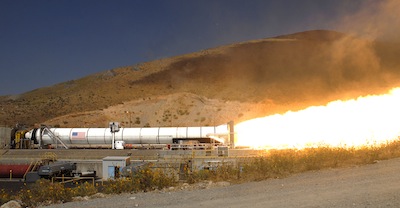 File photo of a ground test firing of a five-segment solid rocket motor under development for NASA's Space Launch System mega-rocket. Credit: ATK

Hailed as a "merger of equals" by Orbital chief executive David Thompson, the deal would create a vertically-integrated aerospace contractor, uniting ATK's specialties in propulsion and composite structures with Orbital's expertise on the other end of the supply chain -- integration and services.
"We see oppportunities to focus and build upon ATK's success in aerospace and defense through a combination with Orbital's proven track record in creating new launch vehicles, satellites and other advanced space technologies," said Mark DeYoung, CEO of ATK, in a Tuesday conference call with investment analysts.
A filing with the U.S. Securities and Exchange Commission says Orbital will become a "wholly owned subsidiary" of ATK following the merger.
"This is a great day for both Orbital and ATK, as we announce a truly transformative merger of equals that will create a major new space, defense and aviation systems company," Thompson said.
ATK builds solid rocket motors to power Orbital's missiles and satellite launchers, including the air-launched Pegasus rocket and the medium-lift Antares rocket used to send cargo to the space station.
"Over 400 ATK-provided rocket motors have been used on more than 150 Orbital-built launch vehicles since the late 1980s," Thompson said. "About 100 Orbital-produced satellites have incorporated over 250 ATK-provided solar arrays, communications antennas, propellant tanks and composite structures since the mid-1990s."
Orbital and ATK expect to clear regulatory approvals and obtain shareholder approvals before closing the merger by the end of 2014. The new company will be named Orbital ATK Inc. and based at Orbital's current headquarters in Dulles, Va.
Thompson said the combined company will focus on affordability and innovation, two "watch words" he expects to drive the next few years in the commercial and government aerospace markets.
"Budgets are going to be tighter, but the need for product and technology innovation is not going away," Thompson said. "So the combination now puts Orbital ATK, I think, at the forefront of the changes that are going to become increasingly evident, particularly from the defense sector, over the next five years."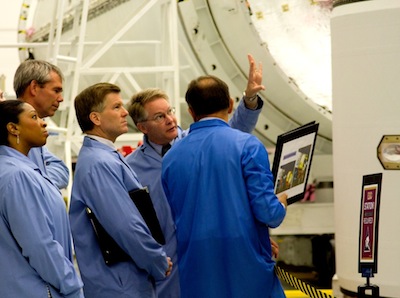 Orbital Sciences co-founder, chairman and CEO David Thompson (second from right) gives a tour to Virginia's then-Gov. Bob McDonnell. Credit: NASA

The merger also unites ATK and Orbital's participation in NASA's cornerstone human spaceflight programs in the post-space shuttle era.
ATK is developing solid rocket boosters for NASA's Space Launch System, a heavy-lift mega-rocket to send astronauts on voyages to deep space and ultimately Mars. The boosters are more powerful versions of the motors flown on the space shuttle.
Orbital Sciences is one of two companies -- along with SpaceX -- under contract to NASA to resupply the space station under a $1.9 billion commercial procurement.
ATK also builds composite structures for aircraft, rockets and satellites.
Officials said Tuesday the merger will cut duplicative costs, broaden the product portfolio of ATK and Orbital, and accelerate expansion into new business areas.
Thompson singled out a potential bid to develop and build the U.S. Air Force's next-generation intercontinental ballistic missile later this decade and a large-scale in-space satellite servicing system. He said ATK and Orbital were unlikely to successfully pursue either program alone.
Orbital was already considering increased ATK involvement in the Antares rocket for the company's space station resupply system, Thompson said. ATK currently supplies the Castor 30 motor for the Antares rocket's second stage and will build upgraded solar arrays for the Cygnus cargo craft.
Orbital and ATK also work together on the Stratolaunch system, a next-generation air-launched rocket based on the Orbital Sciences Antares booster. Stratolaunch is backed by Vulcan Capital, a group led by Microsoft co-founder Paul Allen.
Annual cost savings of up to $100 million should be achieved by the end of 2016, assuming the merger deal is finalized by the end of this year, according to Thompson.
He said Orbital purchased between $60 million and $100 million in rocket motors each year from ATK, so the merger would eliminate costs in supplying propulsion to Orbital's rocket programs.
Thompson told analysts that Orbital was seeking to become more vertically-integrated, reducing its reliance on external companies for components for its satellites, missiles and satellite launchers. Orbital has made progress on that front in recent years in electronics, guidance and communications systems, he said.
"The big remaining challenge that we faced was propulsion," Thompson said. "Depending on the product under discussion, the propulsion system can represent anywere from 25 to maybe 35 percent of the total cost to put a launch vehicle together."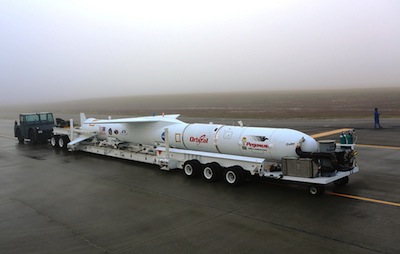 An Orbital Sciences Pegasus rocket rolls out of its hangar for attachment to a carrier airplane before launch of a NASA science satellite. ATK supplies rocket motors for the Pegasus rocket. Credit: Orbital Sciences Corp.

The types of components ATK provides for commercial and government satellites represent up to 20 percent of the total cost of a spacecraft, according to Thompson.
"This gives us up an opportunity to go from maybe 45 to 50 percent internal value-added in launch vehicles up to 70, 75 or 80 percent, and not quite such a dramatic change in satellites, but nevertheless a movement in that direction," Thompson said.
"It will allow the Orbital heritage business units to reduce costs and increase product performance for our core space and missile defense customers, in part through greater vertical integration provided by ATK's propulsion systems and space components," Thompson said. "For the ATK heritage businesses, it will provide greater value-added options for customers in strategic and tactical missiles, [and] advanced armament and commercial aviation areas through application of Orbital's systems engineering and integration capabilities."
According to DeYoung, the combined revenue of Orbital Sciences and ATK's aerospace and defense business was $4.5 billion in 2013, and earnings before interest, taxes, depreciation and amortization was $575 million.
About 60 percent of Orbital ATK's revenue will be in space and aeronautics, Thompson said.
Under the merger plan, ATK shareholders will own 53.8 percent of the new company, with Orbital's shareholders holding a 46.2 percent stake. The new company will have about 13,000 employees with operations in about 20 states.
The combined contract backlog of the companies is approximately $11 billion.
David Thompson, Orbital's co-founder, chairman and CEO, will be president and chief executive of Orbital ATK. The company's chairman will be Ronald Fogleman, the incumbent non-executive chairman of ATK and a retired U.S. Air Force general.
Orbital ATK's chief operating officer will be Blake Larson, head of ATK's aerospace group. Orbital chief financial officer Garrett Pierce will retain the same post in the new company, according to a press release.
The companies said an "equitable and balanced" selection of top executives from each company will hold senior positions in Orbital ATK.
ATK's other major business line, focused on recreational outdoor sports and commercial ammunition, will be spun off to ATK shareholders, followed immediately by the tax-free all-stock merger of the company's aerospace and defense business with Orbital Sciences. The ATK board of directors has approved the move, according to DeYoung.
"Our sporting and [aerospace and defense] businesses operate in two fundamentally different markets, with very different operating dynamics, different compliance requirements, different customer sets and different growth opportunities," DeYoung said.
The spinoff and merger will result in "more focused businesses with clear and distinct strategic visions and objectives with additional operational flexibility [and] financial strength to make the most of their unique opportunities in their respective industries," DeYoung said.
Follow Stephen Clark on Twitter: @StephenClark1.