SpaceX files suit over U.S. Air Force launch contracts
BY WILLIAM HARWOOD
STORY WRITTEN FOR CBS NEWS "SPACE PLACE" & USED WITH PERMISSION
Posted: April 25, 2014


SpaceX founder and chief designer Elon Musk said Friday his company is filing a lawsuit to protest what he said were unjustified, sole-source Air Force contracts with United Launch Alliance for Delta 4 and Atlas 5 rockets used to boost high-priority military satellites into orbit.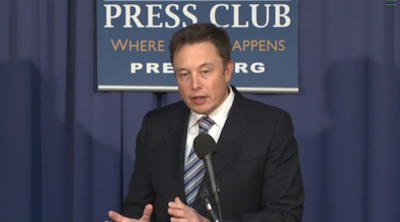 SpaceX chief executive Elon Musk speaks at the National Press Club in Washington, D.C., on Friday. Credit: National Press Club



"What we feel is that this is not right, that the national security launches should be put up for competition, and they should not be awarded on a sole source, uncompeted basis," he told reporters at a hastily arranged Washington news conference.

The lack of competition is especially galling to Musk, who said his company's Falcon 9 rocket, used to launch commercial communications satellites as well as SpaceX Dragon cargo ships to NASA's International Space Station, cost four times less than ULA's Atlas and Delta rockets.

"It just seems odd that if our vehicles are good enough for NASA and supporting a $100 billion space station, and it's good enough for launching NASA science satellites, for launching complex commercial geostationary satellites ... there's no reasonable basis for it not being capable of launching something quite simple like a (military navigation) satellite."

SpaceX currently holds a $1.6 billion contract with NASA to launch unmanned Dragon cargo ships to the International Space Station. Including that money and bookings by commercial satellite owners, SpaceX claims a launch manifest valued at some $5 billion.

But SpaceX has a relatively short track record, with just nine Falcon 9 rockets launched to date while United Launch Alliance, a partnership between Boeing and Lockheed Martin, has launched 70 evolved expendable launch vehicles, or EELVs.

Responding to similar comments from Musk during a March Senate hearing, Gen. William Shelton, head of Air Force Space Command, told the National Space Club's Florida chapter the loss of a space station resupply mission "doesn't begin to represent the catastrophic loss ... like a national security payload failure would. There's a big difference."

But Musk believes the Falcon 9 is up to the task and said Friday he simply wants a level playing field when it comes to competing for military EELV launches.

"If we compete and lose, that's fine," he said. "But why were they not even competed? That just doesn't make sense."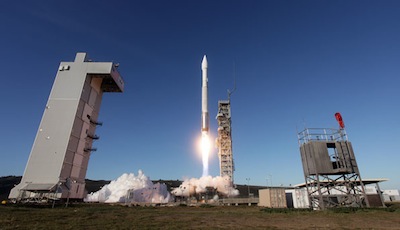 A United Launch Alliance Atlas 5 rocket lifts off from Vandenberg Air Force Base, Calif. Credit: William G. Hartenstein/United Launch Alliance



The Air Force announced plans last year to buy EELVs in bulk, instead of mission by mission, to reduce costs.

As originally envisioned, the multi-year "block buy" would cover 27 launch vehicles, including three Delta 4 heavy-lift variants that utilize three core stages each. By the end of the year, according to Space News, three contracts valued at nearly $2.6 billion had been announced covering 14 of those 36 rocket cores.

In addition, ULA holds a separate EELV Launch Capability contract believed to be valued at around $1 billion that covers the company's fixed costs, expenses not associated with a specific mission that are incurred simply by maintaining production lines and launch readiness.

When the original block buy was announced, the Air Force said another 14 missions would be awarded on a competitive basis. But five of those flights have since been deferred beyond the current budget horizon, another was deemed to heavy for the Falcon 9 and a seventh payload was awarded to ULA as part of the 36 core block buy commitment, according to an Air Force media roundtable in March.

SpaceX currently is working through a lengthy Air Force certification process that is required before the company can be awarded a military launch contract. But a company official said certification is not required to compete for a military contract.

Citing government budget figures, Musk said the average government cost per ULA launch is around $460 million, including $210 million for the rocket and another $250 million in payments to ULA to maintain a quick-response launch infrastructure.

In contrast, Musk said, a SpaceX Falcon 9 rocket lists for just $60 million while a yet-to-fly heavy-lift variant goes for around $135 million. While he expects his costs to go up by about $30 million per flight to meet Air Force mission assurance requirements, the cost per launch would still be four times less expensive than ULA's Atlas 5 and Delta 4 launches.

"The ULA rockets are four times more expensive than ours," he said. "So this contract is costing U.S. taxpayers billions of dollars for no reason."

Asked why the difference in costs was so great, Musk said "I don't know why their rockets are so expensive, they're insanely expensive."

A SpaceX Falcon 9 rocket lifts off from Cape Canaveral Air Force Station, Fla. Credit: SpaceX



He said "the reasonable thing to do would be to cancel the 36-core contract, wait a few months for (Falcon 9) certification to complete, then conduct a full competition. That would be in the best interest of the American public, not by a small margin, but by a huge one."

Musk also took the opportunity to criticize the use of a Russian-built RD-180 engine in the Atlas 5's first stage, citing the crisis in Ukraine and U.S. sanctions. The RD-180 is built by NPO Energomash and marketed by RD AMROSS, a partnership established in 1997 between Energomash and Pratt & Whitney Rocketdyne.

ULA officials have said they have enough engine components on hand to cover the next two years of Atlas operations. And RD AMROSS has a license to build the engines themselves if necessary.

But Musk said the RD-180 added "salt to the wound" because "the person who heads up Russian space activities is Dmitry Rogozin, who is on the (Ukraine) sanctions list. How is it that we're sending hundreds of millions of U.S. taxpayer money (to Russia) at a time when Russia is in the process of invading the Ukraine? It would be hard to imagine in some way that Dmitry Rogozin is not benefitting personally from the dollars that are being sent there."

For his part, Rogozin had a straight-forward answer. Apparently referring to Musk as well as an earlier Fox News story, he tweeted: "Do they think that I keep the money from sales of our engines from state enterprises for myself? Morons."

Mark Bitterman, a ULA spokesman in Washington, said in a statement that "we are aware of Mr Musk's press conference and are reviewing the transcript."

While he did not specifically address launch costs, he said ULA is proud of its record delivering national security payloads to orbit, on schedule and without any failures.

"The block buy contracting process was formally started in late 2011, with proposals delivered in 2012, and final contract signed in 2013. The DOD robust acquisition and oversight process and ULA improved performance enabled over $4 billion in savings as compared to prior acquisitions approaches.

"ULA recognizes the DOD plan to enable competition and is ready and willing to support missions with same assurance that we provide today."