NASA's relationship with Russia mostly unchanged
BY STEPHEN CLARK
SPACEFLIGHT NOW
Posted: April 22, 2014


A U.S. government directive for NASA to curtail cooperation with Russia will have little impact on the space agency's existing engagements with Russian space institutions, with the International Space Station and a few minor partnerships on robotic science missions almost entirely exempt from the policy.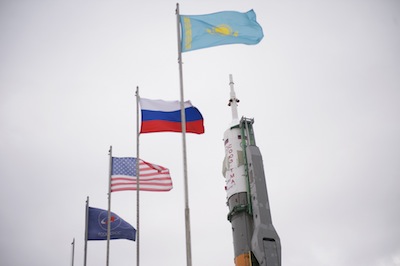 Russian and U.S. flags fly near the Soyuz launch pad at the Baikonur Cosmodrome in Kazakhstan. Credit: NASA/Joel Kowsky

The International Space Station is, by far, the largest cooperative project between NASA and the Russian government. NASA said the space station, a joint effort between the United States, Russia, the European Space Agency, Japan and Canada, was exempt when it announced the Russia policy April 2.
But the fate of smaller projects in space science and other fields was less clear, and NASA officials say they are reviewing them on a case-by-case basis.
John Grunsfeld, head of NASA's science mission directorate, said the policy has had a "minimal impact" on the agency's scientific portfolio.
NASA hosts a Russian-made instrument aboard the Curiosity rover on Mars. The Dynamic Albedo of Neutrons payload was provided to NASA by the Moscow-based Russian Space Research Institute and detects hydrogen-bearing compounds in the Martian soil, such as water and hydrated minerals.
A space agency spokesperson said April 4 the Russian instrument would not be affected by the Russia policy because it only restricts contact between NASA and Russian government officials -- not academic institutions.
NASA's participation in the ExoMars program, which is led by ESA and Roscosmos, also remains untouched because the directive only restricts bilateral activities. NASA is supplying radios and a key part of an instrument on the European-built ExoMars rover set for launch on a Russian Proton rocket in 2018.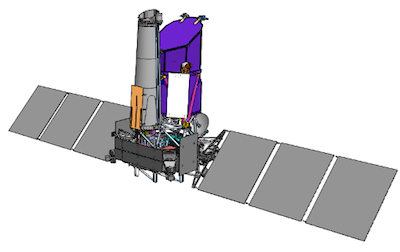 Spektr-RG. Credit: IKI

Paul Hertz, director of NASA's astrophysics division, told the NASA Advisory Council's science committee April 9 that the agency would continue a joint activity to make mirrors for the Spektr-RG mission, an X-ray and gamma ray telescope set for launch in 2016.
NASA's attendance at the 40th meeting of the Committee on Space Research, or COSPAR, would also go forward, officials said.
According to Grunsfeld, the participation of NASA in a science definition team for Russia's Venera-D mission to Venus was still under review in mid-April. NASA and Russia's Space Research Institute were discussing U.S. contributions to a robotic mission to Venus for launch between 2021 and 2023.
Follow Stephen Clark on Twitter: @StephenClark1.