Power system failure detected on Amazonas 4A
BY STEPHEN CLARK
SPACEFLIGHT NOW
Posted: April 17, 2014


Engineers are studying an unspecified power subsystem anomaly on the recently-launched Amazonas 4A communications satellite that will likely reduce the spacecraft's transponder capacity unless it can be fixed, officials said this week.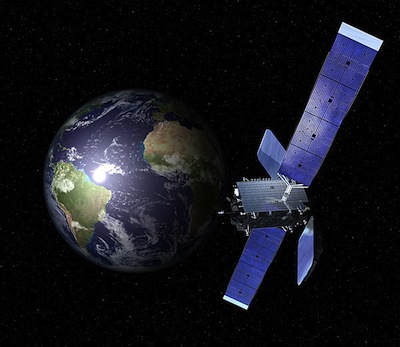 Artist's concept of the Amazonas 4A satellite in orbit. Photo credit: Orbital Sciences Corp.

Built by Virginia-based Orbital Sciences Corp. for Hispasat of Madrid, the spacecraft launched March 22 on top of an Ariane 5 rocket and positioned itself into geostationary orbit 22,300 miles over the equator to begin activations and tests. It was supposed to enter service late this spring.
But Hispasat announced Monday an anomaly was detected in the spacecraft's power subsystem.
"Hispasat and Orbital, the company responsible for the satellite's construction, are looking into the possible cause of this anomaly and taking corrective action," Hispasat said in a statement. "The satellite is currently secure in its geostationary orbit in the position where in orbit tests will be conducted."
Speaking to investment analysts in a previously-scheduled earnings call Thursday, Orbital chairman and chief executive David Thompson described the problem on Amazonas 4A as a "partial electrical system failure" that occurred about two weeks ago.
"If it cannot be fixed, this problem will likely reduce the transponder capacity of the satellite during its 15-year operational lifetime," Thompson said.
Amazonas 4A is based on Orbital's GEOStar 2 satellite platform and weighed nearly 6,500 pounds fully fueled at liftoff.
Hispasat said the economic impact of the problem to the company "would be negligible because the satellite's insurance policy covers all potential incidents."
The Spanish operator said there was a contingency plan in place to prevent any disruption in service.
Amazonas 4A is fitted with 24 Ku-band transponders to broadcast high-definition television over South America. Officials aimed to have the satellite in service by June to bolster communications infrastructure to broadcast the 2014 World Cup in Brazil.
Thompson did not disclose details of the satellite's problem, but he said engineers are part of the way through an investigation into the failure's root cause.
He said there is no indication the anomaly is a fleet-wide issue that could affect other satellites already in space or under construction.
"We're focused on two of the highly likely causes of the failure," Thompson said. "One of those, although I don't want to get into too much detail here, had to with something that was specific to the Amazonas 4A satellite that is not done on any prior or any current satellite in production."
The other potential failure mode, Thompson said, involves a well-known component with extensive heritage on flying satellites. Orbital already planned to phase out that part and replace it with a new design, and Amazonas 4A was the final Orbital-built satellite to use the previous component, according to Thompson.
"For those reasons, we don't anticipate this problem being systematic in any way," Thompson said. "This isn't a latent problem that might arise from a satellite already in orbit, and given the other characteristics of the likely causes of the problem, it's not one we would expect to encounter on any satellites currently in design or production."
Garrett Pierce, Orbital's chief financial officer, told analysts the company's first quarter revenues were $13 million lower than expected due to the potential loss of performance incentives attributable to the Amazonas 4A anomaly, resulting in a $6.4 million reduction in operating income.
Pierce said the company expects to book insurance proceeds related to the anomaly in the second quarter financial results, which should offset the hit on the financial statements released Thursday.
Follow Stephen Clark on Twitter: @StephenClark1.