SpaceX's mega-rocket to debut next year at pad 39A
BY STEPHEN CLARK
SPACEFLIGHT NOW
Posted: April 15, 2014


SpaceX signed a 20-year lease Monday to operate and maintain one of Kennedy Space Center's historic launch pads, and the California-based company plans to debut the world's most powerful rocket at the facility next year.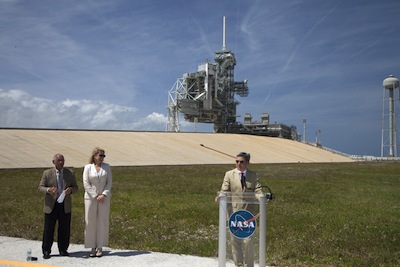 NASA Administrator Charlie Bolden, SpaceX president Gwynne Shotwell and Kennedy Space Center director Bob Cabana speak to reporters at launch pad 39A. Photo credit: NASA/Dan Casper

The agreement turns over control of Launch Complex 39A to the commercial space transportation firm, which plans to use the launch pad for the the initial flights of the Falcon Heavy, a mega-rocket featuring 27 first stage engines generating nearly 4 million pounds of thrust at liftoff.
Pad 39A was the starting point for many historic Apollo and space shuttle missions, including the Apollo 11 moon landing in 1969 and the first and last shuttle launches in 1981 and 2011.
"We'll make great use of this pad, I promise," said Gwynne Shotwell, president of SpaceX, in remarks to the media moments after signing the lease. "We've had architects and our launch site engineering [team] working for many months on the sidelines. We will launch the Falcon Heavy from here first -- from this pad -- early next year."
Shotwell said pad 39A would also host launches of astronauts aboard the crewed version of SpaceX's Dragon capsule, which is under development in a public-private partnership between the company and NASA.
SpaceX is competing with Boeing Co. and Sierra Nevada Corp. to win another round of government funding to continue development of their human-rated spacecraft, culminating in crewed missions by 2017.
Launch pad 39A becomes SpaceX's third launching base after an existing complex on Cape Canaveral Air Force Station a few miles to the south and a West Coast facility for flights into polar orbit at Vandenberg Air Force Base, Calif.
SpaceX's Falcon 9 rockets have flown eight times -- seven launches from Cape Canaveral and one flight from Vandenberg.
Without going into detail, Shotwell said SpaceX would make some modifications to pad 39A but leave historic elements of the complex, which has sat mostly untouched since the space shuttle Atlantis rocketed into orbit on July 8, 2011, to begin its last mission.
The turnover of pad 39A marks another milestone in the space center's transformation following the retirement of the space shuttle. Lockheed Martin Corp. set up a factory for the Orion crew exploration vehicle inside KSC's Operations and Checkout Building, and Boeing plans to concentrate construction and processing of its CST-100 commercial crew capsule and the U.S. Air Force's unmanned X-37B space plane in two former space shuttle hangars.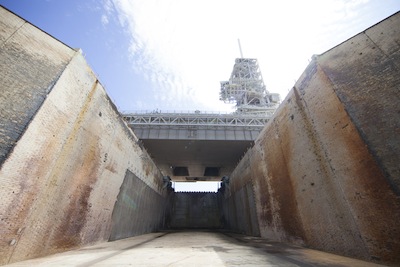 A view of the flame trench at launch pad 39A. Photo credit: NASA/Dan Casper

SpaceX will operate and maintain pad 39A at its own expense, according to a NASA press release. NASA was spending about $1 million annually on upkeep for the launch pad.
NASA officials see no need for pad 39A in its space exploration plans. Nearby Launch Complex 39B received a facelift over the last four years, which saw the demolition of its shuttle-era servicing towers, refurbishment of plumbing and propellant tanks, and modernization of its electrical and communications network.
Pad 39B will be home to NASA's Space Launch System, a government-owned heavy-lift rocket that will launch astronaut crews on deep space expeditions. NASA plans its first destination to be an asteroid repositioned by a robotic spacecraft in a stable orbit near the moon.
The first unmanned test launch of the SLS is scheduled before the end of 2017.
Shotwell said SpaceX plans to build a new hangar near launch pad 39A to assemble rockets horizontally before transferring the launchers to the pad and lifting them atop a launch platform for liftoff.
The Falcon Heavy is SpaceX's biggest booster. It is powered by three kerosene-fueled first stages and an upper stage derived from the Falcon 9 rocket.
Each Falcon 9 first stage is powered by nine Merlin 1D engines. The Falcon Heavy, which uses a combined 28 engines, will be the most powerful space launcher in the world when it first flies in 2015.
SpaceX says the Falcon Heavy can lift nearly 117,000 pounds, or 53 metric tons, into low Earth orbit and shoot 29,000 pounds of payload on a trajectory to Mars. When fueled for launch, the rocket will weigh more than 1,600 tons.
The Falcon Heavy's inaugural flight was scheduled from Vandenberg Air Force Base, but the acquisition of launch pad 39A allows SpaceX to move the mission from California to Florida.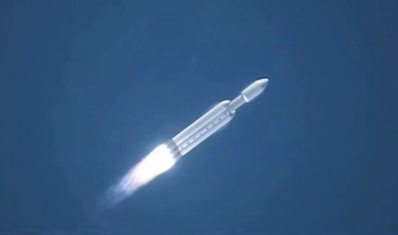 Artist's concept of the Falcon Heavy. Photo credit: SpaceX

"Until yesterday, we didn't actually have pad 39A," said Emily Shanklin, a SpaceX spokesperson, in an email response to questions. "Once the lease was signed, it became the option that made the most sense. Our first heavy missions are out of the Cape, and 39A will feature vertical integration as well, which is required by the military."
The U.S. Air Force requires its most precious payloads to be attached to their rockets in a vertical orientation. SpaceX's current processing paradigm uses horizontal integration, where satellites are bolted to the launch vehicle inside a hangar, then the rocket rolls to the launch pad and is hoisted upright within hours of liftoff.
SpaceX is seeking to break into the market to launch pricey Defense Department and intelligence missions. United Launch Alliance, a joint venture between Boeing and Lockheed Martin, currently launches all of the military's large satellites on Delta 4 and Atlas 5 rockets.
The Air Force set aside 14 missions for competition between ULA and SpaceX -- and any other company wishing to bid -- over the next few years, but budget cuts and delays threaten to cut that number to fewer launches open for bidding.
The military's insistence that its payloads be integrated with rockets vertically, an overlooked point in recent congressional hearings and debates on the future of the U.S. launch market, has forced SpaceX to rethink its concept of operations.
Vertical integration requires the presence of a fixed or mobile tower at the launch pad, giving cranes and workers access to lift and attach satellites to the rocket.
Launch pad 39A's fixed service structure, a holdover from the space shuttle era, would fit the requirement.
NASA selected SpaceX to enter negotiations to use pad 39A in December after a protest from Blue Origin, a private rocket company owned by Amazon.com founder Jeff Bezos, challenging the fairness of the space agency's search for a tenant to assume control of the launch complex.
Blue Origin claimed NASA expressed a preference for the future tenant of pad 39A to support a multi-user concept, in which several different rockets could utilize the facility.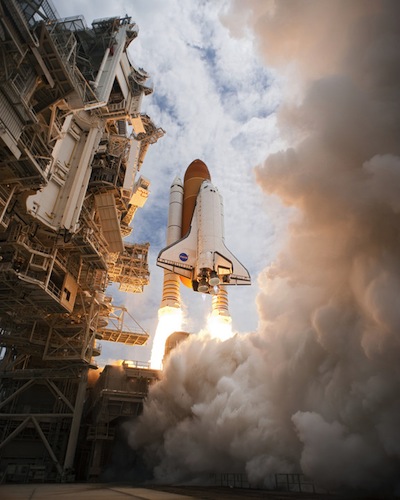 File photo of the launch of space shuttle Atlantis from pad 39A on the final shuttle mission. Photo credit: NASA/Tony Gray and Tom Farrar

The Government Accountability Office in December decided NASA had expressed no preference for either a multiple-user or an exclusive agreement for the launch pad. NASA announced its selection of SpaceX the day after the GAO rendered its decision.
NASA officials say they will make launch pad 39B available to commercial users when it is not needed by the Space Launch System.
The first two SLS flights are scheduled for 2017 and 2021 -- the first crewed launch -- so NASA officials say such a long gap will create an opportunity for other rockets to use launch pad 39B.
The SLS will only stay at the launch pad for three-to-five days after rollout from KSC's massive Vehicle Assembly Building before liftoff, ensuring a minimal footprint and few scheduling conflicts for potential commercial users, officials said.
Follow Stephen Clark on Twitter: @StephenClark1.