All-weather surveillance satellite put in orbit by Israel
BY STEPHEN CLARK
SPACEFLIGHT NOW
Posted: April 10, 2014


Israel launched a reconnaissance satellite Wednesday, adding a radar-equipped imaging platform to the country's intelligence-gathering network to monitor Iran's nuclear program and neighboring territories.
Credit: Israeli Ministry of Defense

The satellite's synthetic aperture radar will collect high-resolution imagery and is not hamstrung by the limitations of spy satellites with optical cameras, such as clouds and darkness.
The spacecraft's imaging capabilities and orbit were not disclosed by Israel, and the U.S. military does not publish the orbital parameters of Israeli intelligence-gathering satellites under an agreement between the two nations.
A Shavit 2 launcher boosted the Ofeq 10 satellite into orbit at 1915 GMT (3:15 p.m. EDT) Wednesday, or 10:15 p.m. local time, from the Palmachim air base about about 15 miles south of downtown Tel Aviv, according to the Israeli Defense Ministry.
Other reports indicated launch occurred at 1906 GMT (3:06 p.m. EDT).
Satellites launched from the Palmachim test range only fly west from the Israeli coast, meaning Ofeq 10 is almost certainly in a retrograde orbit in which the spacecraft travels the opposite direction of Earth's rotation.
The westerly launch trajectory would take the solid-fueled Shavit rocket over the Mediterranean Sea, avoiding dense population centers north and south of the Palmachim air base. The path over the sea avoids the danger of dropping spent rocket stages on cities.
Previous Ofeq spy satellites launched from Israel have entered orbits with inclinations of about 141 degrees.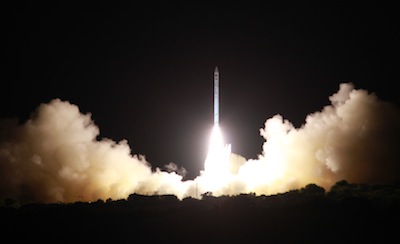 Ofeq 10 lifted off on a Shavit 2 rocket Wednesday night, local time. Photo credit: IAI/Israeli Ministry of Defense

"According to plan, the satellite entered its orbit around the Earth and underwent a series of tests to confirm its serviceability and accurate performance," said a statement by Israel Aerospace Industries, prime contractor for the Shavit rocket and Ofeq 10 spacecraft.
"The satellite then began transmitting data and visual material to Earth," the statement said.
Engineers from the Israeli Ministry of Defense and Israel Aerospace Industries will continue tests of the Ofeq 10 satellite until it is ready for operational service, officials said.
Israeli companies involved in the project besides IAI include Rafael, Spectralink from Elbit Systems, Rokar and Israel Military Industries. The Israel Defense Forces supported the launch operations, according to IAI.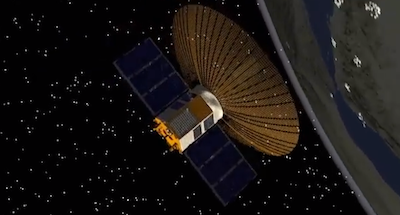 Artist's concept of Ofeq 10 in orbit. Photo credit: Israeli Ministry of Defense

Ofeq 10's radar imagery will help the Israel Defense Forces and the government's intelligence services track the activities of its neighbors, such as the ongoing civil war in Syria and Iran's nuclear program.
The new spacecraft is Israel's second radar spy craft after Ofeq 8, or TECSAR, launched on an Indian rocket in 2008. All other Ofeq satellites have carried high-resolution optical cameras.
Ofeq means "horizon" in Hebrew.
Wednesday's launch was the ninth flight of a Shavit rocket since 1988, when it debuted as an upgraded version of Israel's Jericho ballistic missile.
Follow Stephen Clark on Twitter: @StephenClark1.