Arianespace's Soyuz order to cover market until 2019
BY STEPHEN CLARK
SPACEFLIGHT NOW
Posted: April 7, 2014


Arianespace has finalized an agreement to order a batch of seven Soyuz rockets from Russia, covering the French launch service provider's demand for medium-lift missions until 2019, the company's chief executive announced last week.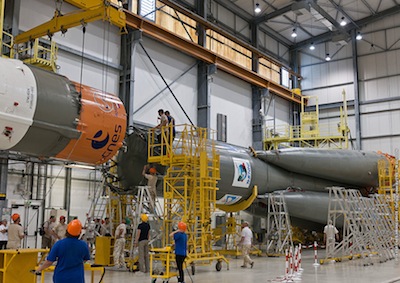 A Soyuz rocket inside the integration building at the Guiana Space Center. Photo credit: ESA/CNES/Arianespace - Photo Optique Video du CSG - JM Guillon

The agreement gives Arianespace up to 16 Soyuz launches from French Guiana over the next five years, enough to maintain the company's pace of three or four Soyuz missions annually alongside up to a half-dozen Ariane 5 heavy-lift missions and about two launches of Europe's light-class Vega booster.
Russian Soyuz launchers have flown from the European-run space center in French Guiana since October 2011. Seven Soyuz missions have been completed successfully from the jungle launch base, lofting European Galileo navigation satellites, French surveillance satellites, a quartet of broadband communications satellites for O3b Networks Ltd., and Europe's Gaia star surveying probe.
Another Soyuz launch delivered Europe's first Sentinel Earth observing satellite to orbit Thursday.
Stephane Israel, Arianespace's chairman and CEO, announced the fresh order of Soyuz launchers in remarks after the conclusion of Thursday's mission.
"Tonight was the seventh success of Soyuz from the Guiana Space Center," Israel said Thursday. "As with the heavy-lift Ariane 5 and lightweight Vega, Soyuz provides unrivaled quality, reliability and schedule assurance to our customers."
In an interview in March, Israel said Arianespace was in the final stages of negotiating an agreement for additional Soyuz rocket launches from French Guiana. He said the price had not changed much from Arianespace's last order of 10 Soyuz rockets from Russia.
"The price will not be very different from the previous order," Israel said in March. "We have been able to go for the price each partner wanted."
Arianespace did not disclose the financial terms of its agreement with Roscosmos, the Russian federal space agency.
Roscosmos chief Oleg Ostapenko attended the Soyuz launch at the Guiana Space Center on Thursday.
"The agreement that was signed during the various negoations that we had, all this ensures that the work ahead of us to work on different additional payloads will be very successful," Ostapenko said through a translator.
TsSKB Progress of Samara, Russia, is the builder of the Soyuz rocket. All Soyuz launches from French Guiana fly with a Fregat upper stage designed and manufactured in Russia by NPO Lavochkin.
The European-funded, Russian-built Soyuz pad is located about eight miles northwest of the Ariane 5 and Vega launch pads at the Guiana Space Center.
It took three years and cost European governments $800 million to build the Soyuz launch facility, which is known by its French acronym ELS. Other than a 17-story mobile servicing tower and four lightning masts, the launch pad is modeled after the Soyuz launch pad at the Baikonur Cosmodrome in Kazakhstan.
Follow Stephen Clark on Twitter: @StephenClark1.