ULA, SpaceX reschedule launches after radar outage
BY STEPHEN CLARK
SPACEFLIGHT NOW
Posted: April 4, 2014


After a two-week delay to wait for the U.S. Air Force to restore a critical radar tracker, United Launch Alliance and SpaceX have rescheduled their next rocket missions from Cape Canaveral for April 10 and April 14.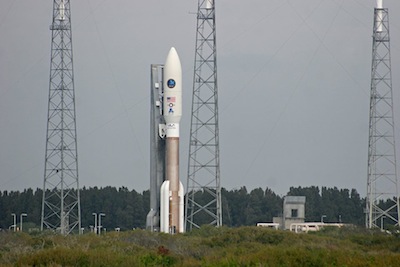 The Atlas 5 rocket rolled to the launch pad March 24 before a delay due to a radar outage on the Air Force Eastern Range. Workers returned the launcher to its integration building to wait for another launch opportunity. Photo credit: Stephen Clark/Spaceflight Now

Officials put the launches on hold after a component on a rocket tracking radar short-circuited March 24, causing it to overheat and knock the radar offline.
Without the radar, the Air Force's Eastern Range was unable to support launch attempts for the ULA Atlas 5 and SpaceX Falcon 9 rockets then set for March 25 and March 30.
The Eastern Range is a network of communications stations, tracking radars and safety assets along Florida's East Coast and stretching into the Atlantic Ocean under the ground tracks of rockets as they fly into orbit.
The range's job is to keep the public and property safe from launching rockets in case the vehicles fly off course.
The radar responsible for the delays is owned by the Air Force but lies on the property of NASA's Kennedy Space Center.
First up on April 10 is the Atlas 5 launch of a top secret payload for the National Reconnaissance Office, the U.S. government agency which owns and operates imaging and eavesdropping spy satellites.
Liftoff from Cape Canaveral's Complex 41 launch pad is set for a launch period opening at 1 p.m. EDT (1700 GMT) and extending until 2:35 p.m. EDT (1835 GMT).
Officials have not disclosed the actual launch window within that period, citing security concerns.
The April 10 launch will come one week after an Atlas 5 launch from Vandenberg Air Force Base in California with the military's DMSP F19 weather satellite.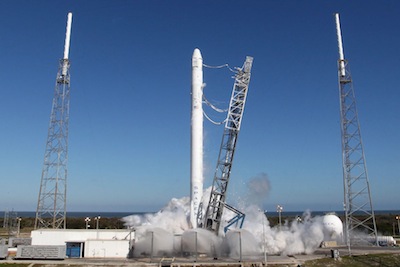 Photo of the Falcon 9 rocket undergoing a prelaunch static fire test on the launch pad in March. Photo credit: SpaceX

A Falcon 9 rocket is scheduled for liftoff April 14 from the nearby Complex 40 pad with a Dragon cargo spacecraft heading to the International Space Station.
The automated spaceship will deliver 2.4 tons of equipment to the space station under contract to NASA.
Launch on April 14 is set for 4:58 p.m. EDT (2058 GMT), and the Dragon spacecraft will arrive at the space station April 16.
A spokesperson with the Air Force's 45th Space Wing on Friday said the Eastern Range is expected to be ready to support both launches. He did not say whether the Air Force had repaired the damaged radar or activated a backup system to restore the lost tracking capability.
Follow Stephen Clark on Twitter: @StephenClark1.