Station exempt from policy blocking contact with Russia
BY WILLIAM HARWOOD
STORY WRITTEN FOR CBS NEWS "SPACE PLACE" & USED WITH PERMISSION
Posted: April 2, 2014


NASA has been told to suspend contact with Russian government officials because of Russia's "ongoing violation of Ukraine's sovereignty and territorial integrity," according to an agency memo circulated Wednesday. The International Space Station, which is jointly operated by NASA, Russia, the European Space Agency, Japan and Canada, is exempt and not directly impacted by the new guidelines.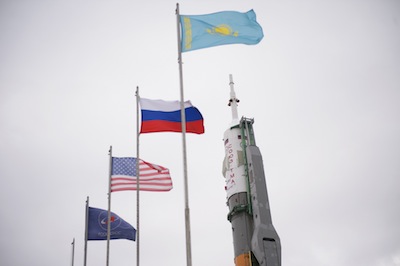 Russian and U.S. flags fly near the Soyuz launch pad at the Baikonur Cosmodrome in Kazakhstan. Credit: NASA/Joel Kowsky



The memo apparently reflects a broad State Department directive to multiple federal agencies that have regular contact with the Russian government. In NASA's case, the space station represents the bulk of the agency's dealings with Russia and the exemption presumably means business as usual.

But the space agency has multiple, less-visible cooperative efforts in space science, aeronautics and other areas, and the potential impacts on those remain to be seen.

"Apparently, this is happening in all federal agencies," said John Logsdon, professor emeritus of political science and international affairs at George Washington University. "So it's consistent with the across-government thing. It's civilian, it doesn't have anything to do with the RD-180 (a Russian engine used aboard Atlas 5 rockets) and ISS is unperturbed."

He said the restrictions mirror those already in place governing NASA's relationship, or lack thereof, with China.

"Personally, I think it invites retaliation," Logsdon said of the new Russian guidelines. "But the company line is it's not an escalation, and no retaliation is expected."

The memo was sent to NASA field centers Wednesday by Michael O'Brien, the agency's associate administrator for International and Interagency Relations.

"Given Russia's ongoing violation of Ukraine's sovereignty and territorial integrity, until further notice, the U.S. Government has determined that all NASA contacts with Russian Government representatives are suspended, unless the activity has been specifically excepted," the memo says.

"This suspension includes NASA travel to Russia and visits by Russian Government representatives to NASA facilities, bilateral meetings, email and teleconferences or videoconferences."

The only exceptions are "operational International Space Station activities," the memo, posted on multiple web sites, continued. "In addition, multilateral meetings held outside of Russia that may include Russian participation are not precluded under the present guidance."

NASA has enjoyed a close relationship with Roscosmos, the Russian federal space agency, since the early 1990s when, in the wake of the Soviet Union's collapse, Russia joined the International Space Station program.

The station is now virtually complete, at a cost to U.S. taxpayers of some $100 billion over the past three decades, and the Obama administration recently approved long-range plans to operate the outpost at least through 2024.

In its current form, the space station's operation requires close cooperation between all of the partner nations, but especially between NASA and Roscosmos and their various contractors. Both sides are mutually dependent and neither could operate the station on its own.

The Russian segment of the space station taps into the lab's U.S. power grid, relies on a shared computer network and takes advantage of NASA's communications satellites. The Russians also rely on U.S. gyroscopes and flight controllers at the Johnson Space Center in Houston to keep the outpost properly oriented without having to use precious rocket fuel.

NASA, in turn, relies on the Russians to ferry U.S. and partner astronauts to and from the station aboard Soyuz spacecraft and to provide the propulsion needed for major station maneuvers. Both sides share critical life support systems and launch uncrewed cargo ships to keep the station supplied.

NASA hopes to have one or more commercially developed spacecraft capable of carrying NASA astronauts to and from the station by around 2017. But until then, the agency must rely on the Russians, paying more than $70 million per seat aboard Soyuz spacecraft.

The station crew currently consists of three Russians -- Mikhail Tyurin, Alexander Skvortsov and Oleg Artemyev -- two NASA astronauts -- Rick Mastracchio and Steven Swanson -- and Expedition 39 commander Koichi Wakata, the first Japanese astronaut to command the outpost. Skvortsov, Artemyev and Swanson were launched to the station March 25.

Despite the increased superpower tensions over Ukraine and Crimea, "there is this kind of mutual dependency (with the station program) that would make it not in Russia's interest to cut off our access," Logsdon said in an interview before the most recent Soyuz launch.

"And it's certainly not in our interest to so alienate Russia that we no longer had access to the station," he said. While Russian President Vladimir Putin could step in at some point to block U.S. access to Soyuz flights, "it basically would be a catastrophe for the station," Logsdon said.

"Cutting off U.S. access to station would be kind of a last-resort action that would reflect a total breakdown of U.S.-Russian relationships," he said, adding he does not believe it will come to that. But he said the current conflict may encourage U.S. lawmakers to fully fund NASA's commercial crewed spacecraft program to ensure independent access to space as soon as possible.