Pegasus selected for launch of cyclone forecasting fleet
BY STEPHEN CLARK
SPACEFLIGHT NOW
Posted: April 1, 2014


NASA has awarded Orbital Sciences Corp. a contract to boost eight small tropical cyclone research satellites into orbit on an air-launched Pegasus XL rocket in 2016.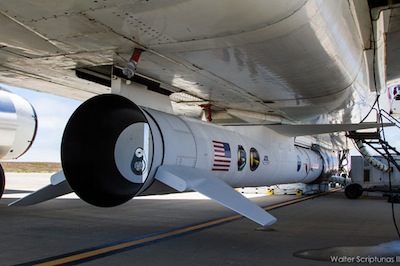 File photo of a Pegasus launch. Photo credit: NASA/KSC

The Cyclone Global Navigation Satellite System, or CYGNSS, mission is the first dedicated space mission in NASA's new low-cost Venture-class Earth science program.
The CYGNSS mission's eight identical satellites will launch in a cluster aboard the Orbital Sciences Pegasus rocket, which is dropped from the belly of a L-1011 jumbo jet before igniting its solid-fueled motors to accelerate into orbit.
The launch is scheduled for October 2016 and will be based from Cape Canaveral Air Force Station, Fla.
The launch contract is worth approximately $55 million, including spacecraft processing, payload integration, tracking, data and telemetry and other launch support requirements, according to NASA.
NASA's selection of the Pegasus XL rocket for the launch of CYGNSS gives the air-launched rocket another mission. The CYGNSS mission is currently the only launch in the Pegasus backlog, said Barry Beneski, an Orbital Sciences spokesperson.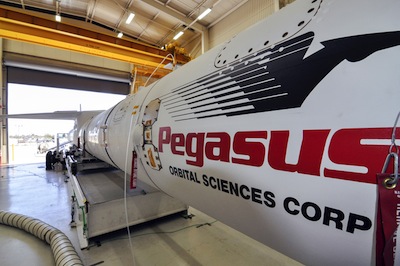 File photo of a Pegasus rocket. Photo credit: Randy Beaudoin/VAFB

Beneski said Orbital is committed to continuing the Pegasus product line despite a sharp reduction in the rocket's flight rate in recent years. Many of the air-launched booster's previous missions were for U.S. military satellites, and those launches have largely switched over to Orbital's Minotaur rocket family.
Pegasus rockets have launched 42 times since 1990, including a string of 28 successful missions in a row.
He said the Pegasus rocket is a good fit to launch many of NASA's smaller satellites, and it is the only launcher in its class to be certified to lift NASA's most expensive and critical missions.
At least one more Pegasus-class NASA missions are due to open for bids soon. The Ionospheric Connection, or ICON, mission is set for launch in 2017 to study variability in Earth's ionosphere.
CYGNSS will launch into an orbit to cover the tropics with an altitude of about 500 kilometers, or 310 miles, and an inclination of 35 degrees.
Data from the mission will help researchers study how tropical cyclones grow stronger over warm ocean waters, and meteorologists could use real-time information to help formulate hurricane forecasts.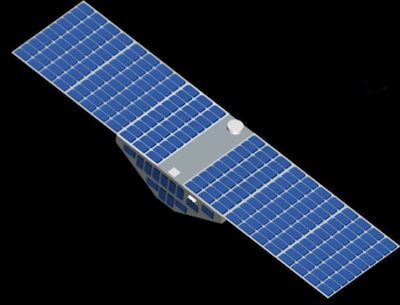 Artist's concept of a spacecraft in the CYGNSS constellation. Photo credit: Chris Ruf/University of Michigan

Cyclones are energized by warm waters, and the University of Michigan-led CYGNSS mission will observe the interaction between the atmosphere and the sea driving their intensification.
CYGNSS will use GPS signals to derive the roughness of the ocean surface, from which wind speed is retrieved, according to NASA.
Each satellite will weigh less than 40 pounds at launch and will be about the size of a swan when their solar panels are deployed in orbit.
The mission's overall cost is $151.7 million, and the eight satellites will be manufactured by Southwest Research Institute of San Antonio. Surrey Satellite Technology of Colorado, the U.S. subsidiary of the British spacecraft-builder, will provide GPS receivers for the mission.
Follow Stephen Clark on Twitter: @StephenClark1.