Florida launches grounded for up to three weeks
BY STEPHEN CLARK
SPACEFLIGHT NOW
Posted: March 30, 2014


Rocket launches from Cape Canaveral are grounded until at least mid-April after an electrical short damaged an Air Force radar at the Kennedy Space Center, officials said Friday.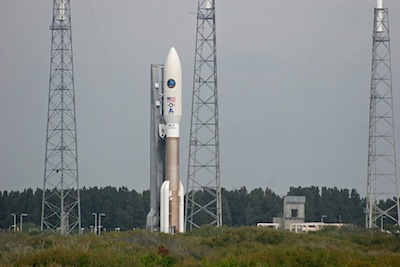 Photo of an Atlas 5 rocket, which rolled out to the launch pad March 24 before its launch was delayed by a problem with a range radar. Photo credit: Stephen Clark/Spaceflight Now

Owned by the U.S. Air Force, the radar is instrumental in tracking rockets as they fly downrange from Cape Canaveral. Safety officials are always on standby to send a destruct signal to the launcher should it stray from its predefined flight corridor.
The radar outage delayed two launches that were scheduled for liftoff this week.
A United Launch Alliance Atlas 5 rocket was scheduled to lift off March 25 with a classified payload for the National Reconnaissance Office, but the launch was reset for no earlier than April 10.
"An investigation revealed a tracking radar experienced an electrical short, overheating the unit and rendering it inoperable," the Air Force's 45th Space Wing said in a statement. "The outage resulted in an inability to meet minimum public safety requirements needed for flight, so the launch was postponed."
SpaceX's next Falcon 9 launch was also affected by the radar damage. The Falcon 9 booster was set for launch March 30, but it is also grounded until the radar is back online.
The Air Force did not disclose which radar had the problem, but a NASA spokesperson said it was located at the TEL-4 facility, which lies on Kennedy Space Center property but is owned by the Air Force.
NASA said KSC firefighters responded to a fire at the TEL-4 tracking station March 24.
"Initial assessment indicates repair of the tracking radar will take approximately three weeks," the Air Force statement said. "The Air Force is evaluating the feasibility of returning an inactive radar to full mission capability to resume operations sooner."
The Air Force operates a network of tracking radars, communications antennas and safety assets along Florida's East Coast and extending into the Atlantic Ocean to monitor rockets as they head into space.
The Air Force has experimented with a simplified range architecture relying more on satellites than ground-based infrastructure like radars and antennas.
The number of Air Force range assets at Cape Canaveral has also diminished in recent years after the retirement of the space shuttle and funding cutbacks.
A launch of a Minotaur 1 rocket from a NASA-owned range in Virginia in November tested an autonomous flight safety system using GPS navigation signals to track its position with an on-board computer. The flight safety system, developed by ATK and funded by the Defense Department, was in passive mode for the November launch but could issue an automatic destruct command if activated for future missions.
Atlas 5 and Delta 4 rockets have also carried GPS receivers on launches from Cape Canaveral, allowing the launcher's position to be tracked by satellite.
The radar problem at Cape Canaveral does not affect launches from Vandenberg Air Force Base in California, and an Atlas 5 rocket is on schedule for launch April 3 with a U.S. military weather satellite.
Follow Stephen Clark on Twitter: @StephenClark1.