Germany calls for redesign of next-generation Ariane
BY STEPHEN CLARK
SPACEFLIGHT NOW
Posted: March 27, 2014


Less than a year after selecting the design of Europe's future Ariane 6 launcher, government ministers will meet in Geneva on Friday to iron out lingering questions over the rocket after Germany's top space official last week called for the current form of the Ariane 6 to be ditched in favor of another configuration.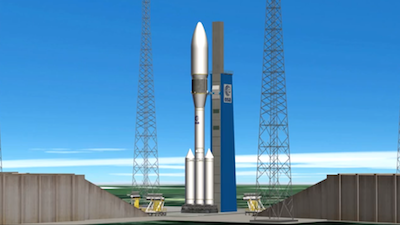 Artist's concept of the Ariane 6 rocket. Photo credit: ESA

Johann-Dietrich Woerner, chairman of the executive board of the German Aerospace Center, or DLR, said Thursday that Europe could not afford proposed launcher developments presented to European Space Agency member states at a council meeting on March 19 and 20.
"Our opinion is we should at least have another discussion," Woerner said.
The discussions will continue Friday in Geneva, when the ESA member states participating in Europe's launcher program will meet to try to bridge differences in their visions for the future of the Ariane program.
ESA plans to complete testing of a new upper stage engine for the workhorse Ariane 5 rocket, start development of the replacement Ariane 6 launcher, and continue a series of upgrades to advance the lightweight Vega booster's position in the small satellite launch market.
"We are talking about a large amount of money for the next 10 years, and I question whether this is really affordable for Europe," Woerner said in an interview with Spaceflight Now.
Germany is ESA's leading overall financial contributor, but it ranks behind France in funding of Europe's launcher programs.
The upgraded Ariane 5 rocket, known as the Ariane 5 Mid-life Evolution, is scheduled to debut by 2018. It features a new Vinci upper stage engine capable of reigniting in space to boost heavier satellites into different types of orbits.
The current version of the Ariane 5, called the Ariane 5 ECA, flies with an HM7B upper stage engine that can only fire once per flight.
Backers of the Ariane 5 ME promise it will allow European governments to end subsidies to Arianespace, the French launch services company responsible for operating the Ariane rocket family.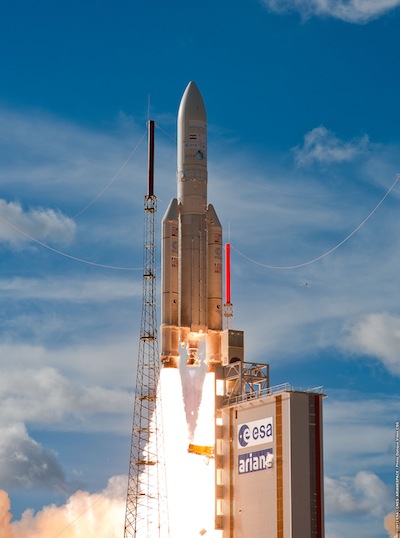 File photo of an Ariane 5 launch. Photo credit: ESA/CNES/Arianespace

"Our position is to continue and finish what we started, which means Ariane 5 ME, to get rid of the support we needed [to give Arianespace] for Ariane 5 ECA," Woerner said.
Europe's primary goal for its launcher program is to ensure independent European access to space. A secondary objective is to field a commercially-viable launch vehicle.
ESA member states in November 2012 endorsed funding Ariane 5 ME and to begin the design of Ariane 6, with an eye toward making a final decision on Ariane 6 at a ministerial-level meeting in December 2014.
ESA will ask its member states for 1.2 billion euros, or about $1.6 billion, to finish development of Ariane 5 ME for a first launch by 2018. The member states will also decide on a 4 billion euro, $5.5 billion, funding package for Ariane 6.
The Ariane 6 design endorsed by ESA and CNES, the French space agency, last summer includes first and second stages, along with two strap-on boosters, using solid propulsion and a liquid hydrogen-fueled cryogenic third stage powered by the same Vinci engine under development for the Ariane 5 ME.
Officials have dubbed the Ariane 6 configuration as the "PPH" design, using the French words for solid and hydrogen fuel.
It is this commonality, along with similarities between the solid-fueled stages and the light class Vega launcher, that European officials say will keep the Ariane 6 rocket's total development cost to around 4 billion euros.
That figure includes program management costs and design and construction of ground systems, including a new launch pad at the Guiana Space Center in South America.
The Ariane 6 should be launched for about 70 million euros, or approximately $96 million, per flight. The first test launch is set for 2021.
That is about half of the Ariane 5 rocket's current price.
Woerner said his impression after the March 19-20 ESA Council meeting was that Europe was overcommitting with simultaneous investments in Ariane 5 ME, Ariane 6 and the Vega upgrade program.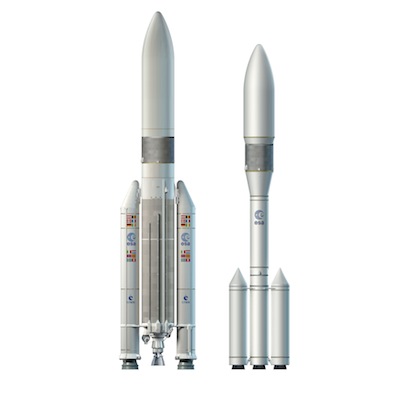 Artist's concept of the Ariane 5 ME and Ariane 6. Photo credit: ESA

"Ariane 6 is based on solid propulsion. It has some similarities with the upper stage of Ariane 5 ME, and some commonalities with Vega, but it is not intended to have Ariane 6 flown in parallel with Ariane 5," Woerner said. "Our opinion is we better have a family which is flexible, meaning you can adapt to different missions with different modules -- or brickstones -- in even more than two versions of one launcher."
Germany is a major participant in Europe's launcher program. The Ariane 5 upper stages are assembled at an Airbus Defence and Space factory in Bremen, Germany, where structures from across Europe and the French-built engines come together.
But Germany has little interest in Ariane 6's development. The Ariane 5 ME and Ariane 6 upper stages would presumably be integrated at the Bremen site, but Germany's investment in launcher development would end upon completion of the Ariane 5 ME.
France and Italy would be responsible for developing the Ariane 6's propulsion systems.
Woerner outlined a follow-on Ariane launcher more heavily based on the Ariane 5 ME, with a liquid-fueled core stage with a Vulcain engine like the existing Ariane 5.
"Our intention is to use even more of the heritage, meaning also the main engine -- the Vulcain engine -- to use it for a future launcher," Woerner said. "Our perspective is cheaper, faster, and also more flexible for the future. We don't know what the satellite market will be like in 10 years' time. We don't know, so we better be flexible."
Such an "evolved" Ariane launcher could be augmented by strap-on solid rocket motors smaller than the large boosters used on Ariane 5 today, and Woerner said engineers could tailor the rocket with the correct number of boosters to lift a specific payload.
A similar concept was employed on Europe's Ariane 4 launcher and is used today by the United Launch Alliance Atlas 5 and Delta 4 rocket fleets.
France's representative at the Geneva meeting will be Genevieve Fioraso, the French minister for higher education for research.
Speaking at a press conference last week, Fioraso said France had not determined whether it could afford both Ariane 5 ME and Ariane 6 proceeding in parallel, according to a report by Space News.
She also said France would need to consider the continued viability of the country's cryogenics industry, Space News said, hinting France might support a design change to incorporate more liquid-fueled propulsion on Europe's next-generation rocket.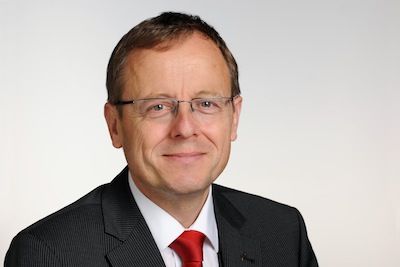 DLR chairman Johann-Dietrich Woerner. Photo credit: DLR

Woerner offered a specific design concept that could be supported by Germany.
"We would propose to have a liquid first stage, maybe with some solid boosters, and then to have an upper stage with liquid propulsion," Woerner said. "By scaling it down, you could have it as a substititution of the Soyuz launcher."
The Russian Soyuz rocket is Arianespace's medium-class satellite launcher, serving a slice of the market between the heavy-lift Ariane 5 and the lightweight Vega. The Russian Soyuz started flying from French Guiana in October 2011 and has made six successful flights from the European-run spaceport.
"The Soyuz market seems to be interesting, about 3.5 tonnes to [geostationary transfer orbit]," Woerner said. "If we have bigger payloads, we have Ariane 5 ME, and we could even have modifications in between."
Stephane Israel, Arianespace's chairman and CEO, said in an interview March 11 that he anticipated the Soyuz rocket to continue flying into the 2020s, seeing no need for a European substitution.
"In Europe, we have made a huge investment to have Soyuz in Kourou, so we are quite sure there will be Soyuz in the next decade," Israel said. "There is no doubt on that."
The current Ariane 6 configuration could put about 6.5 metric tons of payload into geostationary transfer orbit, the target orbit for most communications satellites, Arianespace's primary market.
"Regarding Ariane 6, there are some comments which have been made that since Ariane 6 is 6.5 tonnes [to GTO] with no modularities, it's overpowered for Soyuz satellites, which means that you can have both rockets in parallel in the long term," Israel said.
Woerner said a "scaled-down" Ariane 5 would be cheaper and faster to design and develop.
"It is still possible that in the beginning of the 2020s, we might have an additional new launcher," Woerner said. "That is still possible for less money and more flexibility."
Israel said he backs the launcher strategy as proposed by ESA, with Ariane 5 ME debuting by 2018 and Ariane 6 following in 2021.
"Arianespace is interested in both projects," Israel said. "Both make sense. Ariane 5 ME increases the overall flexibility and Ariane 6 is a a good cost-reduction project. We favor both projects. We hope Europe will be able to confirm both of them at the end of the year."
Follow Stephen Clark on Twitter: @StephenClark1.