NASA to examine commercial role in asteroid mission
BY STEPHEN CLARK
SPACEFLIGHT NOW
Posted: March 21, 2014


NASA plans to award $6 million to industry this summer to refine technologies and examine opportunities for an expanded commercial role in the agency's proposed mission to redirect an asteroid into Earth's vicinity for close-up inspection by astronauts in the mid-2020s, officials said Friday.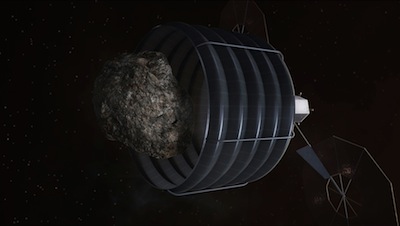 Artist's concept of a robotic spacecraft using an inflatable capture mechanism on an asteroid. Photo credit: NASA

Solicited through a broad agency announcement released Friday, the inputs will guide NASA officials as they select from one of two competing concepts to rendezvous with an asteroid in deep space and guide a rock up to 10 meters, or 33 feet, in diameter back to a stable orbit near the moon.
The Asteroid Redirect Mission is the first part of a two-step program NASA officials say will yield important information about asteroids -- the primitive building blocks of the solar system -- and test techniques for deflecting celestial objects that could threaten Earth.
The robotic redirect mission will be followed by a visit to the asteroid by astronauts inside an Orion crew capsule by 2025 to retrieve samples and return them to Earth for analysis. NASA says the crewed mission will serve as a pathfinder for future expeditions to Mars.
"The asteroid mission provides an exciting opportunity to demonstrate technologies that we'll need for future exploration as well as teach us about asteroids themselves," said Greg Williams, deputy associate administrator for policy and plans in NASA's human exploration directorate. "We see this as an important stepping stone to advance our exploration beyond [low Earth orbit]."
The solicitation issued Friday calls for proposals for concept studies, technology development activities and partnership opportunities. NASA will award $6 million to up to 25 companies, according to the announcement.
Proposals are due May 5, and NASA expects to announce awards around July 1 for studies lasting six months. The announcement is open to U.S. and international industry.
James Reuther, NASA's deputy associate administrator for space technology programs, said one focus of the next year will be reducing the cost of the Asteroid Redirect Mission by assessing the use of existing commercial satellite platforms.
"We're looking at how we put together this entire spacecraft in the most economical way," Reuther said. "Are there existing bus platforms that we could leverage that would be able to make the overall mission more affordable? In terms of improving our understanding of asteroids in particular, we're also looking at whether we could do precursor missions with small satellites or ride-along missions that would go along either on the launch vehicle and/or the asteroid redirect vehicle."
Some companies are offering electric propulsion on commercial satellite buses. Reuther said the Asteroid Retrieval Mission would not be possible without a solar electric propulsion running on 10 to 15 kilowatts of power, about two to three times more powerful than electric thrusters now on the commercial market.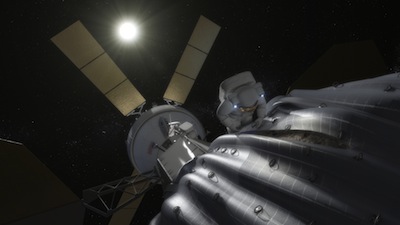 Artist's concept of an astronaut on a spacewalk at an asteroid. Photo credit: NASA

Other technologies identified for further research in the announcement are deployable capture mechanisms, autonomous robotic arms and rendezvous sensors, including a three-dimensional laser ranging system and visible and infrared cameras.
The announcement also requests proposals for how the asteroid initiative can support scientific research, in-situ resource utilization, commercial activities are future exploration after the first crewed mission to the asteroid.
NASA is considering two designs for the robotic asteroid capture mission.
One of the options is to rendezvous with an asteroid about 7 to 10 meters (23 to 33 feet) in diameter and capture it with an inflatable bag. An alternate concept calls for the retrieval spacecraft to fly to a much larger asteroid and use a robotic arm to chisel a sizable boulder from the asteroid's surface.
The asteroid capture and boulder retrieval concepts are under study by NASA's Jet Propulsion Laboratory and Langley Research Center, respectively.
In either case, the spacecraft would guide the asteroid or boulder back toward Earth with an advanced high-power solar electric propulsion system, an efficient type of engine using xenon gas and electricity instead of conventional rocket fuel.
NASA will choose one of the designs in a mission concept review scheduled for early 2015, Williams said in a conference call with reporters Friday.
The mission could launch aboard an Atlas 5-class expendable rocket as soon as 2018, according to NASA.
NASA has not picked a target asteroid for the retrieval mission.
First announced in April 2013, the asteroid initiative has received tepid support in Congress. In budget legislation passed by Congress in January, lawmakers ordered NASA to justify the mission and provide detailed cost estimates before receiving a congressional endorsement.
The asteroid initiative gained traction within NASA and the Obama administration after a 2012 feasibility report from the Keck Institute for Space Studies.
NASA has not released a cost estimate for the Asteroid Redirect Mission, but a cost analysis published in the Keck report estimated the robotic mission would cost about $2.6 billion, including technology developments, hardware procurement, launch services, operations and budget reserves.
Follow Stephen Clark on Twitter: @StephenClark1.