Orbital Sciences agrees to dismiss lawsuit against ULA
BY STEPHEN CLARK
SPACEFLIGHT NOW
Posted: March 20, 2014


Orbital Sciences Corp. is withdrawing an antitrust lawsuit against United Launch Alliance and will privately negotiate for the right to purchase Russian-made RD-180 engines, one of several engine options under evaluation as a long-term propulsion solution for Orbital's Antares rocket, according to a regulatory filing released Thursday.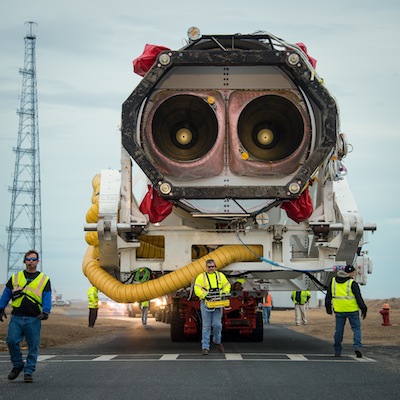 Two AJ26 engines are mounted on the first stage of an Orbital Sciences Antares rocket during rollout at Wallops Flight Facility in Virginia. Photo credit: NASA/Bill Ingalls

Filed in June against ULA and RD AMROSS, Orbital's lawsuit alleged the companies blocked access to the RD-180 engine, which currently powers the first stage of ULA's Atlas 5 rocket.
The company disclosed it had agreed to dismiss the lawsuit without prejudice in a filing with the U.S. Securities and Exchange Commission dated March 20.
"The parties will now undertake to negotiate a business resolution for Orbital's access to the RD-180 rocket engine, subject to all necessary approvals from the U.S. and Russian governments," the filing said. "If a mutually agreeable resolution is not reached, Orbital will have the option to refile its lawsuit."
In the lawsuit, Orbital Sciences accused ULA, the joint Boeing-Lockheed Martin company which operates the Atlas and Delta rocket family, of anti-competitive practices and sought up to $1.5 billion in damages. The suit also listed RD-180 engine supplier RD AMROSS as a co-defendant.
A federal judge rejected an argument from ULA and RD AMROSS in December that the lawsuit be dismissed. ULA and RD AMROSS argued that Orbital Sciences has viable alternatives to the RD-180 engine.
There is not a U.S.-built kerosene rocket engine in production in the same class as the RD-180 or AJ26 engines, so Orbital Sciences is looking to Russia for a replacement.
The Antares launches commercial resupply missions to the International Space Station.
Each Antares rocket is propelled by two AJ26 engines originally built in Russia in the 1970s for the Soviet Union's N1 moon rocket.
The AJ26 engine is known as the NK-33 engine in Russia, where they were designed and produced by the Kuznetsov Design Bureau. The powerplants were imported by Aerojet Rocketdyne and configured with upgraded electronics and a gimbal guidance system to control the flight of the Antares rocket during its first stage burn.
The NK-33 engine is no longer produced, and although Aerojet Rocketdyne officials maintain the engine production line could be restarted in Russia, Orbital officials have said they are unconvinced such a project would be technically or economically viable.
Concerned about the limited stockpile of AJ26 engines, Orbital officials last year began assessing alternative engines for the Antares rocket, which has successfully launched three times on test flights and resupply runs to the space station.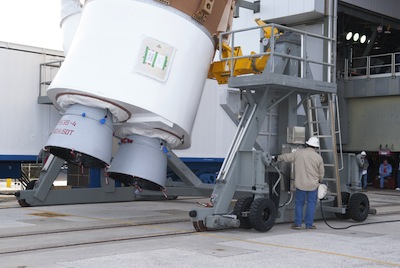 A dual-nozzle RD-180 engine affixed to the first stage of a United Launch Alliance Atlas 5 rocket at Cape Canaveral, Fla. Photo credit: NASA/Charisse Nahser

"We have to make a final decision on our long-term propulsion system approach and continue to have these upcoming launches go as well as the as the first three have gone," said David Thompson, Orbital's chairman and CEO, during a conference call with investment analysts in February. "I think we're feeling fairly optimistic about the mid-term outlook for Antares beyond just the next couple of years."
Orbital Sciences says it has purchased engines to support all Antares launches on the company's manifest. Seven more Antares flights have been booked by NASA for launch through 2016 with Orbital's Cygnus cargo ship to deliver supplies to the space station.
"Orbital's Antares rocket currently uses Aerojet-Kuznetsov AJ-26 engines, and it has purchased a sufficient supply of those engines for launches through 2016," the company wrote in the March 20 SEC filing. "For future launches after 2016, Orbital is considering other engines, including the RD-180."
Thompson said in February that the engine assessment should be complete by mid-2014.
But Orbital eyes more business for the Antares rocket, including an opportunity with NASA to cover the space station's cargo needs through 2024.
The Virginia-based aerospace contractor wants a proven engine with a steady supply chain to ensure customers the Antares rocket will be available later this decade.
NASA has not said if it will extend its current cargo resupply contracts or start fresh with a new procurement.
Orbital Sciences and SpaceX currently have contracts to supply the space station with experiments, maintenance items, food and other important cargo.
NASA gave Orbital $288 million and SpaceX $396 million to fund development of rockets and spacecraft to resupply the space station.
According to a request for information released by NASA in February, officials anticipate four or five resupply missions per year from 2017 to 2024. The space agency projects the space station program will need between 31,415 pounds and 36,927 pounds (14,250 kilograms to 16,750 kilograms) of pressurized cargo deliveries per year, with approximately the same capacity requirement for cargo return and disposal.
NASA may elect to have one contract or multiple contracts to support the requirements, according to the RFI.
Orbital Sciences has also submitted its first bid to launch an unspecified commercial satellite on an Antares rocket.
Thompson told Spaceflight Now in March that the proposal is for a payload heading for a high-inclination orbit, a type of orbit usually reserved for launches from the U.S. West Coast, but the Antares rocket's existing launch site on Virginia's Eastern Shore would be able to host the launch.
Later this year, there may be an opportunity to bid for the launch of a U.S. military satellite, Thompson said.
"We had targeted an average towards the end of the decade of five or six launches a year," Thompson said. "We're not going to get there in the next two years, but I think on that schedule, we ought to have a pretty good shot at five or six per year by 2018 or 2019."
Follow Stephen Clark on Twitter: @StephenClark1.