Sea Launch chief responds to talk of Russian takeover
BY STEPHEN CLARK
SPACEFLIGHT NOW
Posted: March 17, 2014


With ground crews at Sea Launch's California home port preparing for liftoff of a Eutelsat communications spacecraft in April, the company's chief executive says he would be open to a Russian government takeover of Sea Launch if it yielded greater access to the market for launching Russian satellites.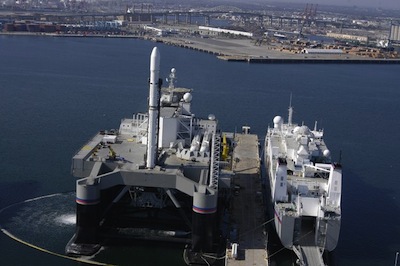 File photo of Sea Launch's Odyssey launch platform and command ship at home port in Long Beach, Calif. Photo credit: Sea Launch

Russian deputy prime minister Dmitry Rogozin said in February the Russian government was considering purchasing Sea Launch from RSC Energia, a Russian space contractor which owns 95 percent of the Sea Launch consortium.
According to a statement posted on a Russian government website, Rogozin said he ordered a review of Sea Launch's business before deciding whether the Kremlin should pursue the company.
Sea Launch puts large commercial telecommunications satellites in orbit using Zenit 3SL rockets comprised of Ukrainian-built first and second stages and a Russian Block DM upper stage provided by Energia. The rockets launch from an ocean-going platform deployed to the equatorial Pacific Ocean from Sea Launch's processing facility in Long Beach, Calif.
Sergey Gugkaev, CEO of Bern, Switzerland-based Sea Launch, said the crisis in Ukraine has not threatened Sea Launch's planned operations this year. All the rocket hardware for the April 15 launch of the Eutelsat 3B communications satellite has been delivered to Long Beach, and Sea Launch has components for another Zenit 3SL rocket on order for delivery in late 2014 to the company's Long Beach home port.
According to Gugkaev, the proposed government takeover of Sea Launch was not discussed at the company's recent board meetings. He said Sea Launch plans to conduct preparations for all of its upcoming flights at its home port facility in Long Beach, despite Rogozin's call for a move to a port in Russia's Far East, should the Russian government buy the company.
Rogozin said it would be an "impossible situation" to prepare many Russian communications satellite, which often have dual-purpose missions for the Russian military, on U.S. soil due to U.S. arms and export control laws.
"Our opinion is this shareholding change would allow us to get more market share. For example, getting Russian satellites, which we are now discussing with Roscosmos," Gugkaev said at the Satellite 2014 conference in Washington last week. "Then it would be a good thing for us. But just moving the operations from the United States to outside [the United States] just for the sake of political reasons, I don't see a lot of benefit. It could be good and it could be bad."
In a February interview with Spaceflight Now, Gugkaev said such a move by the Russian government would disrupt Sea Launch's business, but an investment by Moscow would be welcomed if it gave Sea Launch access to contracts for launches of Russian satellites often awarded to the Proton rocket.
"We certainly don't have it in our short-term plan agenda," Gugkaev said. "I would say it's a question [whether] it would be good or bad because it's a huge change in our infrastructure and our business model, so I definitely would like to see some more concrete and detailed things about this. Right now, it's an announcement that we read in the press."
The mid-April launch of Eutelsat 3B will mark Sea Launch's 36th mission since 1999. All of the flights have been based out of Long Beach.
"We are looking to expand our market share on some Russian commercial launches," Gugkaev said. "There are quite a few on the market."
Sea Launch plans to launch the Energia 100 and AngolaSat communications satellites in a dual-payload configuration in 2016. Both satellites are to be manufactured by Energia, giving Sea Launch its first toehold in the Russian commercial launch market.
All of Sea Launch's rockets to date have flown with satellites for large international telecom operators, such as Eutelsat, Intelsat and SES.
The Energia 100/AngolaSat launch contract includes language calling for it to be based from Sea Launch's California home port, according to Gugkaev, a Russian lawyer with experience in the Swiss investment banking industry.
Gugkaev took over as Sea Launch CEO in 2012.
"We would be both comfortable to expand our market share for Russian commercial satellites in home port or abroad," Gugkaev said. "It doesn't matter."
Sea Launch is in negotiations with an undisclosed customer for a launch in late 2014 to follow the Eutelsat 3B mission. Sea Launch's suppliers promise to deliver a rocket in time for a launch opportunity before the end of the year, Gugkaev said.
"We have a slot available," Gugkaev said. "We have a white tail for the end of this year, so we are just waiting for some confirmation from one of our customers."
Sea Launch has a preliminary agreement with EchoStar Corp.'s satellite subsidiary for launch of a direct broadcasting payload in 2015.
Gugkaev said Sea Launch needs three launches a year to break even.
"There are lot of variables in that question - the price of the launch and the interest that we need to pay to our financial institutions - but I would say from three launches per year we are break-even, we have a positive EBITDA (earnings before interest, taxes, depreciation and amortization) with normal pricing," Gugkaev said.
Sea Launch says it has five launch "commitments" from international satellite operators, plus the deal to launch Energia 100 and AngolaSat.
"We certainly expect to fill our backlog with other customers and other satellites for new missions starting with this year and 2015 and 2016," Gugkaev said. "We certainly want more missions in our backlog. We will feel much more comfortable with four or five missions per year."
Follow Stephen Clark on Twitter: @StephenClark1.