Swiss startup considering space launches from Florida
BY STEPHEN CLARK
SPACEFLIGHT NOW
Posted: March 16, 2014


A Swiss aerospace company plans to begin zero gravity flights from the Kennedy Space Center next year and may use the spaceport's former space shuttle landing strip as a home base for small satellite launches beginning in 2018, officials announced Friday.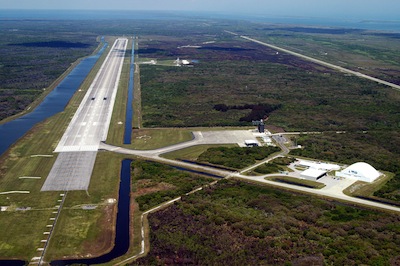 File photo of the Shuttle Landing Facility at the Kennedy Space Center. Photo credit: NASA

The Swiss firm's Airbus A300 jumbo jet will provide zero gravity sorties to researchers and tourists, offering a similar service to the flights operated by Zero Gravity Corp. aboard a Boeing 727 airplane.
Swiss Space Systems plans to offer zero gravity flights at sites around the world next year. According to the company's website, each flight will last about two hours and feature 15 parabolas, each providing 20 seconds of weightlessness.
Officials said Friday that S3 USA Operations Inc., a U.S.-based subsidiary of Swiss Space Systems, has signed a memorandum of understanding with Space Florida, a state economic development agency focused on the space industry.
"We are pleased to welcome Swiss Space Systems to Florida," said Frank DiBello, CEO and president of Space Florida. "We believe strongly in the enormous potential of the markets they are pursuing including small satellites and suborbital operations. We look forward to working with S3 to enable their growth and expansion in our state."
Zero gravity flights from Florida are scheduled for October 2015. A single ticket starts at 2,000 euros, or about $2,780, according to the Swiss Space Systems website.
Swiss Space Systems will also evaluate the Shuttle Landing Facility as a main site for satellite launches beginning in 2018, the announcement said.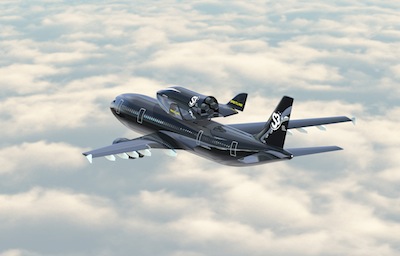 Artist's concept of the Swiss Space Systems Airbus A300 and SOAR space plane. Photo credit: Swiss Space Systems

Established in 2012, the Payerne, Switzerland-based company is developing a suborbital space shuttle to put small satellites in orbit.
Named the Suborbital Aircraft Reusable, or SOAR, the space plane would launch from the top of the Swiss Space Systems modified Airbus A300 jet at an altitude of 33,000 feet, or 10,000 meters.
The unmanned spaceship would light a liquid-fueled engine to reach a height of 50 miles, then release a satellite and an attached rocket stage to boost the craft into low Earth orbit. Swiss Space Systems says the SOAR vehicle can put a 250-kilogram (551-pound) satellite into a 700-kilometer (434-mile) orbit.
The Airbus A300 and SOAR space shuttle would return to Earth for reuse.
"For S3, Florida offers several major advantages, including a strategic geographic location, as well as access to key infrastructure and human resources, which will help to enable our success," said Pascal Jaussi, founder and CEO of Swiss Space Systems.
The company has more than 60 employees in Switzerland, Spain and the United States, including a handful of new hires at the Kennedy Space Center. Its budget is $250 million to cover development through the launch of its first satellite.
Swiss Space Systems is sponsored by Swiss watchmaker Breitling and counts the European Space Agency and Stanford University's Aerospace Design Lab among its technical advisors.
Follow Stephen Clark on Twitter: @StephenClark1.