Hagel says crisis demands review of Russian engine
BY STEPHEN CLARK
SPACEFLIGHT NOW
Posted: March 14, 2014


Defense Secretary Chuck Hagel said Thursday the crisis between Russia and Ukraine should prompt a review of the use of Russian engines on Atlas 5 rockets, which power the launches of multibillion-dollar U.S. government national security satellites.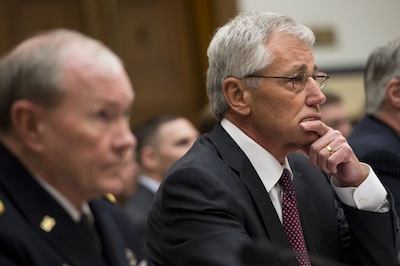 Defense Secretary Chuck Hagel testify before Congress on March 6. Photo credit: DoD photo by Erin A. Kirk-Cuomo

"I think this is going to engage us in a review of that issue," Hagel told a House defense appropriations subcommittee Thursday. "I don't think there's any question about that."
Operated by United Launch Alliance, a joint company owned by Boeing Co. and Lockheed Martin Corp., the Atlas 5 rocket's first stage is fitted with a kerosene-fueled RD-180 engine designed and manufactured in Russia by engine-maker NPO Energomash.
The engines are imported to the United States by RD AMROSS, a venture set up in 1997 between Energomash and the U.S.-based Pratt & Whitney.
RD AMROSS then supplies the RD-180 engines to ULA for integration with the Atlas 5 first stage at the ULA rocket factory in Decatur, Ala.
The RD-180 engine's development was funded by Rocketdyne and Lockheed Martin, the original developer of the Atlas 5 rocket.
Hagel's statement Thursday was the first time since Russia's incursion into Ukraine that a top Defense Department official addressed concerns over Russia's critical role in the supply chain for launches of U.S. military satellites.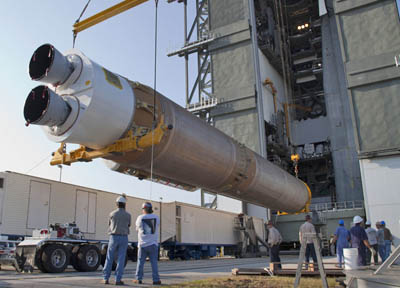 File photo of an Atlas 5 rocket's first stage with the RD-180 engine. Photo credit: NASA

The dual-nozzle RD-180 engine generates about 860,000 pounds of thrust at sea level, firing more than four minutes on each Atlas 5 launch to propel the rocket into the rarified atmosphere. An upper stage powered by a U.S.-built RL10 engine delivers payloads to their targeted orbits.
The Atlas 5 rocket has launched 43 times since 2002, achieving a near-perfect record blemished only by an upper stage fuel leak that caused two maritime intelligence satellites to be deployed in the wrong orbit in 2007.
The RD-180's flight heritage is faultless, including the Atlas 5 flights plus six launches of the smaller Atlas 3 booster from 2000 to 2005.
RD AMROSS has a license to manufacture the RD-180 engine in the United States if ordered by ULA or the Defense Department.
Mike Gass, president and CEO of ULA, told a Senate appropriations subcommittee March 5 that a stockpile of RD-180 engines is already in the United States. The inventory is sufficient for more than two years of Atlas 5 launches, according to Gass.
"We are not at any risk for supporting our national needs," Gass told senators in a hearing on the national security launch industry. "We always kept our ability not to be leveraged in case of any kind of supply interruption."
SpaceX chief executive Elon Musk, who testified on the same panel as Gass, said the "logical" decision for the future of the U.S. rocket industry would be to discontinue the Atlas 5, given its use of Russian technology.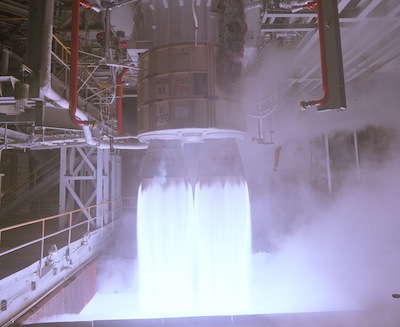 File photo of a ground test firing of the RD-180 engine. Photo credit: NASA

SpaceX hopes its Falcon 9 rocket will be certified by the Air Force to compete for military satellite launches by the end of 2014.
"I think it would make sense for the long-term security interests of the country to probably phase out the Atlas 5, which depends on the Russian engine, and have ULA operate the Delta family and SpaceX operate the Falcon family, giving the Defense Department assured access to space with two completely different rocket families," Musk said.
According to Gass, blueprints for the RD-180 engine are in the United States, and engineers have demonstrated they can produce the engine domestically if ordered.
"We invested hundreds of million of dollars to prove that we have the capability ... to build that exact engine," Gass said.
Lockheed Martin, which developed the Atlas 5 in the 1990s, selected the RD-180 engine for the expendable booster's first stage because it was the most advanced rocket engine available and less expensive than any domestic options, according to Gass.
"When we went to Russia, there were things they were doing that we found our textbooks said were impossible," Gass said. "It just shows that you can break the bounds of technology, and we have the ability now that we know how to do it."
Lockheed Martin and Boeing, which operated the competing Atlas 5 and Delta 4 rockets, merged their launch services business units in 2006 to form United Launch Alliance.
Follow Stephen Clark on Twitter: @StephenClark1.