Lockheed Martin backs Atlas 5 launches with warranty
BY STEPHEN CLARK
SPACEFLIGHT NOW
Posted: March 12, 2014


Seeking to improve the Atlas 5 rocket's position on the commercial launch marketplace, the head of Lockheed Martin Commercial Launch Services announced Tuesday non-governmental customers purchasing a flight on the workhorse booster would get a money-back guarantee or a reflight in the event of a launch failure.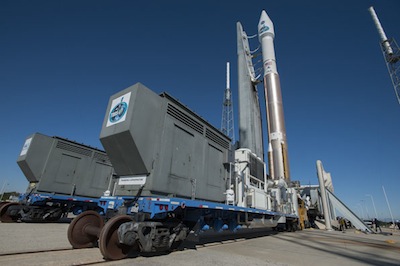 File photo of an Atlas 5 rocket. Photo credit: Ben Cooper/United Launch Alliance

Robert Cleave, president of Lockheed Martin's launch services unit, said the warranty plan is unique in the commercial launch industry.
"We developed a plan which is going to be for all future non-U.S. government contracts, which allows us to offer a 100 percent money-back guarantee or a reflight should our launch fail," Cleave said.
The launch guarantee could allow satellite operators to forego purchasing launch insurance.
"This isn't something that we created overnight," Cleave said. "It's something we worked on very closely with our corporate risk management folks, and we believe it's time that the launch industry stands behind the product which they build and actually provides a service."
Lockheed Martin, which also operates a commercial satellite manufacturing unit, has three Atlas 5 launch contracts for non-U.S. government customers.
One of the missions is scheduled for launch this August, sources said, with the WorldView 3 commercial Earth imaging satellite from Vandenberg Air Force Base, Calif.
WorldView 3 will collect high-resolution imagery for DigitalGlobe of Longmont, Colo., which supplies the U.S. government's intelligence agencies and commercial customers with views of Earth.
DigitalGlobe also plans to launch its GeoEye 2 satellite in 2016 on another Atlas 5 rocket purchased through Lockheed Martin Commercial Launch Services.
Lockheed Martin announced in September 2013 it won a deal to launch the Mexican government's Morelos 3 communications satellite in 2015 from Cape Canaveral, Fla.
Operated by United Launch Alliance, a joint venture between Boeing and Lockheed Martin, the Atlas 5 rocket's high price compared to competitors and rare unclaimed launch opportunities have only allowed Lockheed Martin to sign occasional commercial launch contracts.
The Atlas 5 rocket's manifest is mostly filled with U.S. government missions for the Air Force, NASA and the National Reconnaissance Office, but Lockheed Martin officials have said previously they aim to secure one commercial launch per year.
The launches could either go from California for polar orbit satellites or Florida for geostationary communications payloads.
Michael Hamel, who oversees Lockheed Martin's commercial satellite manufacturing, also said Tuesday the company is doing a "technical refresh" on the A2100 satellite bus.
Like the Lockheed Martin launch services provider, Hamel's division is trying to stay competitive in the commercial market.
Hamel said officials are looking at improving the A2100 satellite's structures, power systems, avionics and propulsion, along with a "complete rethink of the manufacturing processes."
"We're absolutely convinced that this innovation, not only in design but in time-to-market, is going to be a critical factor for our industry," Hamel said.
Follow Stephen Clark on Twitter: @StephenClark1.