Boeing reveals government's all-electric satellite purchase
BY STEPHEN CLARK
SPACEFLIGHT NOW
Posted: March 12, 2014


A U.S. government customer last year ordered three light-class geostationary satellite platforms from Boeing with all-electric propulsion, an innovative design feature to reduce spacecraft mass and launch costs, industry officials disclosed for the first time Tuesday.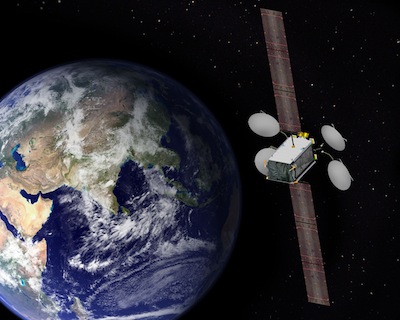 Artist's concept of a Boeing 702SP satellite in orbit. Photo credit: Boeing

Boeing executives did not divulge the identity of the specific agency responsible for the purchase, the nature of the satellites' missions, or when they will launch, citing security concerns.
Jim Simpson, president of Boeing Satellite Systems International Inc., said the three satellites were ordered in early 2013.
The spacecraft are based on the Boeing 702SP platform, a smaller version of Boeing's 702 satellite bus used by commercial and military operators to deliver high-power communications services around the world.
The Boeing 702SP does not carry chemical liquid fuel tanks, relying solely on electric propulsion to adjust its altitude and maintain its position in geostationary orbit, an arc of satellites 22,300 miles over the equator primarily used by communications platforms.
The system works by accelerating electrically-ionized xenon gas through a thrust chamber at more than 60,000 mph. The thrust of an ion engine is much lower than chemical propulsion, but they can fire for thousands of hours and consume less propellant.
Without the mass burden of large fuel tanks, satellite operators have the option of tailoring their spacecraft to be more lightweight, allowing the satellites to be launched on smaller rockets or in tandem to spread launch costs between two missions.
The other option is to fill the satellite with more communications equipment, such as transponders, antennas and additional frequencies to expand the spacecraft's revenue potential.
Officials revealed the government's order of three Boeing 702SP spacecraft at the Satellite 2014 conference in Washington. Boeing announced the Boeing 702SP design two years ago at the same conference two years ago, along with a deal for four of the satellites negotiated with Asia Broadcast Satellite and Satmex.
The first two Boeing 702SP satellites, ABS 3A and Satmex 7, will launch in early 2015 in a dual-launch aboard a SpaceX Falcon 9 rocket, Simpson said Tuesday. ABS 2A and Satmex 9 will launch on another Falcon 9 booster later in 2015.
Each of the ABS and Satmex satellites will have a launch mass of less than 4,000 pounds but still offer communications throughput and power comparable to larger classic satellites with conventional fuel.
Simpson did not say if any of the U.S. government's Boeing 702SP satellites would launch together.
Boeing's selection for three all-electric satellites is "more validation of our electric propulsion that we have on our small platform satellites," said Craig Cooning, CEO of Boeing's satellite manufacturing business.
The all-electric satellite design took the commercial satellite industry by storm after Boeing's announcement of the Boeing 702SP in 2012, with all of the world's major spacecraft manufacturers introducing or testing satellite models with full or partial electric propulsion options.
But Boeing has not received any commercial orders for all-electric satellites since the ABS/Satmex contract in 2012. ABS and Satmex have a contract option for four more all-electric satellites yet to be exercised.
Simpson attributes the lack of commercial buyers to delays in geostationary launches with the Falcon 9 rocket, not to a weak market.
Launching two all-electric telecom payloads on a Falcon 9 rocket puts launch costs for each satellite at about $30 million, Simpson said.
"The market was looking to see if the Falcon 9 was going to be successful, which is critical to the economics associated with the 702SP," Simpson said. "From a technology perspective, the technology has really been proven. The real issue was the Falcon 9, and I think there are some people waiting to see the first launch of the 702SP as well."
The Falcon 9 rocket completed its first two launches to geostationary transfer orbit in December and January.
Boeing says its satellite have used ion thrusters for fine orbit control for 15 years.
But some satellite operators hesitate to buy all-electric spacecraft because it takes up to eight months to gradually nudge the satellites from temporary transfer orbit reachable by the Falcon 9 rocket to their final operating posts in geostationary orbit.
The U.S. Air Force and Lockheed Martin achieved an inadvertent demonstration of all-electric orbit-raising in 2010 and 2011 following a mishap with the primary chemical propulsion system on an Advanced EHF strategic communications satellite. The AEHF 1 spacecraft reached its operational orbit nine months after launch.
Simpson said he is confident Boeing will announce a deal for an all-electric satellite with a regional telecom satellite operator before mid-year.
Eric Beranger, head of Airbus Defense and Space's satellite division, said about 20 percent of requests for proposals he receives ask for an all-electric option. With roughly two dozen commercial telecom satellites purchased each year, that percentage only equates to a handful of units annually.
Follow Stephen Clark on Twitter: @StephenClark1.