SpaceX, ULA spar over military contracting
BY WILLIAM HARWOOD
STORY WRITTEN FOR CBS NEWS "SPACE PLACE" & USED WITH PERMISSION
Posted: March 5, 2014


In the latest skirmish in an escalating debate over sky rocketing military launch costs, SpaceX founder and rocket builder Elon Musk told lawmakers Wednesday that allowing his company to launch high-priority military payloads would save taxpayers billions of dollars by opening the national security launch market to competition and innovation.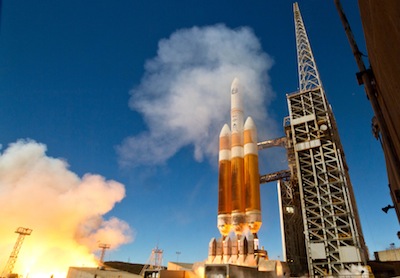 File photo of a United Launch Alliance Delta 4-Heavy rocket launch. Credit: United Launch Alliance/Pat Corkery



"The Air Force and other agencies are simply paying too high a price for launch," Musk told a Senate appropriations subcommittee. "The impacts of relying on a monopoly provider since 2006 are predictable and they are borne out. Space launch innovation has stagnated, competition has been stifled and prices have risen to (unsustainable) levels."

Not surprisingly, Michael Gass, president and CEO of United Launch Alliance, the company that up to now has been the sole provider of military Evolved Expendable Launch Vehicle -- EELV -- rockets for national security payloads, disagreed, saying his company constantly innovates and that its Atlas 5 and Delta 4 rockets were the most reliable in the world.

"ULA and the government team have consistently delivered 100 percent mission success over 68 times since the inception of the (EELV) program, delivering over $60 billion of taxpayer-funded satellites," he said. "We are currently at a tempo of one launch every month. ULA's Atlas 5 and Delta 4 are the most powerful and most reliable rockets in the world. They are the only rockets that fully meet the unique needs of the national security community."

Boeing's Delta 4 family of rockets and the Atlas 5 built by Lockheed Martin originally were in direct competition for national security payloads. But a merger-like partnership was approved in a bid to lower costs. The Air Force ultimately decided to keep both rocket production lines open to ensure access to space for high-priority national security payloads. No other companies were allowed to compete.

But because of stringent security and processing requirements for high-tech spy satellites, along with a limited demand and the overhead needed to maintain a quick-launch capability for critical missions -- regardless of when a satellite might actually be ready to fly -- costs have steadily climbed.

"The program's been extremely successful in launching satellites that cost the U.S. taxpayers literally billions of dollars," said Sen. Dick Durbin, D-Ill., chair of the Defense Subcommittee of the Senate Appropriations Committee. "The safety record of the Atlas 5 and Delta 4 rockets made by the United Launch Alliance is remarkable.

"But we do have some concerns about the acquisition strategy, costs and future of that program," he said. "From 2011 to 2014, the amount the Air Force budgeted for an average of six satellite launches per year grew by 60 percent. There are many answers as to why the program became more expensive, but the important question is, what should we do about it?"

Last year, the Air Force announced plans to buy EELVs in bulk, instead of mission by mission, to reduce costs across the board. The multi-year "block buy" would cover 27 launch vehicles, including three Delta 4 heavy-lift variants that utilize three core stages each. By the end of the year, according to Space News, three contracts valued at nearly $2.6 billion had been announced covering 14 of those 36 rocket cores.

In addition, ULA holds a separate EELV Launch Capability contract valued at nearly $1 billion that covers the company's fixed costs, that is, expenses not associated with a specific mission that are incurred simply by maintaining production lines and launch readiness.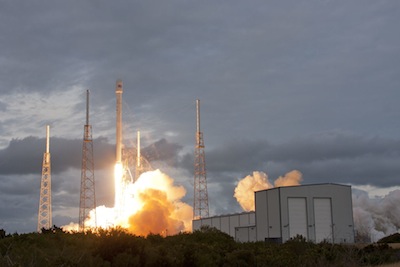 File photo of a SpaceX Falcon 9 launch. Credit: SpaceX



When the original block buy was announced, the Air Force said another 14 missions would be awarded on a competitive basis. SpaceX currently is working through a complex certification process with the Air Force to demonstrate the reliability of its Falcon 9 rocket and the company's ability to meet military requirements. Musk said he believes SpaceX will be certified by the end of the year.

Musk believes SpaceX should be clear to compete with ULA head to head on any government contract. And he is a sharp critic of the separate EELV Launch Capability contract ULA enjoys, which he views as a subsidy.

"As a country, we've generally decided competition and the free market is a good thing and monopolies are not good," Musk said. "It's interesting to note that from the point at which Boeing and Lockheed's launch business merged, from the point which they stopped being competitors, the costs doubled since then. The reality is, when competition is introduced ... the cost to the U.S. taxpayer will drop substantially."

SpaceX currently holds a $1.6 billion contract to launch at least 12 unmanned cargo ships to the International Space Station, delivering some 44,000 pounds of equipment and supplies.

"Frankly, if our rockets are good enough for NASA, why are they not good enough for the Air Force?" Musk asked. "Doesn't make sense."

Gass strongly objected to calling the EELV Launch Capability contract a subsidy, saying "I wish I had a contract like Mr. Musk has from the NASA commercial cargo activity, much better for making us competitive in the true commercial market because it doesn't come with any of the constraints and burdens of accounting."

"ELC is not a subsidy," he said. "It's about providing national security capability with a laser focus on mission success."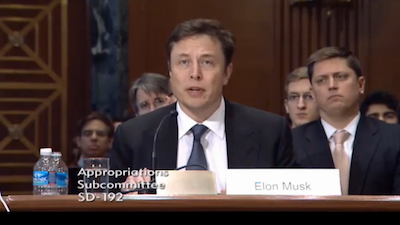 SpaceX CEO Elon Musk testifies before a Senate subcommittee Wednesday. Credit: Senate Appropriations Committee/Spaceflight Now



Sen. Richard Shelby, a Republican from Alabama, where ULA has major manufacturing facilities, said he agreed that competition can lead to better quality and lower costs, but added "the launch market is not typical, it is limited demand, it is framed by government-industrial policies."

"And while the goal of competition is to lower the cost of access to space, which I think is good, combined with a need to maintain performance and reliability such as we have today, competition may not actually result in a price reduction for the federal government," he said.

Much of the cost of the EELV program "can be attributed to the Department of Defense decisions about the structure of the program, including the practice of purchasing one launch vehicle at a time, rather than a lack of competition."

"Simply modifying this buying strategy alone and moving into a new block-buy approach has already resulted in significant savings and will ultimately be saving billions of dollars. The Air Force has estimated $4.4 billion in savings so far.

"I'm not convinced yet that a wholesale change in the EELV program is the answer when we've witnessed significant results from a minor modification of purchasing practices in the existing program."

Shelby said the Air Force EELV contracts require compliance with complex oversight and accounting practices that add costs to the program. As a result, he suggested comparing the cost of a SpaceX Falcon 9 and a ULA Atlas or Delta was comparing apples and oranges.

Musk agreed "there is additional cost for U.S. government missions due to the mission assurance process." And he said SpaceX's costs for launching a military mission would be 50 percent higher than for a purely commercial launch. Even so, he said, SpaceX could provide a Falcon 9 rocket for around $90 million as opposed to nearly $400 million for a ULA launcher.

"Even when you add the Air Force overhead, there's still a huge difference," he said.

Earlier, Musk cited a congressional report that he claimed put the average cost of an Air Force national security launch in fiscal year 2013 at $380 million "while subsidizing ULA's fixed costs to the tune of more than a billion dollars a year even if they never launch a rocket."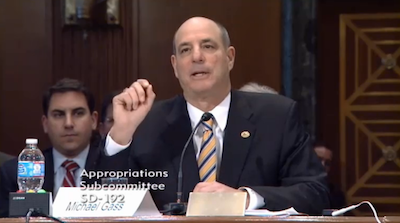 Michael Gass, ULA's president and CEO, testifies before a Senate subcommittee Wednesday. Credit: Senate Appropriations Committee/Spaceflight Now



"By contrast, SpaceX's price is well under $100 million, meaning a savings of almost $300 million per launch," he said, adding that the Air Force could buy a SpaceX rocket and a Global Positioning System navigation satellite for the cost of a ULA rocket alone.

"To put this into perspective, if SpaceX had been awarded the missions ULA received under its recent non-competed 36-core buy, we would have saved the taxpayers $11.6 billion," Musk said.

Asked what sort of business model would best support national security and open competition, Musk said he believes it would make sense for the government to rely on ULA's Delta 4 and the SpaceX Falcon 9, phasing out the venerable Atlas 5.

"You don't need both of those rocket families," he said. "I think it would make sense for the long-term security interests of the country to probably phase out the Atlas 5, which depends on the Russian engine, and have ULA operate the Delta family, have SpaceX operate the Falcon family, giving the Defense Department assured access to space with two completely different rocket families. That's the logical thing to do going forward."

In contrast, Gass said ULA's long experience launching national security payloads is a plus for taxpayers. He said the block-buy approach will save money, but added it's not yet clear whether competition will, in fact, save enough to offset the costs of duplicating existing capabilities.

In his opening remarks, Gass recalled "some of the launch industry's darkest days" in the late 1990s when U.S. rockets suffered six major launch periods over 10 months.

"Those losses totaled billions of dollars and were a harsh reminder that launch is risky and extremely unforgiving," he said. "I believe the impressive successes we've achieved on EELV stem from the difficult lessons learned from those failures. These lessons include sustaining a laser focus on technical rigor and the importance of open and transparent relationship with our government customers."

Despite the high cost, Gass said said the EELV program "has been a major success for the nation. We will continue to provide the assured access the nation needs to deliver critical capabilities, to orbit reliably and on schedule. We look forward to working with our government customers to further drive down costs without compromising reliability and readiness."