Proposed NASA budget keeps funding flat in 2015
BY STEPHEN CLARK
SPACEFLIGHT NOW
Posted: March 4, 2014


The White House's 2015 budget request for NASA submitted to Congress on Tuesday would keep the agency's human spaceflight programs, the James Webb Space Telescope and Mars exploration on track while investing in future missions to Jupiter's moon Europa and a flagship infrared space telescope.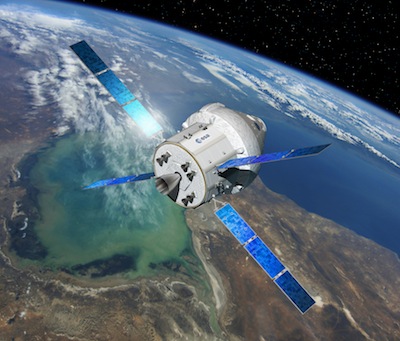 Artist's concept of the Orion crew capsule. Photo credit: ESA

President Barack Obama's budget calls for NASA to get $17.46 billion in fiscal year 2015, which begins Oct. 1. That is 1 percent less than the space agency received this year in a budget passed by Congress and signed the president last month.
The budget request is subject to changes and approval by Congress.
The budget cuts funding for the Stratospheric Observatory for Infrared Astronomy, an airborne platform aboard a modified Boeing 747 jumbo jet jointly funded by NASA and DLR, the German space agency. Unless partners are able to support the U.S. portion of SOFIA's operating costs, the aircraft will be grounded in 2015, according to NASA.
"Savings from SOFIA can have a larger impact supporting other science missions," officials wrote in a fact sheet accompanying the Obama administration's budget release.
The spending plan supports the Obama administration's decision to extend U.S. operations of the International Space Station to 2024 with about $3 billion, funds NASA's Space Launch System and Orion crew capsule with nearly $2.8 billion, and requests $848 million for development of commercial spacecraft to transport astronauts to and from low Earth orbit and end U.S. reliance on Russian Soyuz vehicles.
NASA's science programs would get approximately $5 billion, with Earth science the leading discipline in the agency's research portfolio at a budget line of nearly $1.8 billion, supporting the launch of the Soil Moisture Active Passive, or SMAP, mission later this year and continuing development of NASA satellites and instruments to study polar ice, Earth's gravity field, winds, ocean topography and air quality.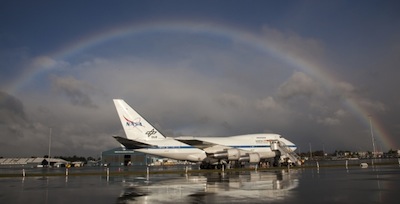 Photo of the joint U.S.-German SOFIA airborne observatory aboard a Boeing 747 jumbo jet. Photo credit: NASA

The planetary science division's budget request is set at about $1.3 billion, covering NASA's operating missions on Mars and work on the InSight Mars lander set for launch in 2016 and a rover based on the Curiosity mission planned for liftoff in 2020.
The planetary budget includes $15 million to plan for a mission to fly by Jupiter's moon Europa. The 2014 budget enacted last month provided $80 million to continue studies and formulation of the proposed Europa probe.
Astrophysics would receive $607 million in 2015 under President Obama's plan, keeping the Hubble Space Telescope, the Chandra X-ray Observatory and other missions online while paying for early design work on the Wide-Field Infrared Space Telescope, or WFIRST, including technology development for detectors and a coronagraph instrument, according to NASA.
WFIRST would use one of two 2.4-meter (7.9-foot) telescopes given to NASA by the National Reconnaissance Office, the U.S. government's spy satellite agency.
The astrophysics budget significantly reduces funding for the SOFIA airborne observatory.
The James Webb Space Telescope is kept on schedule for launch in October 2018 with $645 million in fiscal 2015.
Solar research stands to receive $669 million next year, supporting launch of the four-satellite Magnetospheric Multiscale Mission and development of the Solar Orbiter spacecraft with the European Space Agency and the Solar Probe Plus mission planned for launch later this decade.
The budget allots $706 million space technology initiatives, including $133 million for solar-electric propulsion and other technologies for NASA's proposed mission to redirect an asteroid to the vicinity of the moon for human visits by 2025.
NASA's aeronautics directorate is set to receive $551 million, and education programs would get $89 million under the White House request.
Follow Stephen Clark on Twitter: @StephenClark1.