Facing funding gap, ExoMars rover is on schedule for now
BY STEPHEN CLARK
SPACEFLIGHT NOW
Posted: March 3, 2014


The lead builder of Europe's ExoMars rover, the British division of Airbus Defence and Space, has started procuring critical components for the Mars mission as the European Space Agency culls the continent to close a funding gap.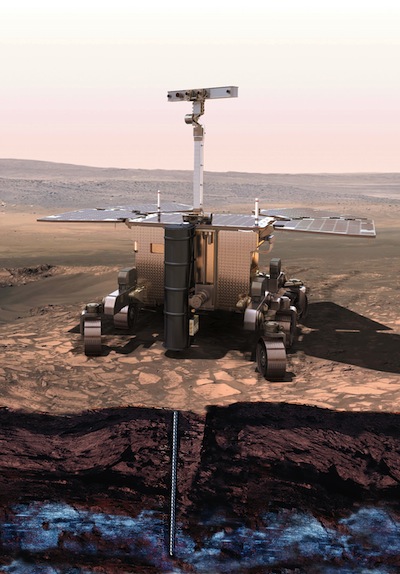 Artist's concept of the ExoMars rover drilling into the Martian soil. Photo credit: ESA

The rover is the first built in Europe and is set for launch in May 2018 inside a Russian atmospheric entry shield aboard a Proton rocket.
The 2018 mission is the second part of the two-launch ExoMars program. A European-built atmospheric research orbiter and stationary lander will launch on another Proton booster in March 2016.
Russia signed on to the mission with ESA after NASA almost entirely dropped out of the ExoMars program in 2012 due to budget woes in the United States. NASA is still contributing hardware for science instruments and a communications package to relay signals between the Martian surface and Earth.
"For the completion of the 2018 ExoMars mission, the rover mission, things still need to come together in terms of financial contributions across Europe," said Ralph Cordey, head of science and exploration at the UK division of Airbus Defence and Space, formerly known as Astrium UK. "There is still a gap to be filled. We're very confident that's going to happen. The mission as a whole is rolling ahead and there is a huge momentum there. But in terms of the details, some things may get changed."
ESA direct-general Jean-Jacques Dordain has directed agency officials to identify funding sources to pay for the shortfall of more than 100 million euros, or $138 million.
"He has been extremely creative," Cordey said.
In October, ESA's governing council agreed to funnel nearly 15 million euros ($20 million) in entry fees from new ESA member states Poland and Romania directly to ExoMars to help fill the budget gap. ESA's science division, a mandatory program for the agency's 20 member states, also added ExoMars to its portfolio, giving the mission access to additional funding.
ExoMars is considered primarily an exploration mission instead of a scientific program, falling under ESA's robotic exploration directorate.
Airbus is a subcontractor in an industrial ExoMars consortium led by Thales Alenia Space of Italy and France.
"ESA has been able to release enough money to essentially allow us to ramp up our team and to make the [necessary] procurements, but there will come a point when it's not," Cordey said in an interview last month. "There is a shortfall that needs to be plugged. The good news is we're full steam ahead at the moment in releasing [contracts] for long-lead items. So that's very positive, but it needs to be solved."
Paul Meacham, systems engineer for the ExoMars rover at Airbus Defence and Space, said most of the rover's industrial suppliers have been selected from across Europe.
One exception is the rover's locomotion system -- the wheels and suspension system -- to be manufactured by MDA Corp. in Canada.
"All the critical stuff is being kicked off now," Meacham said. "The locomotion system is kicked off, the computer, the power distribution system, communications system ... Most of the suppliers have been selected, and the rest of them will happen over the next year or so with the remaining items which are slightly less critical so they have shorter lead times."
ESA has sufficient funding for the 2016 ExoMars mission.
Cordey said Airbus needs further financial commitments within a year to keep development of the ExoMars rover on schedule for the May 2018 launch window, which is limited by the alignment of Earth and Mars. Launch opportunities to the red planet only come every 26 months.
"In principle, we would be OK, I think, into next year," Cordey said. "But in practice, because of the commitments we have to make to people, I think you want to get it sorted and understood before then."
ESA member states typically commit funding to programs at ministerial-level council meetings. Another such conclave is scheduled for early December, but its agenda is limited to decisions on launchers and European participation in the International Space Station.
"Progress this year I think will be outside that forum," Cordey said. "We would like to have reassurance and good news, but a lot of money has already been spent on the program -- the 2016 and the 2018 missions. There's just a little bit more to go to fill the gap."
The total cost of ExoMars to ESA is expected to be about 1.2 billion euros, or nearly $1.7 billion, not including contributions from individual member states, Russia and the United States. The figure covers both the 2016 and 2018 missions.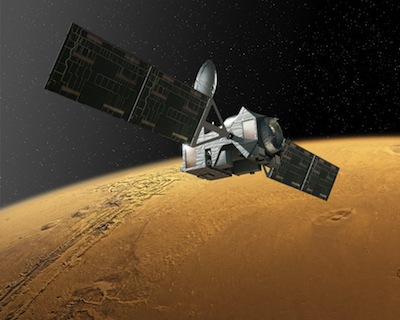 Artist's concept of the ExoMars orbiter scheduled to launch in 2016. Photo credit: ESA

"We would hope that the member states, particularly some of the key member states who are already getting a lot of work from ExoMars beyond what they've put in in terms of contributions will step up to the mark and at least cover the contributions that need to be covered for the work their industries are doing," Cordey said. "Germany and France, in particular, we would be looking toward."
Italy is the largest contributor to ExoMars, and the UK is the mission's second-largest financial backer. Germany and France are the two largest funding suppliers to ESA's overall budget.
"We've seen the UK stepping up its contributions generally to ESA, and the UK has quite a strong agenda to do with economic return and economic impact of things," Cordey said. "I think it's a good sign the UK is doing that and I hope other nations will do the same."
The ExoMars rover will weigh about 660 pounds, or 300 kilograms, when it launches cocooned inside a Russian-built descent and landing system, according to Meacham.
Outfitted with a drill to extract soil up to 2 meters, or 6 feet, below the Martian surface, the rover is designed to operate at least seven months and drive 4 kilometers, or 2.5 miles, after landing in early 2019, Meacham said.
The mission is the first European Mars rover, and its international complement of instruments will analyze Martian soil, including underground samples for the first time, for signs of organic material and biomarkers indicative of ancient life.
"It will all be built and assembled here," Meacham said from the Airbus planet in Stevenage, about 30 miles north of London. "We're building a clean room soon to do that. Once we build the rover, which is everything less the science instruments and the drill, it will then be shipped to italy where they will put on the instruments and drill."
Follow Stephen Clark on Twitter: @StephenClark1.