Critical climate sensor activated on military satellite
BY STEPHEN CLARK
SPACEFLIGHT NOW
Posted: February 9, 2014


Scientists are happy with observations from a fresh sensor swiftly prepared for launch aboard a U.S. Air Force satellite last year to fill a gap in data on the sun's brightness, a crucial kernel of information for climate change research.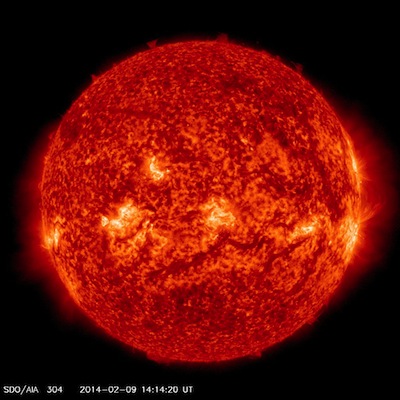 A view of the sun through the Atmospheric Imaging Assembly on NASA's Solar Dynamics Observatory. Photo credit: NASA/GSFC/Lockheed Martin Solar Astrophysics Laboratory

The instrument's launch in November came at an opportune time for climate scientists. After an unbroken 35-year record of data on the sun's total energy output, researchers faced the probability they would lose that resource in the next few years as aging satellites died off due to equipment failures.
The sun is the engine driving Earth's climate, so the two fields are ever-connected.
"We need to continue that time series," said Mike Freilich, head of NASA's Earth science department.
Scientists rely on measurements of the total solar irradiance, or the level of solar energy at the top of Earth's atmosphere, to sort out whether the sun is influencing climate change.
NASA's Solar Radiation and Climate Experiment, or SORCE mission, has been the primary collector of total solar irradiance data since it launched in 2003. But SORCE was designed for a five-year mission, and the satellite may be on its last legs, according to Freilich.
Other missions provide similar data for climate scientists, but all of the spacecraft are working on overtime. The joint NASA-European SOHO observatory launched in 1995 has a solar radiation monitor to watch the sun from a position more than 900,000 miles from Earth, and a French satellite due for retirement this year measures the intensity of sunlight reaching Earth.
NASA's ACRIMSat spacecraft, fitted with another solar irradiance sensor, has been in orbit for more than 13 years.
Like SORCE, ACRIMSat was forced to suspend solar irradiance measurements last year due to battery trouble. ACRIMSat's observations were scheduled to resume this month as its orbit moves into more sunlight, reducing the drain on the satellite's batteries.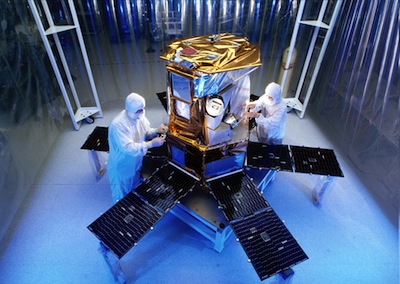 The SORCE satellite before launch in 2003. Photo credit: NASA

When a new solar instrument was lost in a launch failure on NASA's Glory mission in 2011, and without another radiation monitor scheduled to fly four at least three years, the National Oceanic and Atmospheric Administration sought a solution to bridge the gap between now and the launch of the a new polar-orbiting weather satellite, which carries the next planned irradiance sensor.
Officials opted to fly an engineering model built more than a decade ago for the SORCE mission on an Air Force satellite named STPSat 3, which hosts five experimental payloads to probe the space environment and demonstrate new technologies in orbit.
STPSat 3 launched Nov. 19 on a Minotaur 1 rocket from Wallops Island on Virginia's Eastern Shore.
Named the Total Solar Irradiance Calibration Transfer Experiment, or TCTE, the stopgap project is managed by the Laboratory for Atmospheric and Space Physics at the University of Colorado at Boulder.
Scientists activated TCTE on Dec. 13 and have received good data from the instrument so far, according to Greg Kopp, the instrument's lead scientist.
TCTE measures incident sunlight at the top of the atmosphere to gauge the amount of solar energy entering the Earth system, allowing scientists to quantify the sun's contribution to climate change.
Scientists say TCTE measures total solar irradiance to an absolute accuracy of 0.035 percent, with even better results when tracking how much the sun's energy output fluctuates year-to-year.
The sensor on the newly-launched Air Force spacecraft was calibrated to provide more accurate measurements than the nearly identical instrument on the SORCE satellite.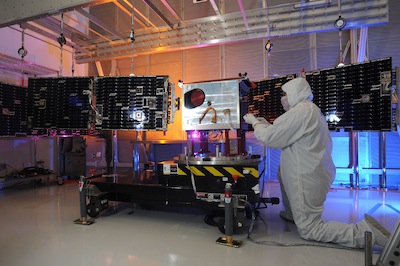 The STPSat 3 satellite, which hosts the TCTE solar irradiance payload, sits in a clean room before launch. Photo credit: Ball Aerospace and Technologies Corp.

Engineers were able to revive SORCE for a brief overlap with TCTE in December, allowing scientists to compare data from the instruments and cross-calibrate the 11-year data record from SORCE to correct errors.
The $5 million TCTE experiment is designed for a five-year mission, but its host spacecraft's lifetime may be limited to one year. The next solar irradiance instrument will launch on the Joint Polar Satellite System Free Flyer mission, a project struggling to obtain funding as budgets funnel resources into keeping the larger JPSS 1 weather satellite on schedule.
Then NASA will likely look at launching similar solar sensors as hosted payloads on commercial communications satellites, many of which offer excess power and mass capacity that often goes unused, according to Freilich, the space agency's Earth science chief.
Through the 1980s and 1990s, a string of missions operated by NOAA and NASA tracked the brightness of the sun as researchers tried to match bumps in solar radiation with increasing temperatures on Earth. So far, scientists have found no link.
While the Earth's average temperature has risen in recent decades, melting ice and acidifying the oceans, there is no evidence the sun is driving the changes, according to Robert Calahan, project scientist for SORCE and TCTE at NASA's Goddard Space Flight Center.
Calahan says the changes are traceable to rising concentrations of carbon dioxide and other greenhouse gases from burning fossil fuels, trapping heat near Earth's surface.
"During these decades, the sun's brightness has undergone several up-and-down cycles, in sync with the sunspot cycle, but with no overall trend that could explain Earth's temperature trend," Calahan said in a NASA press release. "That doesn't mean we should stop measuring the sun. Just because the sun hasn't significantly brightened or dimmed since 1978, doesn't mean it won't brighten or dim between now and 2050. Even a very small trend in the sun would either enhance the warming, if the sun were brightening, or partially offset it, if the sun were dimming."
Follow Stephen Clark on Twitter: @StephenClark1.