Four Delta 4-Heavy rockets part of ULA block buy deal
BY JUSTIN RAY
SPACEFLIGHT NOW
Posted: January 30, 2014


CAPE CANAVERAL, FL - There will be 28 launches of Atlas 5 and Delta 4 rockets enabled through the new block buy, including four Heavy rockets, with the three dozen cores purchased by the Pentagon.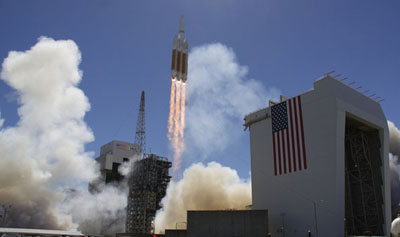 Credit: Gene Blevins/LA Daily News



"This contract action saves $4.4 billion in taxpayer funds from what was originally submitted in the FY12 President's Budget request. That in itself is a significant achievement but the block buy also stabilizes the U.S. launch industrial base while setting up a competitive environment going forward," according to the Air Force press desk.

"This contract locks in firm-fixed prices for launch services for the next five years to support the National Security Space (NSS) manifest. These launch services cover missions where only ULA is capable of meeting the required mission performance."

The Evolved Expendable Launch Vehicle Launch Vehicle Production Services (LVPS) and Capability contract award to United Launch Alliance has a potential value of up to $10 billion, which includes future LVPS orders and the annual priced capability options through FY19. The current contract value is $2.6 billion.

" The long term commitment and stable production quantities allowed ULA to commit to year over year cost reductions for the associated capability to launch the 36 cores and the previously-procured cores not yet launched," the Air Force said.

"The 36 EELV cores for the Air Force, National Reconnaissance Office and Navy will be procured across FY13-17. The contract also includes the capability to launch those cores and previously-procured cores from ULA, the last of which is scheduled to launch in 2019."

The contract procures a variety of launch vehicle configurations to meet the manifest for such satellites as GPS, AEHF, SBIRS and MUOS. There are four Delta 4-Heavy launch vehicles as part of the 36 core commitment.

"The Air Force's guiding priority in this effort is to continue our proven record of successful launches while continuing to be a good steward of the American taxpayer's money. This contract obtained near-term savings from our existing supplier. We continue to work with potential New Entrants to gain the benefits of competition as soon as possible," the press desk said.

Read our earlier story on the deal.



Comments section removed for language.