Sierra Nevada books first launch for 'space SUV'
BY STEPHEN CLARK
SPACEFLIGHT NOW
Posted: January 26, 2014


Sierra Nevada Corp., one of the companies tapped by NASA to develop a commercial crew carrier for the International Space Station, has reserved a slot on United Launch Alliance's Atlas 5 rocket manifest for an unpiloted test flight in late 2016.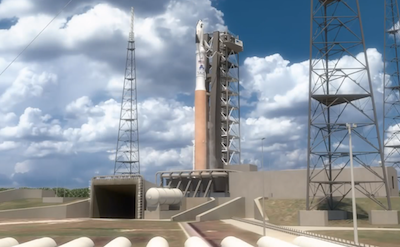 Artist's concept of an Atlas 5 rocket at Cape Canaveral's Complex 41 launch pad with a Dream Chaser spacecraft. Photo credit: Sierra Nevada Corp.

The autonomous flight of Sierra Nevada's reusable Dream Chaser space plane is set for launch in a 90-day window centered on Nov. 1, 2016. The preliminary flight plan calls for the Dream Chaser, which is about one-third the size of a space shuttle orbiter, to spend up to one day in low Earth orbit before plunging back into the atmosphere and gliding to an autopilot landing at Edwards Air Force Base, Calif.
Future Dream Chaser missions will land on the Shuttle Landing Facility runway at the Kennedy Space Center in Florida, officials said.
NASA is funding privately-led projects by Sierra Nevada, Boeing Co. and SpaceX to design and test spacecraft to transport NASA astronauts to and from the space station, ending U.S. reliance on the Russian Soyuz crew capsule to do the job.
Sierra Nevada officials hailed the deal unveiled Thursday as the first confirmed launch contract for the three companies working on commercial space taxis.
"People have talked about when they're going to fly," said Mark Sirangelo, Sierra Nevada's corporate vice president for space systems. "The difference here is we have a confirmed launch contract. We have a launch slot. To fly on Atlas is not a simple thing. You have to get on the manifest."
Sirangelo said Sierra Nevada has made its first payment to ULA to reserve a launch opportunity in late 2016.
NASA is aiming to begin operational commercial crew transport services by the end of 2017, but orbital test flights must begin before then to prove each spacecraft's design and safety systems.
"The purpose of [the November 2016 test flight] will be to test out our launch, orbital operations, and autonomous entry descent and landing, which is something we need to certify for our ISS missions as well," said Steve Lindsey, Sierra Nevada's Dream Chaser program manager. "The vehicle will be basically identical to the vehicle we fly a year later when we put crew on it."
The Dream Chaser is the only commercial crew vehicle being funded by NASA that is designed to land on a runway. It can carry up to seven astronauts to low Earth orbit or be outfitted for cargo missions.
"We like to think of it as our space SUV," Sirangelo said.
Boeing's CST-100 crew capsule will return to Earth with a parachute-assisted landing at White Sands, N.M., on its initial missions. SpaceX is working on a Dragon capsule with braking rockets and legs to accomplish a vertical helicopter-like touch down on a landing pad.
The Sierra Nevada space plane will launch on an Atlas 5 rocket with a dual-engine Centaur upper stage and without any solid rocket boosters. The version is known as the "402" configuration of the Atlas 5, which can be tailored to launch different types of payloads by adjusting the number of solid rocket boosters, flying one or two RL10 engines on the Centaur upper stage, and expanding the envelope of the rocket's nose shroud.
With a wingspan of 22.9 feet and a length of 29.5 feet, the Dream Chaser will be launched atop the Atlas 5 without a payload fairing. The decision allows the space plane and its crew of up to seven astronauts to quickly escape the booster in case of an explosion or launch failure.
Michael Gass, ULA's president and CEO, said engineers in the last year matured the design of the dual-engine Centaur, which has never launched on an Atlas 5 mission. ULA also achieved a preliminary design review on the Atlas 5's emergency detection system, a new computer to monitor the rocket's health during launch and trigger an abort to save the crew in case of an engine failure or another problem.
"United Launch Alliance is honored that Sierra Nevada Corp. has purchased a proven Atlas 5 for its first flight in 2016," Gass said. "We'll be ready."
Lindsey said ULA plans to install crew accommodations at the Atlas 5's Cape Canaveral launch pad in 2015 ahead of the first piloted Dream Chaser mission in 2017.
According to Sirangelo, Sierra Nevada and ULA are in negotiations for a contract to launch astronauts on the 2017 demonstration mission. Sierra Nevada procured the Atlas 5 rocket for the 2016 test flight in a commercial contract between the two companies.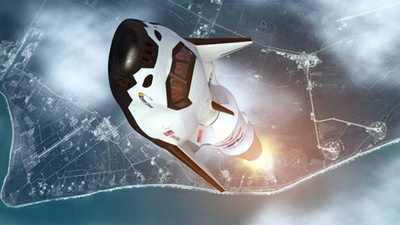 Artist's concept of a Dream Chaser spacecraft launching atop an Atlas 5 rocket. Photo credit: Sierra Nevada Corp.

The 2017 manned flight would dock with the space station with a two-person crew led by a corporate astronaut from Sierra Nevada along with a NASA astronaut as copilot, said Lindsey, a former space shuttle commander.
Sierra Nevada and ULA have worked together on the Dream Chaser program since 2007. The Atlas 5 operator also has agreements with Boeing to launch the CST-100 crew capsule, but the companies have not publicly announced a firm launch contract.
SpaceX's Dragon spacecraft, which is already flying in a simpler configuration to deliver cargo to the space station, will launch on Falcon 9 rockets.
Gass would not disclose whether Boeing has finalized an Atlas 5 launch contract for an unmanned CST-100 mission.
Sierra Nevada also plans to exploit an already-existing partnership with Lockheed Martin Corp. to use the Operations and Checkout Building for Dream Chaser refurbishment between missions.
If the deal goes forward, the Dream Chaser would be towed into the O&C Building, inspected for damage, and refilled with propellant for its next mission.
Lockheed Martin engineers currently occupy the O&C Building working on NASA's Orion multipurpose crew vehicle. But the Orion spacecraft is only expected to fly in space twice before 2020, leaving the facility under-utilized between Orion missions.
"The [Dream Chaser] vehicle can be brought in horizontally, deserviced and refurbished for the next flight using a lot of the technology and components that we're developing for Orion," said Larry Price, Lockheed Martin's deputy Orion program manager.
If NASA selects Dream Chaser for operational missions, Sierra Nevada projects it will bring more than 500 jobs to Florida's Space Coast.
Lockheed Martin is also constructing the pressure shell for the first space-bound Dream Chaser at the Michoud assembly facility in New Orleans.
NASA and Sierra Nevada have a Space Act Agreement to provide up to $227.5 million of government funding to the company. NASA makes payments as Sierra Nevada completes Dream Chaser design and development milestones.
The existing agreement runs through August 2014 and includes milestones in flight testing, risk reduction efforts, wind tunnel testing, rocket thruster testing, and safety and schedule reviews.
Sierra Nevada submitted a proposal to NASA last week to continue developing Dream Chaser, culminating in the uncrewed and crewed orbital test flights in 2016 and 2017, according to Sirangelo.
NASA has said it will award funding to one or two companies to complete development of their spacecraft and proceed with orbital demonstration missions.
Follow Stephen Clark on Twitter: @StephenClark1.