President Obama signs $17.6 billion NASA budget
BY STEPHEN CLARK
SPACEFLIGHT NOW
Posted: January 17, 2014


President Barack Obama signed a budget measure Friday giving NASA more than $17.6 billion for the year, fully funding the space agency's heavy-lift Space Launch System and Orion exploration capsule while falling short of NASA's request to pay for commercial space taxis.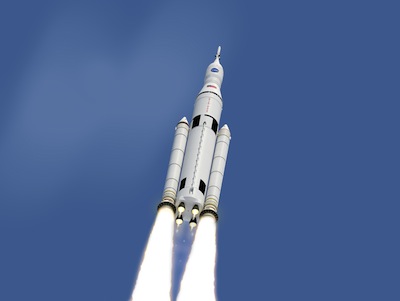 Artist's concept of the Space Launch System heavy-lift rocket scheduled for an initial test launch in 2017. Photo credit: NASA

The space agency's top line budget is $17.65 billion in the spending bill, which runs until the end of September and was passed by Congress earlier this week. The $1.1 trillion budget covers the entire federal government.
The appropriations bill has its roots in a framework budget compromise reached by House and Senate leaders in December. Lawmakers ironed out the details of the budget over the last month before unveiling the document Monday night.
Congress gave NASA a funding level just shy of the White House's request of $17.72 billion, but the appropriation pads the space agency's deep space exploration programs, setting the Orion multipurpose crew vehicle's budget at $1.2 billion and the Space Launch System's funding line at $1.6 billion, more than $200 million more than NASA said it needed to meet a 2017 launch date for an unmanned test flight.
The Orion spacecraft and Space Launch System are the centerpieces of NASA's plans for human missions to an asteroid and eventually Mars.
In a legislative report accompanying the budget, Congress refused to commit to NASA's proposed asteroid redirect mission to retrieve a 500-ton rock from solar orbit, guide it around the moon with a robotic spacecraft, then send astronauts to visit it aboard Orion crew capsules. Lawmakers wrote that NASA needs to justify the asteroid initiative and provide detailed cost estimates before winning congressional support.
The extra money for SLS will "maintain critical forward momentum" on the program, legislators wrote in the budget report.
A loser in the budget is the commercial crew program, which began funding industrial partners in 2010 and aims to develop a privately-owned rocket and spacecraft to transport astronauts to and from the International Space Station in low Earth orbit by the end of 2017.
After the space shuttle, NASA is turning to the private sector for crew and cargo transportation to the space station, while the government focuses on missions beyond Earth orbit.
NASA asked Congress for $821 million, a figure NASA Administrator Charlie Bolden said last year is required to keep the commercial crew program on track to support an operational transport service in 2017.
The fiscal year 2014 budget calls for $696 million in commercial crew funding, above last year's $525 million budget but short of what NASA requested. The bill directs NASA to hold $171 million of the $696 million in reserve until officials complete an independent cost-benefit analysis of the commercial crew program taking into account the total U.S. government investment in the project and the expected operational life of the space station.
NASA is pursuing the commercial spaceflight program as a public-private partnership in the mold of the agency's development of private cargo vehicles to resupply the space station.
Boeing Co., SpaceX and Sierra Nevada Corp. are currently in funded Space Act Agreements with NASA worth $1.1 billion. Under the cost-sharing arrangement, NASA approves monetary awards to each company upon the completion of preset milestones, such as flight tests, engine firings, or design reviews.
This summer, NASA plans to select one or more companies to complete development of their crew spacecraft and fly demonstration missions to low Earth orbit before the vehicle is certified for NASA astronauts.
Since its inception, the commercial crew program has received less funding each year than requested by NASA.
The rest of NASA's divisions receive funding near requested levels, except for the agency's space technology directorate, which gets $576 million. That is $167 million less than NASA wanted.
Space operations, which includes the International Space Station, receives $3.78 billion in fiscal year 2014 and NASA's science programs get $5.15 billion. Both figures are within a few percent of NASA's request.
Follow Stephen Clark on Twitter: @StephenClark1.