Orbital Sciences plans upgrades to resupply system
BY STEPHEN CLARK
SPACEFLIGHT NOW
Posted: January 14, 2014


DULLES, Va. -- Orbital Sciences Corp. officials say the Obama administration's endorsement of a life extension for the International Space Station will allow for technical upgrades and cost reductions for the company's commercial resupply service.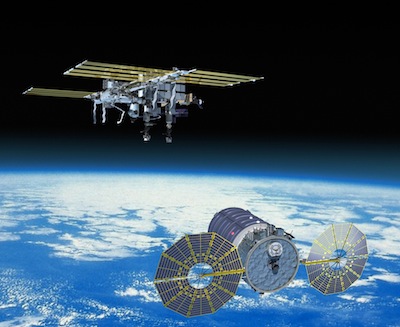 Artist's concept of an enhanced Cygnus spacecraft arriving at the International Space Station. The enhanced cargo craft, featuring circular solar arrays and a larger pressurized module, will debut in early 2015. Photo credit: Orbital Sciences Corp.

But the Virginia-based company is not waiting for a new contract to introduce improvements. Later this year, engineers will install higher-power radios and a better navigation sensor into Orbital's Cygnus cargo carrier and fly a more capable solid-fueled upper stage motor on the Antares launcher used to send supplies into orbit.
Orbital invited Spaceflight Now into the Cygnus control center at the company's Northern Virginia headquarters Sunday, offering rare behind-the-scenes access to the mission operations team as the spacecraft rendezvoused with the space station for a high-flying delivery of 2,780 pounds of experiments and supplies.
The Cygnus spacecraft's cargo load was the heaviest ever transported to the space station by one of the U.S. commercial cargo vehicles, eclipsing previous hauls by Cygnus and SpaceX's Dragon capsule.
The 16.8-foot-long cargo vessel completed a smooth three-day pursuit of the space station Sunday, holding its position 30 feet below the complex as astronaut Mike Hopkins snagged the automated spaceship with a robotic arm.
Sunday's arrival marked the first of eight cargo missions Orbital has under contract with NASA. The $1.9 billion agreement, reached by NASA and Orbital in December 2008, calls for the delivery of 40,000 pounds of supplies over the eight flights.
Orbital officials welcomed NASA's announcement Jan. 8 that the White House supports continuing to fly the space station until at least 2024.
"There's really no reason to stop operations on the space station until it completely is no longer usable, and I think it will be usable for a long time because it's very well built, very well maintained, and NASA and their engineers understand it very well," said Frank Culbertson, executive vice president and general manager for Orbital's advanced programs group.
The space station will need crew and cargo transportation services as long as it operates, giving Orbital Sciences and other companies in the business an anchor market. Orbital and SpaceX, NASA's other cargo transport provider, developed their rockets and resupply ships in a cost-sharing scheme using NASA funding and private capital.
NASA's current contracts for cargo missions with SpaceX and Orbital run through the end of 2016. To ensure no gap in service, Orbital officials say they would like to see new orders in place this year.
"We're hopeful that some time in 2014 NASA will see our spacecraft performs very well and start looking at ordering additional missions from us, so that we can start ordering hardware not only for us to manufacture internally, but for our suppliers to manufacture," said Frank DeMauro, Orbital's Cygnus program manager. "I think we've shown tremendous benefits of building ahead and buying ahead. We would like to continue to do that for follow-on missions."
NASA officials have not said how many more resupply missions they will put under contract, or whether the procurement will be an extension of the existing deals with SpaceX and Orbital or another open competition.
The space station extension to 2024 "gives us a chance to be innovative and maybe invest in some improvements on how we do this to make it more cost-effective, more efficient, quicker turnaround times, [and] go more often," Culbertson said.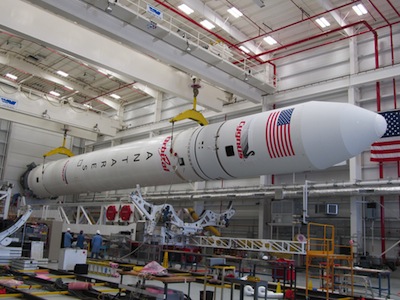 File photo of an Antares rocket inside the hangar at Wallops Flight Facility in Virginia. Photo credit: Orbital Sciences Corp.

"We definitely will go to more of a production mode rather than a development mode on the spacecraft and the rocket," Culbertson said. "We can really get very efficient with that if we can do the same design over and over, and that's what we intend to do for the next phase of [cargo] services."
Orbital Sciences managers said they would study incremental upgrades to the spacecraft's systems and would respond to any NASA request for extra capability.
Some improvements will be introduced as soon as the next Cygnus resupply mission, named Orb-2 and tentatively scheduled for launch May 1.
DeMauro said engineers will install a U.S.-built software-defined radio on the Orb-2 mission to replace a radio from a European subcontractor. And the Orb-2 flight will see the debut of a new navigation sensor to aid the craft's approach to the space station.
The TriDAR sensor, developed and built by Ottawa-based Neptec Design Group, is a next-generation rendezvous aid tested on three space shuttle flights, including the final mission in July 2011.
The Cygnus spacecraft's existing laser navigation system measures the distance and closing rate of the spaceship by bouncing light signals off of reflectors mounted on the space station's Japanese lab module. The TriDAR system does not need reflectors, instead determining the Cygnus spacecraft's position by creating a three-dimensional thermal map of the station and comparing it with a model embedded in the system's software.
The TriDAR is also effective at greater distances from the space station, according to Neptec engineers.
Orbital will use the radio and TriDAR in backup mode on Orb-2. If they perform well, they will be used operationally on the Orb-3 resupply mission in October.
The October cargo launch will also mark the first flight of the Antares rocket's more powerful Castor 30XL upper stage motor provided by ATK. The Castor 30XL is a lengthened version of the Antares rocket's flight-proven Castor 30 motor, boosting the launcher's maximum load to the space station by more than 1,000 pounds.
Then on Orbital's first logistics mission in 2015, known as Orb-4, the company will trot out an enhanced version of the Cygnus spacecraft with a larger pressurized cargo module, a new circular solar array design, and lighter structural components and wiring harnesses, DeMauro said.
The upgrades will allow Cygnus to haul nearly three tons of supplies to the space station.
According to DeMauro, the Cygnus service module for Orb-2 is finishing up testing at the company's headquarters here and will be moved to the launch site at NASA's Wallops Flight Facility on Virginia's Eastern Shore in March. The pressurized cargo module, built by Thales Alenia Space in Turin, Italy, will be shipped to Wallops aboard an Antonov An-124 transport plane in late January, he said.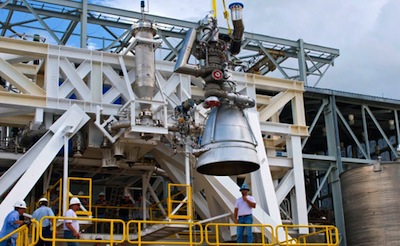 File photo of an AJ26 engine being installed into a test stand at Stennis Space Center in southern Mississippi. Photo credit: Orbital Sciences Corp.

Culbertson said the readiness of the Antares rocket's twin first stage AJ26 engines, built in the 1970s by Russia's Kuznetsov Design Bureau and modernized by Aerojet Rocketdyne, present the toughest challenge to Orb-2's targeted May 1 launch date.
Originally designed for the Soviet Union's doomed lunar exploration program, the engines are fired at NASA's Stennis Space Center in Mississippi for final testing before shipment to the Wallops launch facility.
Orbital Sciences officials have said the aging engines suffer from corrosion, making them difficult to test and qualify for flight. Culbertson did not say what, if any, problems are being encountered in the current round of engine testing in Mississippi.
Aerojet Rocketdyne and Orbital Sciences have a contract to supply the Antares rocket with 20 AJ26 engines to cover 10 Antares launches on the manifest - the eight resupply flights to the space station and two test flights already in the books. Six of the powerplants have already flown on three launches.
Before Aerojet Rocketdyne's upgrades and rebranding, the Russian-built engines were known as NK-33s.
If Orbital signs a deal for cargo flights beyond 2016, it will need more engines.
Aerojet Rocketdyne has another 23 kerosene-fueled NK-33 engines in stock it says could be used for additional Antares launches to the space station or for other potential customers.
But Orbital Sciences wants a more permanent propulsion solution for the Antares rocket. The NK-33s are no longer in production, and although Aerojet Rocketdyne president Warren Boley said in June the company had struck a deal with Kuznetsov to resume manufacturing the NK-33, Culbertson said he was not aware of any commitment to restart production with set financial terms.
"We have active negotiations going on in a variety of areas" for engines for future Antares missions, Culbertson said, adding that Orbital was looking both domestically and internationally and would stick with a liquid-fueled first stage.
The Antares rocket's two AJ26 engines generate about 750,000 pounds of thrust.
"We're looking in the same ballpark or better," Culbertson said. "It's just a matter of what type of engines are available and what will fit in the aft compartment. A million pounds [of thrust] would be great if we could get that."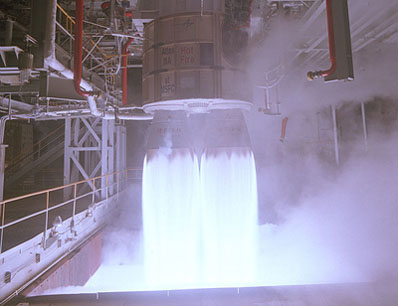 Photo of an RD-180 engine being test-fired in 1998. Photo credit: NASA

Orbital filed a lawsuit against United Launch Alliance, the contractor for the Atlas and Delta rocket families, and one of its engine suppliers in June for the right to purchase RD-180 engines for the Antares rocket.
According to court documents, Orbital alleged ULA and RD AMROSS participate in anti-competitive practices and is seeking up to $1.5 billion in damages.
Lockheed Martin Corp., a ULA stakeholder along with Boeing Co., invested in the development of the RD-180 engine for the Atlas 5 rocket in the 1990s. ULA says it still maintains intellectual property rights to the engine, giving the Atlas 5 rocket exclusive access to RD-180 engines in the U.S. market.
RD AMROSS, which supplies RD-180 engines for ULA's Atlas 5 rocket, is jointly owned by U.S. and Russian companies.
A federal judge rejected an argument from ULA and RD AMROSS in December that the lawsuit be dismissed. ULA and RD AMROSS argued that Orbital Sciences has viable alternatives to the RD-180 engine.
One option is the RD-181 engine, a single-nozzle engine that would provide roughly half the thrust of an RD-180, which packs about 860,000 pounds of thrust at sea level.
But the RD-181 only exists on paper. The engine has never been built or fired.
There is not a U.S.-built kerosene rocket engine in production in the same class as the RD-180 or AJ26 engines.
Follow Stephen Clark on Twitter: @StephenClark1.