SpaceX snags deal to launch Japanese telecom satellite
BY STEPHEN CLARK
SPACEFLIGHT NOW
Posted: January 13, 2014


Fresh off back-to-back launches of commercial communications satellites, SpaceX has booked a Japanese payload for a Falcon 9 flight in late 2015 likely to be launched from Cape Canaveral.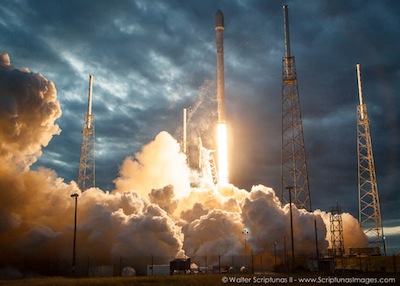 File photo of a Falcon 9 rocket launch. Photo credit: Walter Scriptunas II / Scriptunas Images

The launch contract award for JCSAT 14, a communications satellite owned by Tokyo-based SKY Perfect JSAT Corp., adds another mission to SpaceX's backlog, which stands at nearly 50 missions worth nearly $5 billion, according to a company press kit.
SpaceX announced the deal Friday. Financial terms were not disclosed by SpaceX or SKY Perfect JSAT.
The contract is the first new mission added to the Falcon 9 manifest since the rocket flew two successful flights to geostationary transfer orbit Dec. 3 and Jan. 6 with the SES 8 and Thaicom 6 communications satellites.
Geostationary transfer orbit is the drop-off point for most telecom payloads. JCSAT 14 will be delivered to such an orbit when it launches in the second half of 2015.
According to SpaceX's manifest published on the firm's website, JCSAT 14 would be the 10th geostationary transfer orbit mission on the Falcon 9's schedule.
"SpaceX looks forward to working with SKY Perfect JSAT on this mission," said Gwynne Shotwell, SpaceX president and chief operating officer. "As Asia's largest satellite operator, we appreciate JSAT's confidence in our ability to reliably deliver their satellite to orbit."
Emily Shanklin, a SpaceX spokesperson, said the launch of JCSAT 14 will "most likely" originate from the Falcon 9 launch site at Cape Canaveral, Fla. But she said the launch agreement allows for an alternate mutually agreed upon site.
SpaceX is working on plans for a new commercial launch base, most likely in South Texas, but the company has not said when the facility would be ready.
Built by Space Systems/Loral of Palo Alto, Calif., JCSAT 14 will meet growing demand in the Asia-Pacific with a payload of 26 C-band and 18 Ku-band transponders. The spacecraft will serve SKY Perfect JSAT's broadcast and data network customers and offer high-speed connectivity for mobile users, such as ships and airplanes, and the oil and gas exploration market.
JCSAT 14 will succeed and replace JCSAT 2A, which launched in March 2002, according to the Japanese operator.
Follow Stephen Clark on Twitter: @StephenClark1.