SpaceShipTwo achieves highest flight to date
BY STEPHEN CLARK
SPACEFLIGHT NOW
Posted: January 11, 2014


Virgin Galactic, the suborbital space tourism venture founded by Richard Branson, flew the reusable SpaceShipTwo rocket plane higher than ever before on a test flight Friday over California's Mojave Desert.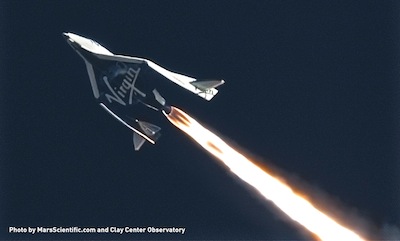 Photo of SpaceShipTwo in flight from a ground-based optical telescope. Credit: MARS Scientific/Clay Center Observatory/Virgin Galactic

The company's chief pilot, Dave Mackay, was at the controls during the flight, which reached a planned altitude of 71,000 feet and a top speed of Mach 1.4, Virgin Galactic said in a statement.
Mackay and Mark Stucky, a test pilot from SpaceShipTwo's designer and builder Scaled Composites, guided the 60-foot-long rocket plane back to a runway at Mojave, Calif., as an unpowered glider.
"I couldn't be happier to start the New Year with all the pieces visibly in place for the start of full spaceflights," Branson said in a statement. "2014 will be the year when we will finally put our beautiful spaceship in her natural environment of space. Today, we had our own chief pilot flying another flawless supersonic flight and proving the various systems required to take us safely to space, as well as providing the very best experience while we're up there."
The flight began with SpaceShipTwo's takeoff from Mojave Air and Space Port underneath the specially-designed WhiteKnightTwo carrier jet at 7:22 a.m. local time (10:22 a.m. EST; 1522 GMT). Moments after dropping from WhiteKnightTwo at an altitude of 46,000 feet, the spaceship ignited its hybrid rocket motor, built by Sierra Nevada Corp., burning rubber-based solid fuel and liquid nitrous oxide.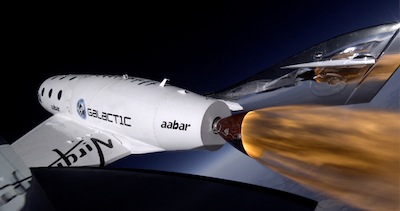 A camera mounted aboard SpaceShipTwo captured this stunning view of the craft's hybrid rocket motor in flight. Credit: Virgin Galactic

The rocket motor burned for 20 seconds to accelerate SpaceShipTwo faster than the speed of sound.
Friday's flight was the third flight of SpaceShipTwo under rocket power after its first rocket flight in April 2013. Virgin Galactic said the flight tested SpaceShipTwo's reaction control system and newly-installed thermal protection system coating on the vehicle's tail booms.
The reaction control system will be used to maneuver SpaceShipTwo in space to give passengers good views out the window, and engineers are testing the new thermal coating on SpaceShipTwo's inner tail boom surfaces to maintain the proper skin temperatures while the hybrid motor is firing.
"Today's flight was another resounding success," said Virgin Galactic CEO George Whitesides. "We focused on gathering more transonic and supersonic data, and our chief pilot, Dave, handled the vehicle beautifully. With each flight test, we are progressively closer to our target of starting commercial service in 2014."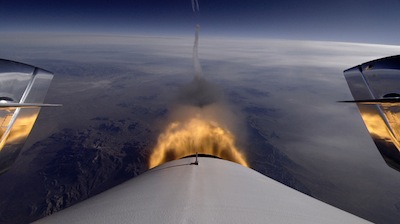 An on-board camera shows SpaceShipTwo's hybrid rocket motor firing and California's Mojave Desert more than 10 miles below. Credit: Virgin Galactic

SpaceShipTwo is a larger version of the single-pilot craft used to capture the $10 million Ansari X Prize in 2004 after completing two flights of a private reusable manned spacecraft within two weeks.
Virgin Galactic hopes to begin flying paying passengers on suborbital hops higher than 100 kilometers, or about 62 miles, the internationally-recognized boundary of space.
More than 500 people have signed up to fly on SpaceShipTwo. Branson has said he and his family will be on the first passenger flight.
Follow Stephen Clark on Twitter: @StephenClark1.