Over-budget ICESat 2 mission under review
BY STEPHEN CLARK
SPACEFLIGHT NOW
Posted: December 10, 2013


NASA has notified Congress of an expected budget breach on the ICESat 2 mission, a satellite mired in technical difficulties with its ice-measuring laser altimeter and plagued by rising costs and launch delays.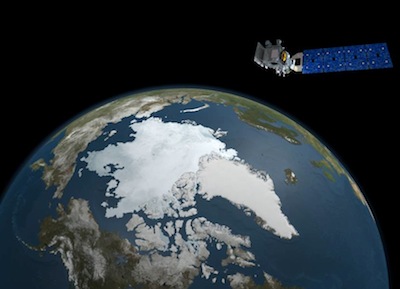 Artist's concept of the ICESat 2 spacecraft. Credit: NASA

Officials disclosed their concerns with ICESat 2's budget in a presentation to the National Advisory Council's science committee on Dec. 3.
Michael Freilich, director of NASA's Earth science division, told the advisory panel the Ice, Cloud,and land Elevation Satellite 2 mission is having "significant technical and program management difficulties."
NASA is required by law to inform Congress when a mission appears likely to overrun its approved budget by more than 15 percent, according to Space News, which first reported ICESat 2's budget trouble.
Budget documents show ICESat 2 was previously expected to cost $559 million.
The space agency submitted an initial notification to Congress on Dec. 3, according to Stephen Cole, a NASA spokesperson.
Cole said NASA continues to work on ICESat 2 as officials assess the mission.
NASA's Goddard Space Flight Center in Maryland manages the ICESat 2 project, which was ranked as a high priority in Earth science by researchers in 2007.
ICESat 2's predecessor collected data from 2003 until 2009, revealing the thinning of the Arctic polar ice cap and diminishing land ice in Greenland. NASA is mounting an airborne campaign named Operation Ice Bridge to continue polar observations between the ICESat and ICESat 2 satellite missions.
In late October, Freilich told a National Research Council oversight board that ICESat 2 was having technical problems with its sole instrument, a laser altimeter designed to map global ice elevations.
He said NASA is "in the process of re-evaluating" the mission's launch date, which is likely to slip from December 2016 until some time between February and June 2017.
ICESat 2 will launch on a United Launch Alliance Delta 2 rocket from Vandenberg Air Force Base in California.
The centerpiece of ICESat 2's mission is the Advanced Topographic Laser Altimeter System, or ATLAS, which will fire visible, green laser pulses 10,000 times per second as the satellite flies in a 307-mile-high polar orbit.
The altimeter's contractor is Fibertek Inc., and Orbital Sciences Corp. is under contract to build the ICESat 2 spacecraft.
The laser altimeter on ICESat 2, a different type of sensor than the laser flown on ICESat, will produce estimates of ice sheet thickness and mass to see how much polar ice is eroding away as global temperatures rise.
Follow Stephen Clark on Twitter: @StephenClark1.