JPSS reviewers push for new gap-filler weather satellite
BY STEPHEN CLARK
SPACEFLIGHT NOW
Posted: November 14, 2013


An independent review board impaneled to scrutinize NOAA's Joint Polar Satellite System says a new polar-orbiting spacecraft with bare-bones meteorological instruments should be developed to prevent a dangerous gap in critical forecasting data.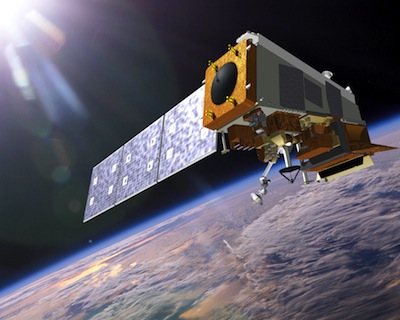 Artist's concept of the JPSS 1 satellite due for launch in March 2017. Credit: Ball Aerospace and Technologies Corp.

The proposed satellite, separate from JPSS 1 observatory already planned for launch in early 2017, would be available in case NOAA's existing Suomi NPP weather satellite fails or the the agency's next polar satellite suffers a failure during launch or in-orbit checkout.
"It is in our judgment ... that there is an unacceptably high probability of a gap," said A. Thomas Young, head of the NOAA satellite program's independent review team and former CEO of Martin Marietta. "In other words, it's a circumstance that given the criticality of the data, it's a position the United States should not agree to put itself in."
In the report dated Nov. 8 and discussed with reporters Thursday, the reviewers urged NOAA to set aside funding for a "free-flyer" satellite with two instruments: the Advanced Technology Microwave Sounder and the Cross-track Infrared Sounder.
The ATMS and CrIS sensors would be duplicates of two instruments already being built to fly on the JPSS 1 satellite, but the gap-filler free-flyer satellite recommended by NOAA's independent review team would carry just a subset of the five payloads programmed to fly on JPSS 1.
NOAA already has a Polar Free-Flyer in its plans for launch around 2016. One option outlined by the review team involves adding the ATMS and CrIS weather instruments to the Polar Free-Flyer and removing all or some of the the craft's planned instrumentation, which includes a total solar irradiance sensor to measure solar energy, an advanced data collection system to pick up data from marine buoys, and a search-and-rescue payload.
Another alternative, assuming NOAA abides by the review team's recommendation, is constructing a second free-flyer satellite, according to the report.
"If you look at the current constellation in terms of the spacecraft that are in orbit, we have a number of spacecraft currently in orbit that would backstop us against an immediate gap in Suomi NPP," said Mary Kicza, assistant administrator for the National Oceanic and Atmospheric Administration's satellite and information service. "The concern is if you have a catastrophic failure down the line, whether that be late in the game on Suomi NPP or a JPSS 1 launch failure, you won't have that backstop and you need to have a gap-filler ready."
When asked if NOAA would address the gap-filler recommendation in future budgets, Kicza said: "The likelihood is the answer is yes. That's being worked, and you will see it reflected in upcoming budgets."
Kicza did not say whether the gap-filler would appear in the White House's fiscal year 2015 budget request, which is due out in February.
Regardless, any proposal for a new NOAA satellite would need approval from Congress, which has appropriated a steady budget for the JPSS program this year but has hesitated to provide full funding for other NOAA satellite programs, at least in budget resolutions passed in the House and Senate.
Like all other government agencies, NOAA continues to operate under an extension of last year's budget known as a continuing resolution, keeping all programs intact for now.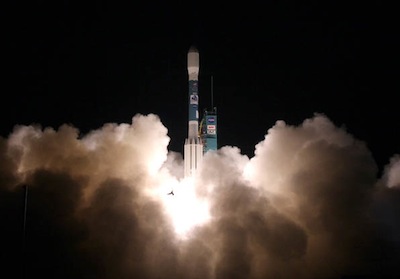 Suomi NPP launched on a United Launch Alliance Delta 2 rocket from Vandenberg Air Force Base, Calif., on Oct. 28, 2011. JPSS 1 will launch on another Delta 2 rocket in 2017. Credit: William G. Hartenstein/United Launch Alliance

Worries of an impending data gap from polar-orbiting satellites in the second half of this decade are not new.
The Government Accountability Office and NOAA officials have warned of a gap for several years, and the independent review team led by Young last year recommended NOAA narrow the scope of the first JPSS satellite to only include instruments dedicated to weather and ozone observations, simplifying the spacecraft to help ensure it launches as scheduled in early 2017.
NOAA followed the panel's core recommendation in its fiscal year 2014 budget request, which calls for transferring responsibility for three climate, ozone and radiation sensors from NOAA to NASA, reducing the JPSS program's projected lifetime budget from $12.9 billion to $11.3 billion.
Knocking the climate instruments off of NOAA's books refocuses the JPSS program on its core weather forecasting mission, according to Kicza.
The independent review team's Nov. 8 report was supposed to assess NOAA's response to the recommendations released by the board last year. The reviewers found NOAA had adequately responded or is addressing most of the issues brought up in last year's report, but it suggested the gap-filler satellite to resolve one of NOAA's shortcomings.
In the Nov. 8 report, the review panel also advised NOAA to procure at least three copies each of the ATMS and CrIS instruments. Young justified the recommendation by saying the instrument development drives the schedule for any potential gap-filler satellite, so they should be ordered first.
And NOAA should order the next three JPSS satellites, beginning with JPSS 2 set for launch around the end of 2021, all in one go, according to the review team.
"The gap-filler is a Band-Aid," Young said. "It's not a solution for a robust program, so we think it's urgent to get on with a robust program. That is where we get to JPSS 2, 3 and 4. Treat them as an integrated program and put all three of them under contract.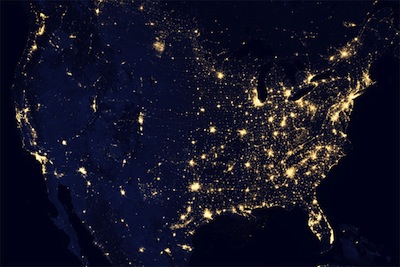 This image of the United States of America at night is a composite assembled from data acquired by the Suomi NPP satellite in April and October 2012. The image was made possible by the new satellite's "day-night band" of the Visible Infrared Imaging Radiometer Suite. Credit: NASA Earth Observatory/Robert Simmon/NOAA/Chris Elvidge

From 1978 to 2009, fresh NOAA weather satellites were launched into polar orbit an average of once every two years under the Polar Operational Environmental System, or POES, program.
But NOAA launched its final POES-era satellite in February 2009, and a research satellite named Suomi NPP was thrust into an operational forecasting role following its launch in October 2011 because no other weather satellites were ready for launch until 2017.
By then, officials expect all of NOAA's legacy POES satellites will be out of service, and Suomi NPP's minimum design life is five years, which it will reach just as NOAA's first next-generation Joint Polar Satellite System satellite is on the launch pad, assuming schedules hold.
Young echoed concerns previously expressed by NOAA officials on the consequences of a data gap, saying such an occurrence would be "catastrophic" to the agency's mission of protecting life and property.
Polar-orbiting satellites funnel data into numerical weather models to make medium-term forecasts three to eight days in advance of a severe weather event. NOAA officials say the data from polar satellites help monitor hurricanes, droughts, floods, snowstorms and other extreme weather.
NOAA flies civil weather satellites in the "afternoon" polar orbit with equator crossings at 1:30 p.m. local time, and NOAA obtains weather data from U.S. military satellites operating in an orbit passing over the equator in the early morning. The U.S. government also has a data-sharing arrangement with Eumetsat, the European weather satellite agency, which has two spacecraft flying in a mid-morning orbit timed to cross the equator at 9:30 a.m. local time.
The combination of data from all three types of orbits helps feed timely information into weather forecasting models.
NOAA's satellites in geostationary orbit over the equator provide real-time imagery to track the movements of storms and hurricanes for short-term forecasting.
"If everything lives forever and there are no failures, then there would not be a gap," said A. Thomas Young, head of the NOAA satellite program's independent review team and former CEO of Martin Marietta. "The problem is that you just can't be in a situation where you're one failure away from that occurring. So what could cause a gap? [Suomi] NPP failing at the end of its lifetime. A JPSS 1 launch failure would be a horrible event. A JPSS 1 early spacecraft failure would be a significant event."
NOAA conceived JPSS 1 as a near-clone of Suomi NPP in an effort to cut development time and costs following the disbandment of a scheme to merge weather satellite programs managed by NOAA and the U.S. Air Force that was hamstrung by skyrocketing costs and delays.
Suomi NPP and JPSS 1 are manufactured by Ball Aerospace and Technologies Corp.
Follow Stephen Clark on Twitter: @StephenClark1.