Russian military probing fatal accident at Plesetsk
BY STEPHEN CLARK
SPACEFLIGHT NOW
Posted: November 13, 2013


Two military officers died last week while cleaning out a propellant storage tank at northern Russia's Plesetsk Cosmodrome, the Russian Defense Ministry announced Tuesday.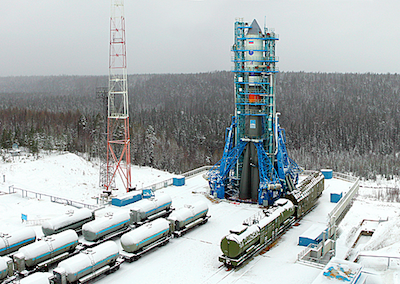 File photo of a Soyuz rocket on the launch pad, surrounded by propellant tanks on rail cars, at the Plesetsk Cosmodrome in far northern Russia. Credit: Russian Defense Ministry

Three servicemen were hospitalized after inhaling toxic nitrogen tetroxide vapors, and they are expected to survive, the defense ministry said in a statement.
Russian authorities launched a criminal investigation into the accident, which occurred around 11 a.m. local time (0700 GMT) on Nov. 9, according to a document released by the Russian military's investigative service.
Investigators identified Maj. Alexander Myakshin and Maj. Mikhail Barsukov as the victims in the fatal accident. The names of the injured personnel were not released.
According to information in the document, Myakshin, Barsukov and other officers entered a propellant tank on a rail car to rescue another soldier who lost consciousness after inhaling fumes of nitrogen tetroxide.
The Russian Defense Ministry said the soldier who initially lost consciousness ignored safety regulations.
The Nov. 9 deaths marked the first known fatal accident at the space base since a soldier was killed during the crash of a Soyuz rocket less than a minute after a launch in October 2002.
The military-run Plesetsk Cosmodrome is located in Russia's northern Arkhangelsk region about 500 miles north of Moscow.
The facility is the only space launch base on Russian territory. Most of Russia's launches occur at the Baikonur Cosmodrome leased from the government of Kazakhstan.
The Nov. 9 accident occurred as Russian engineers prepare for the launch of the European Space Agency's Swarm magnetic field research mission aboard a Rockot launch vehicle, but the propellant tank cleaning was apparently not directly related to processing for the Swarm mission, according to an ESA official.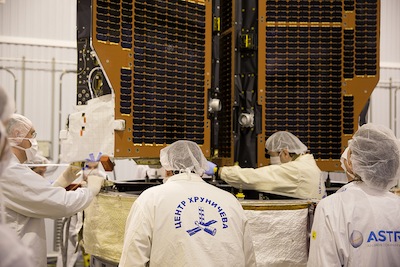 Technicians observe the placement of the three Swarm satellites on a custom-built rocket adapter at the Plesetsk Cosmodrome. Credit: ESA/M. Shafiq

According to Rene Pischel, head of ESA's permanent mission in Russia, the launch of Swarm remains set for Nov. 22.
"It is not 100 percent clear where exactly it happened," Pischel said Wednesday. "It happened during the cleaning of [a] railway car tank."
Pischel said he was not sure how close the accident was to the Rockot launch pad, which is located at Site 133 at Plesetsk.
"Russian authorities confirmed that the incident was not directly related to the Rockot launch preparations but during regular work," Pischel said.
Follow Stephen Clark on Twitter: @StephenClark1.