Re-entry of Europe's GOCE satellite is imminent
BY STEPHEN CLARK
SPACEFLIGHT NOW
Posted: November 10, 2013
Updated: 2030 GMT, 2130 GMT, 2220 GMT and 2300 GMT


European officials said Sunday the 2,200-pound fuel-depleted GOCE satellite was expected to re-enter the atmosphere Sunday evening between 2250 GMT and 0050 GMT (5:50-7:50 p.m. EST), putting the most probable re-entry zones over the Atlantic or Pacific Oceans, or over Earth's polar regions.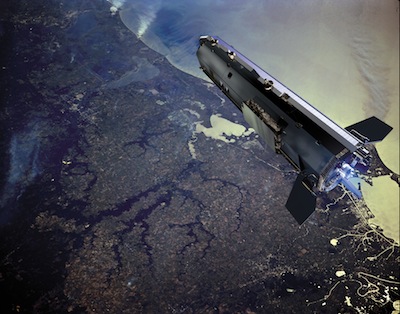 Artist's concept of the GOCE satellite in orbit. Credit: ESA/AOES Medialab

Officials say the risk of human casualties or property damage from falling GOCE debris is staggeringly low. You're 250,000 times more likely to hit the jackpot in the German Lotto, according to Heiner Klinkrad, head of the European Space Agency's space debris office.
"On a short pass over the Troll ground station that ended at 2118 CET (2018 GMT; 3:18 p.m. EST), while GOCE flew at an altitude of only 122 km (75 miles), the satellite was still showing an amazing system performance, and dumped highly valuable data to the ground station," Klinkrad wrote Sunday in a post on ESA's website.
"Using these data, that included very accurate navigation fixes along its trajectory, an orbit could be fitted that was used to forecast the re-entry of the spacecraft," Klinkrad wrote.
The forecast issued at 2210 GMT (5:10 p.m. EST) predicted re-entry between 2250 GMT and 0050 GMT (5:50-7:50 p.m. EST).
"The most probable re-entry area lies on a descending orbit pass that mainly runs across the Pacific and the Indian Ocean," Klinkrad wrote. "ESA will make another attempt to contact GOCE during a Troll station pass, to acquire more science and spacecraft data from an extremely low orbit altitude, and to further reduce the uncertainty in the re-entry forecast."
GOCE will also pass over eastern Russia, northeast China, the Korean peninsula, Taiwan, the Philippines, Indonesia, and will skirt the western coast of Australia on a north-to-south trajectory in the middle of the re-entry period.
Farther away from the most likely impact location, GOCE's ground track in the two-hour re-entry window also takes it over Brazil, Canada, Antarctica, Argentina, Chile, Peru, Colombia, the Caribbean Sea and the southeast United States.
As of 2245 GMT (5:45 p.m. EST), GOCE was flying at an altitude of 120 kilometers, or just 74 miles. The internationally-recognized boundary between the atmosphere and space is at 100 kilometers, or 62 miles.
"At an altitude of less than 120 km, the spacecraft is - against expectations - still functional," the GOCE operations team said in an update posted on ESA's website.
Officials expect GOCE will disintegrate when it reaches an altitude of about 80 kilometers, or 49 miles.
It is notoriously difficult to precisely forecast the uncontrolled re-entry of a spacecraft like GOCE. When a spacecraft succumbs fo atmospheric drag and falls back to Earth can depend on solar activity, which can aggravate the upper atmosphere and create more air pressure at the altitudes of low-orbiting satellites.
You can track GOCE's orbit here.
The effect of drag also depends on the orientation of the spacecraft. If GOCE starts tumbling, it could expose more of its surface area to the airflow and precipitate re-entry sooner.
As of 2116 GMT (4:16 p.m. EST) Sunday, GOCE was still maintaining its attitude using magnetic torquers, which keep the spacecraft stable in an orientation to minimize the effect of drag.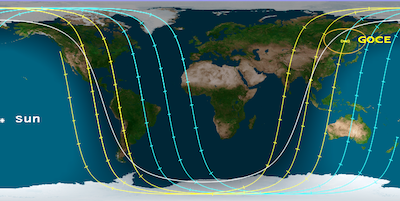 This image shows the GOCE's projected ground track late Sunday. The path shaded in blue shows where GOCE's re-entry is most likely to occur. Credit: Aerospace Corp.

GOCE's main body extends about 17 feet long and measures about 3 feet in diameter, and it is designed to fly nose-first with its long axis along the direction of travel. An ion engine on the back end of the spacecraft fired continuously during its science mission, but the propulsion system ran out of xenon fuel Oct. 21, and GOCE began losing altitude without a way to maintain its orbit.
"GOCE is still doing great," said Christoph Steiger, GOCE's operations manager based at the ESA's control center in Darmstadt, Germany.
The temperature inside GOCE's central computer and battery had reached 147 degrees Fahrenheit during a communications pass over the Troll ground station in Antarctica at about 2116 GMT (4:16 p.m. EST), according to a post on ESA's website.
When GOCE does re-enter, officials expect about 250 kilograms, or 550 pounds, of material will reach Earth's surface, scattered along a ground track more than 500 miles long.
That amounts to about a quarter of GOCE's mass, which is estimated to be 1,002 kilograms, or 2,209 pounds, with its fuel tank empty, Steiger told Spaceflight Now.
The largest fragment to survive re-entry - at a mass of up to 90 kilograms, or 198 pounds - is expected to be the core of GOCE's gravity-measuring instrument.
Read our earlier story for more details.
Follow Stephen Clark on Twitter: @StephenClark1.