ESA approves sale of Artemis telecom satellite to Avanti
BY STEPHEN CLARK
SPACEFLIGHT NOW
Posted: October 28, 2013


The governing council of the European Space Agency has approved the sale of the 12-year-old Artemis experimental communications satellite to UK-based Avanti Communications, an ESA spokesperson said Friday.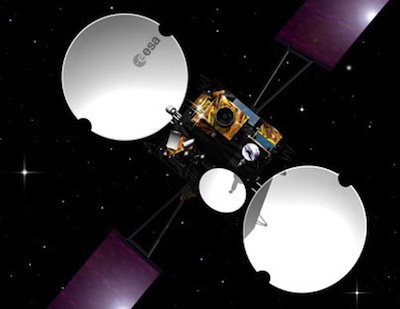 Artist's concept of Artemis. Credit: ESA

Outfitted with Ka-band and S-band communications equipment, along with a payload to supplement Europe's EGNOS aviation and maritime navigation service, Artemis is past its 10-year design life but can still support three more years of operations, according to an Avanti press release.
Launched in July 2001 by an Ariane 5 rocket, Artemis created the first laser data link between satellites in different orbits, it was the first satellite to be reprogrammed in orbit, and it provided data relay links for the Envisat Earth observation satellite and Automated Transfer Vehicle missions to the International Space Station, according to ESA.
Deposited in a lower-than-planned orbit due to an Ariane 5 upper stage malfunction, Artemis boosted itself into its operational orbit, becoming the first satellite to achieve geostationary orbit using electric propulsion.
Artemis is positioned at 21.5 degrees east longitude over Central Africa, putting all of Europe in view of the satellite's communications payload.
The Artemis mission, valued at $1.5 billion when adjusted for 2013 dollars, was also a trailblazer in mobile satellite communications through an L-band system now widely used by commercial operators.
But ESA recognized the waning utility of Artemis to its institutional users and issued an announcement of opportunity in December 2012 to solicit proposals from private satellite operators to take over the mission.
ESA also offered its rights to the 21.5-degree east slot through frequency filings with the International Telecommunications Union, which allocates radio spectrum for satellites.
The space agency selected a bid by Avanti Communications to take ownership of Artemis for a "nominal sum," according to an Avanti press release.
Franco Bonacina, an ESA spokesperson, confirmed Friday the ESA Council, which includes representatives from the agency's member states, has approved the transfer of ownership of Artemis from ESA to Avanti, adding the contract should be finalized by the end of 2013.
Bonacina declined to disclose the price tag attached to the sale.
Avanti said Oct. 3 it expects to update the market on its plans for Artemis after the sale's final approval.
In its December 2012 solicitation, ESA said Artemis could be used to introduce innovative technologies into the commercial telecommunications marketplace and provide optical communications services, radio data links to aerial drones, conventional aircraft and satellites, machine-to-machine services, and serve as an experimental platform to test radio interference mitigation measures.
ESA still plans to use Artemis as a backup to NASA's tracking and data relay satellites during the final Automated Transfer Vehicle mission to the space station in 2014.