SpaceX says robust market can support four launch pads
BY STEPHEN CLARK
SPACEFLIGHT NOW
Posted: October 18, 2013


SpaceX boss Elon Musk sees a day before the end of the decade when his prospering rocket company administers four launch pads, taking up beach real estate in Florida, Texas and California to serve disparate markets for commercial, government and crewed space missions.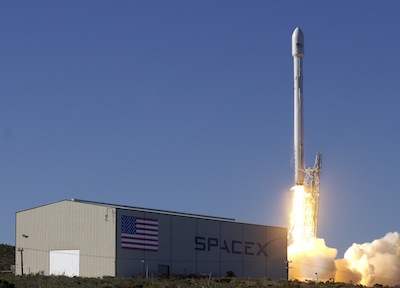 SpaceX's most recent launch Sept. 29 was the company's first flight from Vandenberg Air Force Base, Calif. Credit: SpaceX

That number doesn't count SpaceX's rocket test facilities in McGregor, Texas, and Spaceport America in New Mexico.
It would put SpaceX in position to snatch up a significant share of the global launch business, with the Falcon 9 rocket and the behemoth Falcon Heavy launching multiple times per month.
"If business is good, and we're able to keep improving the rocket, I think we'll be doing a lot of launches," Musk said in an interview.
Musk admits his vision is still clouded by the bureaucracy his company, an epitome of vertical integration, aspires to eschew in hopes of reining in costs.
SpaceX's battle to obtain control over a historic space shuttle launch pad in Florida is mired in a government review after a protest from a rival, and the firm's effort to develop a commercial launch pad in South Texas is in a holding pattern while officials obtain the necessary environmental approvals.
And despite its successes, SpaceX is still trying to convince the U.S. military and NASA to put their most costly and critical spacecraft on Falcon rockets.
SpaceX says the Sept. 29 launch of its first upgraded Falcon 9 v1.1 rocket, featuring more powerful Merlin 1D engines and other performance-boosting modifications, was the first of three certification flights required by U.S. Air Force to compete for launches of the military's most critical spacecraft.
NASA is also assessing the new version of the Falcon 9 rocket to launch its most expensive and unique missions, such as interplanetary probes.
The initial wariness of NASA and the Air Force, which shows signs of withering, has not stopped SpaceX from logging a steady stream of contract wins, amassing a total backlog worth more than $3 billion.
Most of the business has come from commercial customers and NASA's cargo resupply service, in which SpaceX launches and operates its unmanned Dragon logistics vehicle for round-trip servicing runs to the International Space Station.
The Air Force has signed up for two SpaceX launches: NOAA's Deep Space Climate Observatory on a Falcon 9 and a rideshare launch under the auspices of the Space Test Program on the unflown Falcon Heavy, a huge launcher still under development.
NASA last year awarded SpaceX a contract for a Falcon 9 launch of the joint U.S.-French Jason 3 ocean surface research satellite in 2015.
But once SpaceX's government business - the $1.6 billion space station resupply contract notwithstanding - catches up to the company's commercial successes, Musk expects there will be enough business to go around.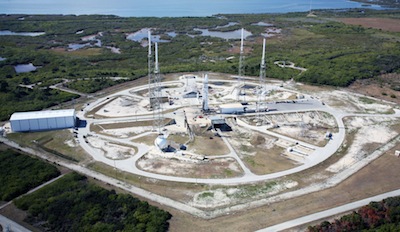 Aerial view of SpaceX's launch pad at Complex 40 at Cape Canaveral Air Force Station, Fla. Credit: SpaceX

SpaceX currently operates two launch pads. One is at Cape Canaveral Air Force Station, Fla., where five Falcon 9 rockets have blasted off from Complex 40 on test flights and resupply missions to the space station. SpaceX's other launch pad at Vandenberg Air Force Base, Calif., Space Launch Complex 4-East, was just inaugurated with the Sept. 29 launch of Canada's Cassiope space weather research satellite.
Both launch pads will be busy over the next few years. If SpaceX and its customers can sustain their readiness, Cape Canaveral will host up to 10 Falcon 9 launches over the next 12 months.
The flights from Florida begin with the scheduled Nov. 12 launch of the SES 8 communications satellite. It will mark SpaceX's first launch to geostationary transfer orbit, an elliptical path around Earth where communications payloads are normally dropped off by the launch vehicles.
The satellites use on-board propulsion to circularize their orbits 22,300 miles over the equator to match the speed of Earth's rotation and appear to hover over a fixed location, allowing ground users to use static antennas to communicate with the spacecraft.
Things will be quieter at Vandenberg, with the next planned launch from SpaceX's West Coast pad slated to be the debut flight in late 2014 of the Falcon Heavy, a super-booster comprising three Falcon 9 first stage cores conglomerated into a single rocket.
Musk said Complex 40 at Cape Canaveral will also receive modifications to handle Falcon Heavy launches. The changes to the launch pad include beefing up the launch mount and making changes to the rocket's transporter-erector, which cradles the vehicle during rollout to the pad and supplies connections to the facility's electrical and fueling equipment.
So far, Musk said Complex 40 has only been upgraded to support launches of the new-generation Falcon 9 v1.1 rocket. SpaceX will need to do more work on the pad as the first East Coast Falcon Heavy launch approaches, according to Musk.
Activity on the West Coast will ramp up in 2015 with the start of a seven-launch campaign to loft next-generation satellites for Iridium Communications, plus a mix of other missions for NASA, Argentina, Taiwan and other customers. Some time later this decade, SpaceX could begin launching rockets from two new facilities.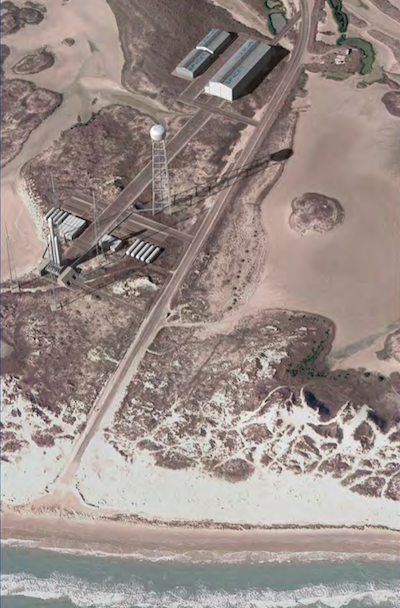 Concept of SpaceX's proposed Texas launch site. Credit: SpaceX/FAA

According to Musk, a site in South Texas near Brownsville is the leading candidate for a privately-owned launch site SpaceX plans to build to host commercial missions.
A private launch site "would allow the company to accommodate its launch manifest and meet tight launch windows," according to a draft environmental impact statement issued in April by the Federal Aviation Administration.
SpaceX is still considering sites in Florida, Georgia and other areas for the proposed commercial launch facility, but a plot of land on Boca Chica Beach in South Texas is in the lead.
"I think Texas is looking increasingly likely," Musk told Spaceflight Now, adding a final decision must wait for environmental and regulatory approvals.
The suggested launch site in South Texas would be optimized for launches of commercial telecommunications satellites into geostationary transfer orbit, Musk said.
Launches to the east of the Texas site, the necessary trajectory for geostationary orbit missions, would fly over the Gulf of Mexico and the Straits of Florida.
Musk said SpaceX may eventually need another commercial launch site besides the Texas location, depending on the market demand.
In Florida, SpaceX is in a heated competition to take control of launch pad 39A at the Kennedy Space Center.
Pad 39A was home to the space shuttle and was the departure point for the Apollo moon missions.
SpaceX and Blue Origin, a space company established by Amazon.com founder Jeff Bezos, are vying to lease pad 39A from NASA, which says it has no need for the historic complex.
NASA's Space Launch System heavy-lift rocket will lift off from nearby pad 39B, the space shuttle's other launch facility. The first uncrewed test launch of the SLS is scheduled for late 2017, but the next flight of the massive rocket will not come until 2021, when it is scheduled to launch astronauts on a voyage to rendezvous with an asteroid.
NASA wants to award a lease of pad 39A as soon as possible, and the agency hoped to finish the deal by Oct. 1 to get the unused facility off its books and save $100,000 per month in maintenance costs.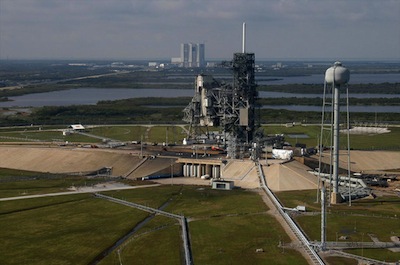 Aerial view of launch pad 39A and the Vehicle Assembly Building at the Kennedy Space Center. Credit: NASA

But before NASA announced the winning bid for the launch pad, Kent, Wash.-based Blue Origin filed a protest with the Government Accountability Office.
Rob Meyerson, Blue Origin's president, told Space News in September the firm planned to make pad 39A available to multiple users. United Launch Alliance, the joint Boeing-Lockheed Martin company which operates the Atlas and Delta rocket families, is one of Blue Origin's prospective customers if it gains control of pad 39A.
SpaceX, which initially wished to use pad 39A for its own purposes, said it was also open to sharing the launch complex with other users.
"SpaceX has nearly 50 missions on manifest to launch over the proposed 5 year lease period and we can easily make use of the additional launch site," the company said in a written statement. "At the time we submitted the bid, SpaceX was unaware any other parties had interest in using the pad. However, if awarded this limited duration lease on 39A, SpaceX would be more than happy to support other commercial space pioneers at the pad, and allow NASA to make use of the pad if need be."
SpaceX wants to use pad 39A for its launches for NASA, such as space station crew and cargo missions with its Dragon spacecraft, and deep space probes to explore other worlds.
The GAO has until Dec. 12 to rule on Blue Origin's protest, and NASA cannot select a winning bid for pad 39A until the oversight agency finishes its inquiry.
SpaceX's plan to divide its launch infrastructure allows the company to keep its launch pads optimized for specific types of missions, Musk said.
With commercial launches based out of a privately-owned pad - likely in South Texas - and NASA flights staged from the Kennedy Space Center's pad 39A, SpaceX's existing pad at Complex 40 on Air Force property would be dedicated to national security work, according to Musk.
SpaceX's home at Vandenberg would play host to all missions destined for polar orbits, which are not reachable from Florida or Texas due to safety guidelines restricting rocket flights over populated areas.