Tests loom in China's next decade of human spaceflight
BY STEPHEN CLARK
SPACEFLIGHT NOW
Posted: October 15, 2013


China has made progress toward developing a modular Skylab-class space station since Yang Liwei became the first Chinese astronaut in space a decade ago, but engineers are still working on new Long March heavy-lift rockets, regenerative life support systems and other advanced technologies required for the huge construction job.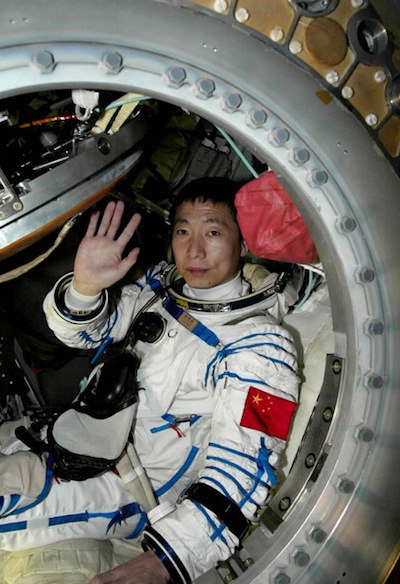 File photo of Yang Liwei inside the Shenzhou 5 spacecraft after landing Oct. 16, 2003. Credit: Xinhua

Lacking the political imperative of the Space Race, China has conducted five human spaceflights since Yang's 21-hour solo flight in October 2003. The United States and Soviet Union combined to fly more than 40 manned missions in the decade following Yuri Gagarin's historic space voyage in 1961.
But China has packed more achievements into each mission than Russia or the United States dared to do at the dawn of the Space Age, notching tests of the Chinese Shenzhou spacecraft, a spacewalk, and manual and automatic docking trials with the Tiangong 1 space laboratory module.
"We still have a long way to go to fulfill the goals of our manned space program's 'three-step' strategy," said Wang Zhaoyao, director general of the China Manned Space Agency, following China's most recent human spaceflight. "The follow-on tasks are still arduous."
China's last human spaceflight, the Shenzhou 10 mission in June, lasted more than 14 days and featured television transmissions from the three-person crew inside Tiangong 1, including an educational lesson for Chinese schoolchildren.
Officials hailed Shenzhou 10 as the end of the second phase of China's three-step space strategy, with the next stage focusing on the 2015 launch and operation of a larger space station testbed named Tiangong 2, followed by a more spacious experimental space station around 2018.
Like much of China's military-run space program, details of the astronauts' timelines and many flight activities were kept secret except around major events such as launch and landing.
China's stance toward public disclosure has changed little since Yang Liwei's 2003 mission, when officials did not announce the identity of the flight's sole crew member until the day of the launch.
Ten Chinese astronauts have flown in space over the last decade, including Yang's launch on Oct. 15, 2003. Two of the Chinese fliers were women, and two astronauts - Jing Haipeng and Nie Haisheng - reached space two times.
Here is a listing of China's five human spaceflights to date:
Shenzhou 5 launched Oct. 15, 2003, with Chinese Air Force pilot Yang Liwei on a 21-hour flight completing 14 orbits of Earth, making China the third nation to mount a human space mission.


Shenzhou 6 launched Oct. 12, 2005, with Fei Junlong and Nie Haisheng, two Chinese military pilots. The crew spent nearly five days in orbit doing experiments and testing the capabilities of the Shenzhou spacecraft. Fei and Nie also entered the Shenzhou's orbital module for the first time, accessing the ship's roomier accommodations, tastier food rations and toilet.


Shenzhou 7 launched Sept. 25, 2008, with China's first three-person space crew. Zhai Zhigang, Liu Boming and Jing Haipeng spent three days in space and conducted China's first spacewalk.


Shenzhou 9 launched June 16, 2012, on the first crewed flight to China's Tiangong 1 module. The two vehicles linked up in orbit, forming a docked spacecraft larger than a double-decker bus. The crew of Jing Haipeng, Liu Wang and China's first female astronaut Liu Yang accomplished automatic and manual dockings during their 13-day mission.


Shenzhou 10 launched June 11, 2013, with commander Nie Haisheng, a veteran of Shenzhou 6, and rookie astronauts Zhang Xiaoguang and Wang Yaping. The three astronauts lived and worked aboard Tiangong 1, spending more than 14 days in orbit on China's longest manned mission to date.
Five other Shenzhou missions, beginning with Shenzhou 1 in 1999, flew without a human crew.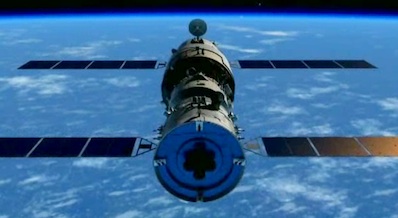 Artist's concept of a Shenzhou spacecraft docked with the Tiangong 1 module. Credit: CMSA

China's spaceflights so far have demonstrated the program's ability to stage simple spacewalks and navigate and dock in orbit, key capabilities that will need to be even further expanded later this decade before engineers attempt to assemble massive modules into a 60-ton space station staffed by astronauts for months at a time.
"As we celebrate our success, we also realize the fact that there is still a gap between China and the leading countries in terms of manned space technology and capability," Wang said in a June 26 press conference after the landing of Shenzhou 10.
China's next Tiangong spacecraft and the prototype space station module, set for launch around 2015 and 2018, will test components for a regenerative life support system to accommodate long-duration flights, according to information released by Chinese state media. The International Space Station operates a similar system to generate oxygen and convert urine into drinking water.
China must also hone its spacewalking expertise to allow astronauts to assist in the space station's assembly, maintenance and repairs. The country's first spacewalk in 2008 lasted less than 20 minutes and accomplished no significant tasks.
In-orbit refueling and robotics are also on the agenda, and China may already be testing some of those capabilities in orbit on secretive experimental satellites. Analysts have observed Chinese satellites conducting strange maneuvers in close proximity, including a craft launched in July reported to carry a robotic arm.
It is unclear whether China has docked any of the maneuvering satellites or grappled another spacecraft with a robot arm.
China is also developing the next-generation Long March 5 rocket with engines fueled by kerosene and liquid oxygen. China's space station modules, expected to weigh 20 tons at launch, require heavy-lift launcher to reach orbit.
The first Long March 5 test flight is expected in 2015, according to a March report by China Daily.
With China's most powerful rocket engines, the Long March 5 can loft more massive payloads into space than the Long March 2F rocket, which launched all 10 Shenzhou flights since 1999, plus the Tiangong 1 space module in 2011.