Fifth WGS communications craft enters military service
BY STEPHEN CLARK
SPACEFLIGHT NOW
Posted: October 7, 2013


The U.S. Air Force has taken control of its fifth Wideband Global SATCOM satellite, and a sixth high-throughput WGS spacecraft is on track to join the Defense Department's most capable fleet of communications satellites by the end of 2013, prime contractor Boeing announced last week.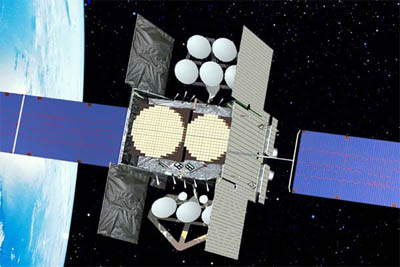 Artist's concept of the antennas aboard a WGS satellite. Credit: Boeing Co.

Sent into an oval-shaped geosynchronous transfer orbit by a United Launch Alliance Delta 4 rocket in late May, the WGS 5 satellite employed its liquid-fueled orbit-raising engine and electrical propulsion system to climb to a perch 22,300 miles over the equator this summer, where it hovers over a fixed position on Earth because its velocity matches the planet's rotation.
WGS 5 then passed performance testing before the Air Force accepted the spacecraft into its communications network, Boeing said in an Oct. 2 press release.
With solar panels spanning 134 feet tip-to-tip, WGS 5 is based on the Boeing 702HP satellite bus. The spacecraft's initial operations were managed from Boeing's satellite control center in El Segundo, Calif.
"The WGS mission is a force multiplier for the Department of Defense, U.S. government agencies, and our allied partners," said Lt. Col. Karen Roe, commander of the 53rd Signal Battalion, operator of the military's wideband satellite payloads. "We are so pleased to have this capability across our formation and thank the Boeing team for their dedication to excellence."
Before the satellite's May 24 launch, officials said WGS 5 was destined to operate in a geostationary slot at 52.5 degrees west longitude to provide communications support to the Americas.
"WGS 5 addresses a critical need of the Defense Department by increasing capacity and enhancing global coverage, supporting warfighters with communications bandwidth when they need it," said Craig Cooning, vice president and general manager of Boeing Space and Intelligence Systems.
The addition of WGS 5 over the Atlantic Ocean and the Americas gives the wideband fleet near-global coverage.
Outfitted with Ka-band and X-band communications gear, each WGS satellite can process more than 3.6 gigabits of data per second, more than 10 times the capacity of each spacecraft in the Defense Satellite Communications System, the predecessor of WGS, according to a Boeing fact sheet.
Like other WGS satellites, WGS 5 reaches users with 19 steerable X-band and Ka-band communications beams. Controllers can adapt phased array X-band antennas aboard the WGS satellites to focus the system's capabilities exactly where it is needed.
The WGS fleet routes data, photos and video between military commanders, troops on the battlefield, airborne drones and ships.
The Defense Department developed and deployed the WGS constellation with contributions from Australia, Canada, Denmark, Luxembourg, the Netherlands and New Zealand. Each international partner gets access to the WGS satellites for domestic security needs.
Boeing said its WGS 6 satellite, which blasted off Aug. 7 on a Delta 4 rocket, is operating as expected and on schedule to hand over to Air Force controllers by the end of the year.
Designed to last at least 14 years, WGS 5 and WGS 6 are the second and third wideband satellites with the so-called Block II upgrade, which improves the craft's ability to support high-data-rate ultra-secret airborne drone missions.
The Air Force has four more WGS satellites on order from Boeing to expand the wideband network, with the launch of WGS 7 set for 2015.