NASA declares end to Deep Impact comet mission
BY STEPHEN CLARK
SPACEFLIGHT NOW
Posted: September 20, 2013


NASA's Deep Impact mission, after fleeting flybys of two comets and 4.7 billion miles of interplanetary travel, has come to an end following a software glitch which likely put the space probe into a tumble in early August, NASA announced Friday.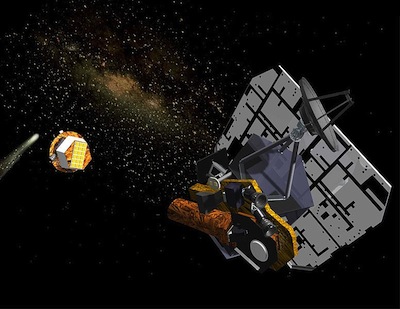 Artist's concept of the Deep Impact spacecraft releasing its impactor. Credit: NASA/JPL-Caltech

"The project team at NASA's Jet Propulsion Laboratory in Pasadena, Calif., has reluctantly pronounced the mission at an end after being unable to communicate with the spacecraft for over a month," NASA said in a statement Friday.
Engineers last heard from Deep Impact on Aug. 8, and ground controllers tried for several weeks to uplink commands and restore communications with the spacecraft with no success.
NASA says ground controllers are not sure exactly what caused Deep Impact's demise, but officials uncovered a potential problem in the on-board computer's time tagging caused by the mission's longevity.
The anomaly would have caused Deep Impact's computer to repeatedly reboot, and the spacecraft could have lost attitude control, meaning its steerable high-gain communications antenna and power-generating solar arrays would have moved off pointing toward the Earth and sun.
Without solar power, Deep Impact would have quickly drained its batteries.
"The problem was a software issue in having run the mission for many years past its design lifetime," Michael A'Hearn, the mission's top scientist from the University of Maryland in College Park, told Spaceflight Now earlier this month. "This basically caused an overflow in the on-board time, which in turn caused a continuous cycle of rebooting the on-board computer."
Deep Impact launched in January 2005 and completed its primary mission - crashing a copper projectile into comet Tempel 1 to study the object's interior - less than six months later.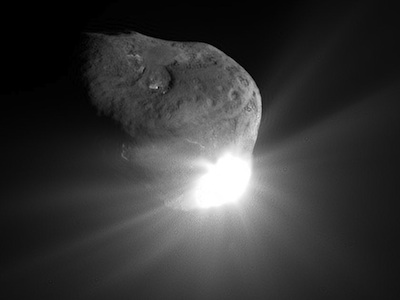 A camera on the Deep Impact spacecraft returned this image of comet Tempel 1 about 67 seconds after the mission's impactor struck the comet in July 2005. Credit: NASA/JPL-Caltech

"Despite this unexpected final curtain call, Deep Impact already achieved much more than ever was envisioned," said Lindley Johnson, Deep Impact's program executive at NASA Headquarters. "Deep Impact has completely overturned what we thought we knew about comets and also provided a treasure trove of additional planetary science that will be the source data of research for years to come."
The solar-powered spacecraft, about the size of a sports utility vehicle, was in an extended mission conducting remote observations of comet ISON, which is plunging into the inner solar system for a much-awaited swing by the sun later this year.
"Six months after launch, this spacecraft had already completed its planned mission to study comet Tempel 1," said Tim Larson, project manager of Deep Impact at JPL. "But the science team kept finding interesting things to do, and through the ingenuity of our mission team and navigators and support of NASA's Discovery Program, this spacecraft kept it up for more than eight years, producing amazing results all along the way."
NASA officials, looking for inexpensive ways to do more science, sent the Deep Impact spacecraft on a trajectory to intercept comet Hartley 2 in November 2010.
Deep Impact also aimed its high-resolution telescopes toward stars, planets and comets, observing the motions of exoplanets, helping confirm the existence of water on the moon, and searching the signature of methane on Mars, according to NASA.
The probe also made long-range observations of comets Garradd (C/2009 P1) and ISON this year.
A series of rocket burns in 2011 and 2012 authorized by NASA put Deep Impact on a course to fly by asteroid 2002 GT in January 2020. The asteroid is an unexplored object which regularly crosses paths with Earth.